Anantara Veli Rooms
Over Water and Ocean Pool bungalows at Anantara Veli offer the perfect blend of intimacy and deluxe amenities matched with breathtaking views. Veli's new land-based Ocean Pool Bungalows feature a magnificent plunge pool and offer the ultimate in privacy overlooking one of the island's surf breaks; a very popular choice for Tropicsurfers. Overwater bungalows make up the bulk of Veli's inventory and are a popular choice for couples and honeymooners.
Ocean Pool Bungalows
Anantara Veli's Ocean Pool Bungalows are found on the edge of the sparkling blue lagoon, allowing you maximum privacy while also placing you as as close to the surf as possible. Enjoy afternoons in the privacy of your very own pool and look out over the crashing waves directly in front of you. Order in dinner and feast under the stars to the soundtrack of the Indian Ocean.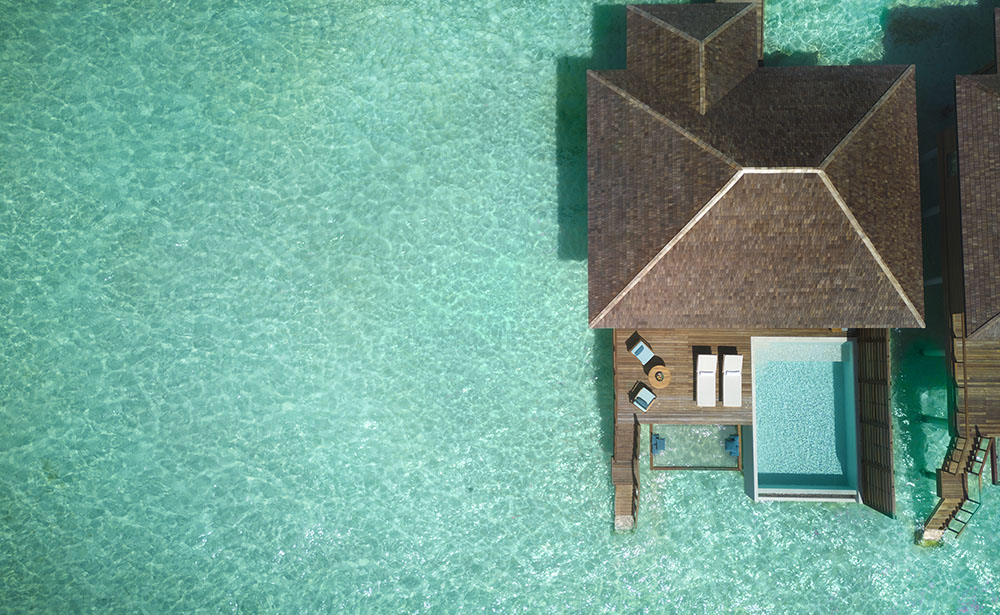 Over Water Bungalows
One of the many draws to the Maldives are the magical atolls that are scattered throughout the ocean. Atolls are ring-shaped coral reefs, and are only found in the tropics. The epic thing about atolls is they are always surrounded by calm, shallow lagoons, which allows for your luxurious accommodation to sit on stilts above the ocean. This provides the ultimate Maldives experience. Choose between any of Anantara Veli's Over Water Bungalows and experience this magic for yourself.
Previous
Next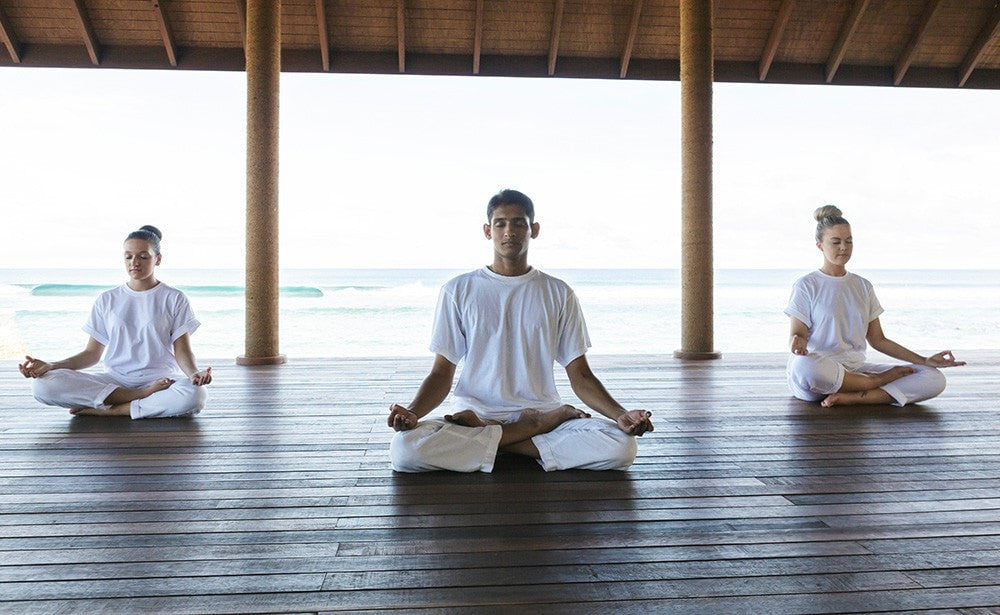 Families at Anantara Veli
Children and families are most welcome to stay on Veli's sister resort, Anantara Dhigu, which is just minutes away and offers a children's club, family friendly accommodation, and a range of activities and facilities specially designed with families in mind. In addition, families are able to dine at Baan Hurraa, Origami and 73 Degrees restaurants on Anantara Veli for dinner before 9.00 pm.
Previous
Next
Experiences
---
The setting is tranquil, but recreation is always close by when staying at any water bungalow in Maldives. Island accommodation at Anantara Veli offers a range of organised and do it yourself resort activities in the gorgeous surrounds of an island retreat. Select from indoor and outdoor resort activities including yoga, shopping, cooking classes, fitness, tennis, swimming, volleyball, badminton and finding true rejuvenation at the Anantara Spa.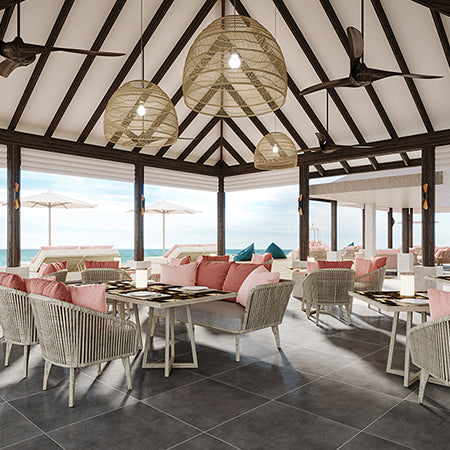 Dining
---
At Anantara Veli guests are treated to a host of dining options across Japanese, Thai, seafood and grilled cuisines. All in captivating dining locations with a serene lagoon setting. Mealtimes are relaxed and informal, with a creative emphasis on Dining by Design concepts for an intimate culinary experience. Additional dining options are available at Veli's sister resort Anantara Dhigu, just a short boat-ride away. In all, nine different restaurants are at your fingertips!
Spa
---
Sundari Ayurvedic Spa brings a holistic approach by incorporating elements of the Ayurvedic lifestyle throughout the resort activities, restaurant menus and spa treatments in consultation with the resident Ayurvedic Doctor. In addition to Ayurveda, Veli's luxury spa facility offers inspired Anantara Spa treatments infused with timeless healing and wellness rituals. Five idyllic treatment rooms combine with hot and cold plunge pools in the private relaxation spa garden.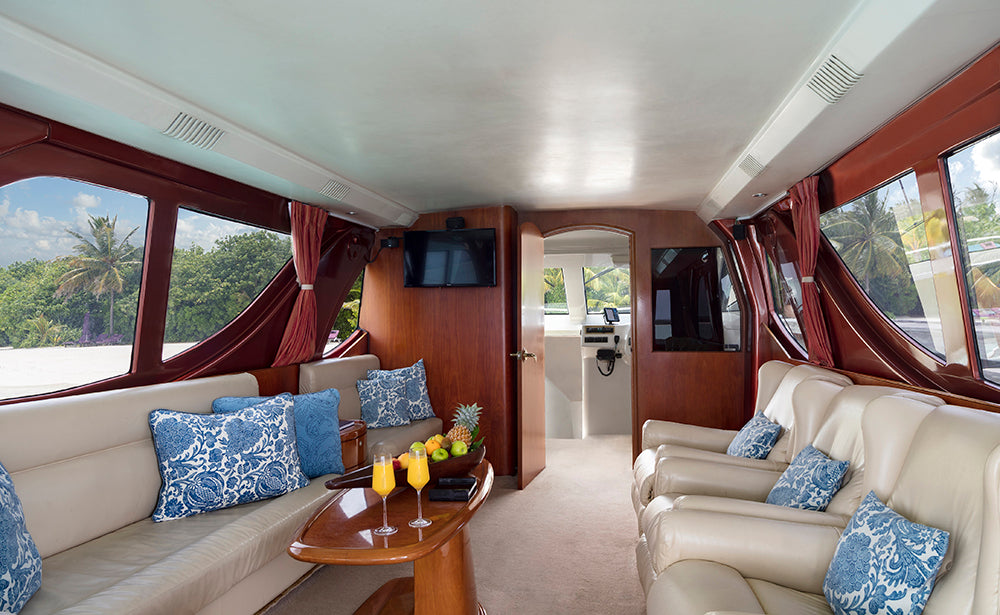 VIP
Anantara Veli has a tremendous reputation for creating romance and value, ideal for honeymooners and budget conscious surfers. However regular Tropicsurf VIPs choose to stay at Veli's neighbouring island of Naladhu which offers a more exclusive space, expansive beach houses and surfing via luxury yachts.
Previous
Next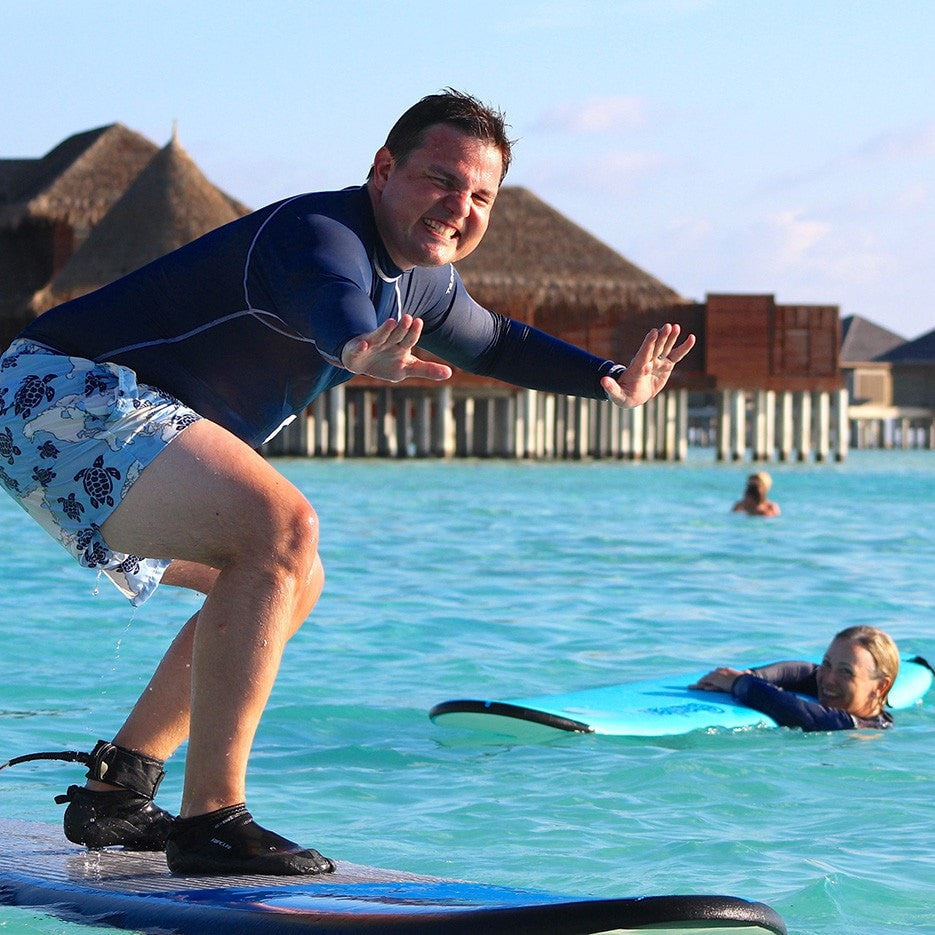 Tropicsurf
---
Veli operates a surfing-pass system that ensures a qualified guide, boat and equipment are dedicated to surfing guests. Tropicsurf delivers a 5-star service with no more than eight surfers booked at any one time. Enjoy multiple surfs per day, and privileges like board hire, surf updates and coaching. Seaplane surfaris or speedboat excursions to North Male are also available.
Seasons
---
Tropicsurf operates out of Veli year round however the surf season is between April and October. Swell size in the off-season months can vary and shouldn't be counted on for a serious surfing vacation. During the season itself the swell direction starts to change, swell size and consistency normally increases. Waves are typically chest-high to a little overhead.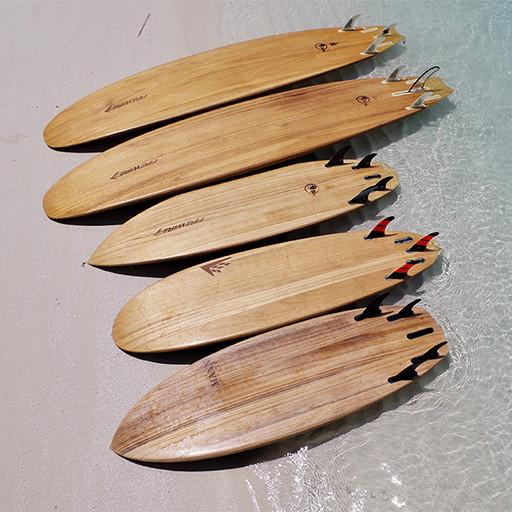 Quiver
---
Tropicsurf has partnered with Firewire surfboards to offer a complete quiver of cutting edge eco-friendly boards for guest use. Avoid the hassle of travelling with your board by contacting Tropicsurf in advance of your stay to reserve choice of board; shortboard, fish, hybrid, or longboard. Stand Up Paddleboards are also available from the Tropicsurf Centre.
LOCATION
---
Anantara Veli Resort
Veligandu, South Male Atoll 20109, Maldives
Best Tropicsurf Guides

News from Anantara
We are having a wonderful week here. Everything could not be any better. Josh and Fiona are for sure among the best Tropicsurf guides.Josh was always doing his best with me and all surfers.Could not be any better.
Also Jesse was here this week and he is a super guy. The Aussies always are awesome.

Marco, via email
Amazing holiday

It was an amazing holiday we had. A much needed holiday I might add. Great surf, good weather, a couple of windy wet days but nothing bad.

The resort was truly beautiful and perfect for us. Can we also let you know how fantastic Francois & Coline are and how well they represent Tropicsurf there. Although you may already know this. They made every effort and showed excellent enthusiasm, knowledge, professionalism and generally loverly welcoming persons. Definitely an asset to the Island.

Please keep us in mind should you have any specials in the near future regarding surf holidays with Tropicsurf in any of your destinations we will be willing to surf holiday with you again in the near future.

Alison, via email
Thank YOU for all your care and attention to our TS holidays.

The renovated Veli resort is MUCH better than before. And we were thrilled to reacquaint ourselves with Josh and Fiona. If I may say, they are honestly one of the best TS couples you have! I'm glad you got them back. Will be in touch soon for our next trip.

Darren & Caroline, via email