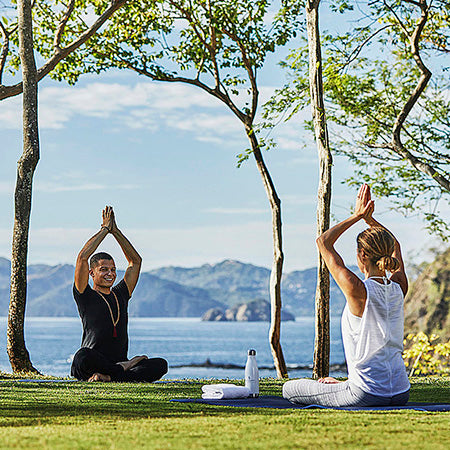 EXPERIENCES
---
Choose from four swimming pools between the two expansive beaches which set the scene for an enticing array of water sports including complimentary snorkeling, SUP and sea kayaking. Tennis enthusiasts enjoy four courts. The fitness centre is state-of-the-art with daily yoga. Other resort activities include beach soccer, volleyball, sailing, cooking classes, salsa dance lessons, scuba diving for beginners and local hiking.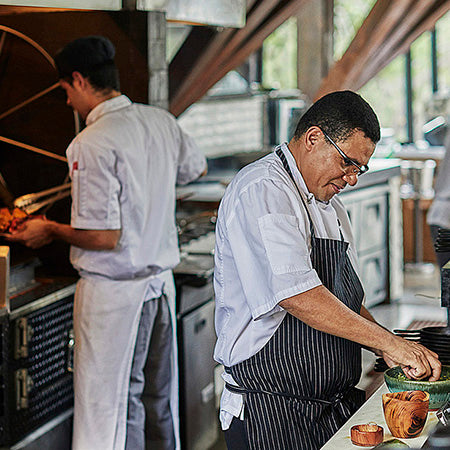 DINING
---
Specializing in both Latin and Italian cuisine, the Resort uses fresh local ingredients to create an innovative menu. Dive into the seafood specialties and ocean views from the Italian Di Mare. Relax on the terrace of Caracol as you enjoy a casual steakhouse menu. Step into the open space and pool-side greenery of Papagayo to enjoy an authentic Costa Rican casado. Four restaurants are yours to explore.
SPA
---
The comprehensive selection of facials, body treatments and massages make full use of indigenous ingredients, such as mineral-rich rainforest muds and local herbs. Indulge in a magical combination of rich, natural ingredients designed to increase circulation and create a natural radiance for every skin type. Enjoy side-by-side couples massages, waterfall whirlpools or simply rejuvenate mind and body in one of 18 spa treatment rooms.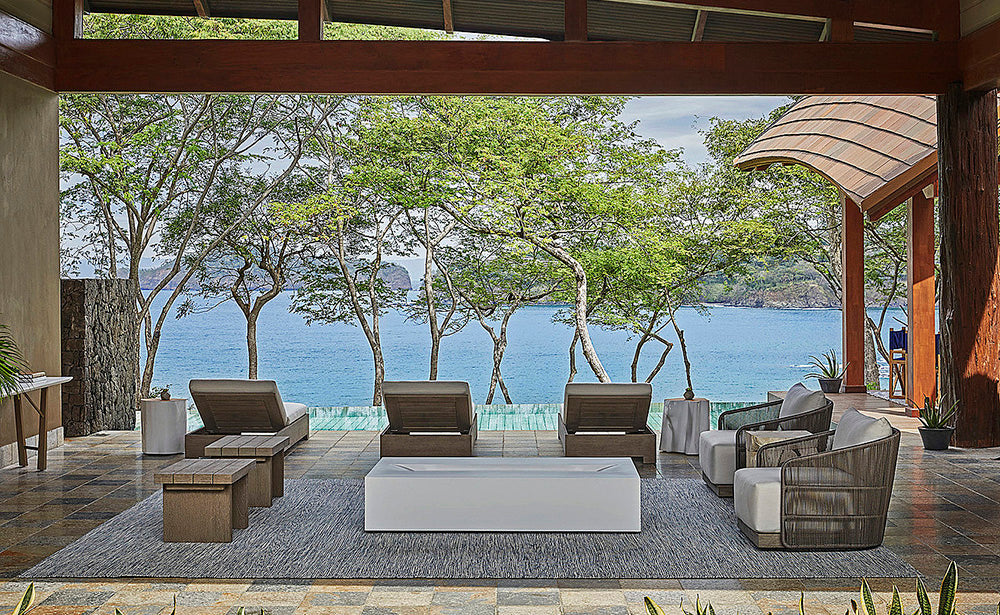 VIP
Charter a private yacht to explore Costa Rica's famous surf laden coastline. Anchor at a variety of breaks and surf around the clock at Witches Rock, Ollies Point, or further south towards Tamarindo. Return to your decadent private residence perched high above the ocean to dine under the stars on your own private deck.
Previous
Next
Tropicsurf
---
Tropicsurf is proud to provide a small team of our exceptional surf guides permanently on location to offer our full range of unique services including expert guiding and regular boat trips to Witches and Ollies. Or take a road surfari to discover dozens of the region's best breaks. First timers can enjoy learn to surf lessons on the resort property.
Seasons
---
Costa Rica enjoys waves year round although in this region the best months are April to July. Wingnut claims April as his favourite. September and October have waves but it is the peak of rainy season and frequent downpours keep tourists away and muddy up the oceans. November to March sees smaller swells from the North and strong all-day offshores.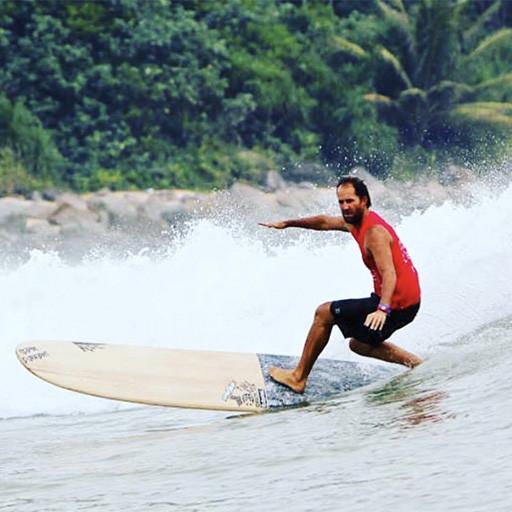 Quiver
---
Tropicsurf has partnered with Firewire surfboards to offer a complete quiver of cutting edge eco-friendly boards for guest use. Avoid the hassle of travelling with your board by contacting Tropicsurf in advance of your stay to reserve choice of board; shortboard, fish, hybrid, or longboard. Stand Up Paddleboards are also available from the Tropicsurf Centre.
LOCATION
---
Four Seasons Costa Rica
Liberia Guanaste 26Km al Norte del Doit, Centre Liberia, Peninsula Papagayo, 5000, Costa Rica
Excellent- especially Tropicsurf

I had an amazing stay at the four seasons over mother's day with my mom. I booked my trip through tropicsurf and Anisa (who works at tropicsurf at the four seasons costa rica) was wonderfully helpful and detail oriented. Malcolm helped me improve my surfing and took SO much extra time making sure I was at the right surf break for my skill level.

Caroline W - TripAdvisor
Phenomenal staff, delicious food and fun Tropicsurf lessons

I loved my boat trips with TropicSurf guide, Malcolm, organized by his terrific wife Anisa. The waves at Iguanitas (late April, early May) were perfect for a beginner (I went from a level 3 to level 4), and the natural beauty was stunning.

elisem422 - TripAdvisor
Tropicsurf and Four Seasons Papagayo- perfection!

The folks at Tropicsurf (Anisa & Jerry) got these two landlocked Texans up on surfboards in no time! Highly recommend them if you want to give surfing a try. Super friendly, beginner waves were a 5 minute boat ride away, and they had the BEST Costa Rican pineapple to snack on the trip back to the hotel.

Rocko713 - TripAdvisor
Nature and adventure meets relaxation and romance

I fulfilled a lifelong dream to surf and felt like a natural "goofy foot" surfer thanks to Malcolm and Anisa, who make a great team at Tropicsurf.

Melissa L - TripAdvisor
Costa Rica = amazing

Booked surfing with Tropicsurf and Malcolm, Anisa and Jerry are simply fantastic. Longboard, shortboard ...big or small waves...they have it sorted out perfectly. My highest recommendation to them. Thanks again for a great time in the water!

Will L - TripAdvisor
Perfection

Malcolm and his wife Anisa run the business together. They were so warm and inviting from the minute we stepped into their shop. They took a group of 5 of us to a beach with beginner waves and made the experience so much fun!

jalange86 - TripAdvisor
My all-time favorite vacation!

Our family surf guide through Tropicsurf, Jesse, was so wonderful with our three children and we were all standing up and surfing faster than we could have ever thought possible. Even my Mom caught a wave!! Malcolm and Anisa were also super helpful setting us up with an amazing room and organizing our surf trips

nedinburgh123 - TripAdvisor
Amazing!

Activities were great, especially Tropicsurf

Chris N - TripAdvisor
Cannot wait to return

Our kids took surfing lessons from the Tropicsurf guys at Playa Blanca. They were really good with the kids and got them so excited we ended up doing 3 different lessons throughout the week.

Rollie93 - TripAdvisor
Tropicsurf was fantastic

Tropic Surf at the Four Seasons in Costa Rica was 5 stars all around. Jerry has conditions dialed and Malcolm was on point with communication. Don't hesitate to get out with this crew whether it's your first time or you been surfing for 20 years. My friends were super jealous when I told them how good Witches Rock was! The Four Seasons was amazing and made us feel right at home. I've been a professional mountain for 20 years and was impressed with Tropicsurf. I would use them anywhere in the world! See you again soon! Brenton Reagan IFMGA Certified Mountain Guide.

Brenton Reagan
Tropic Surf Experience, Malcolm & Anisa are amazing!! 

I just spent a few days at the Four Seasons at Peninsula Papagayo for work (amazing resort) and was able to sneak away for a few hours to surf at Witches Rock through Tropic Surf, and it was a BLAST!! Malcolm and Anisa are both amazing. I reached out to the hotel before getting to Costa Rica, to set up some surfing and they put me in touch with Anisa. She was fantastic, so helpful and reachable and she and Malcolm went out of their way to make the limited window within when I could go surfing work. Malcolm was a wealth of knowledge about the area and break, and was so helpful, encouraging and patient with me in the water (I'm a level 4 in Tropic Surf's level scale), I had so much fun!!!! Malcolm and Anisa are two of the friendliest people I've met, and the whole experience was wonderful. I will definitely be coming back to stay at the Four Season so that I can go out surfing with their help and coaching again!!

gmm1430 - TripAdvisor
Exquisite. One of the best among the best.

Take a surf lesson with Tropicsurf! They are located on the activities beach and you'll need to book in advance. I went to sign up and the lesson was full however, they kept me informed of a cancellation and I was able to join. After a quick training, you'll get on a boat and head for a private beach. Hands on lessons that had me, a true beginner, standing and catching waves on my own by the end. Such a fun experience, so well done, and a true bucket list item.

JLH - TripAdvisor
Perfection! HIGHLIGHT :: SURFING with Malcolm!!

Our FAVORITE activity that we were so psyched to discover at the hotel on our arrival was our surfing lesson with Malcolm. He operates a franchise of the Australian born Tropicsurf -- he provides expert lessons for both beginners and advanced surfers who want to hit the real surf spots. I had always wanted to experience surfing, and I will say for me, my 7 year old son, and 46 year old husband, this could not have been more of a rewarding experience. Malcolm took us by boat to a cove around the corner where the waves were present but not too scary and perfect for beginners. We all got up on our boards and rode the waves-- it was truly awesome! We are joyously reliving the moments right now with the photos he provided. I would highly recommend that 4 Seasons put a link to Tropicsurf on their website so that guests can learn how extraordinary this opportunity is before they arrive-- and pre-book a lesson!

Catherine R - TripAdvisor
Four Seasons, Papagayo...Costa Rica! ...Pura Vida!

The TropicSurf program at the Four Seasons is very expansive program offering lessons for the absolute beginner as well as the most advanced with their highly trained multinational instructors. @LuxuryTravelServices

LuxuryTravelServices - TripAdvisor
Highlight of the trip was Tropicsurf!

We had an incredible 2 days of surfing with Malcom at Tropicsurf. Anisa was really helpful setting everything up for us and Malcolm was not only an amazing instructor and extremely knowledgeable but he was also a lot of fun to hang out with! We surfed in 2 different amazing locations. Would highly recommend checking out Tropicsurf during your stay at the Four Seasons!

Inspire2019764470 - TripAdvisor
Amazing Vacation

Thank you for such a wonderful surfing vacation! We had the very best time and really appreciate everything you did to make it so amazing.

Malcolm took such great care of all four of us on the water. Samantha already wrote for her school assignment that her favorite part of Thanksgiving Break was surfing with Malcolm. Little Jonathon can't stop smiling about the waves at Witches Rock. We definitely want to come back again next Thanksgiving.

Cheryl, Jonathon, Jonathon & Samantha, via email
Amazing place with the best surfing opportunity!

Hotel is fabulous and beautiful

service is amazing

food is excellent

and the TROPICSURF team is incredible!

Malcom is the BEST instructor...incredible experience learning to surf with him! He was patient and very efficient at teaching!

sethtraveler123 - TripAdvisor