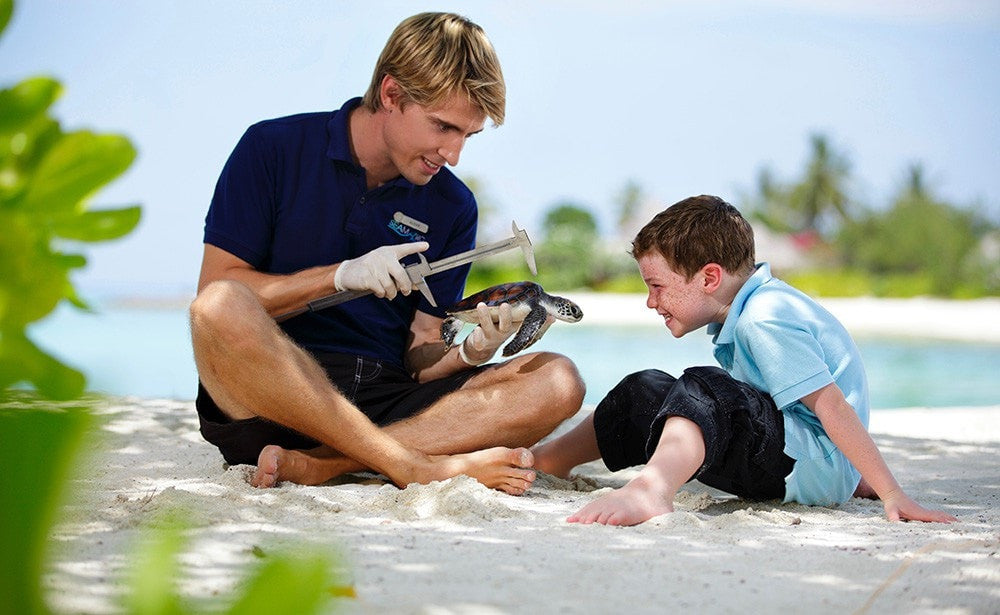 Families at Four Seasons Kuda Huraa
Kuda Huraa have become renown for their Kids for All Seasons program. Suited to children from the ages of four to twelve years old, the Kuda Mas ("small fish") Club keeps young guests entertained with activities such as Maldivian handicrafts such as coral painting and palm leaf folding, marine life touch tank and fish feeding, cooking classes and mini-spa days. Very affordable baby sitting services are also available.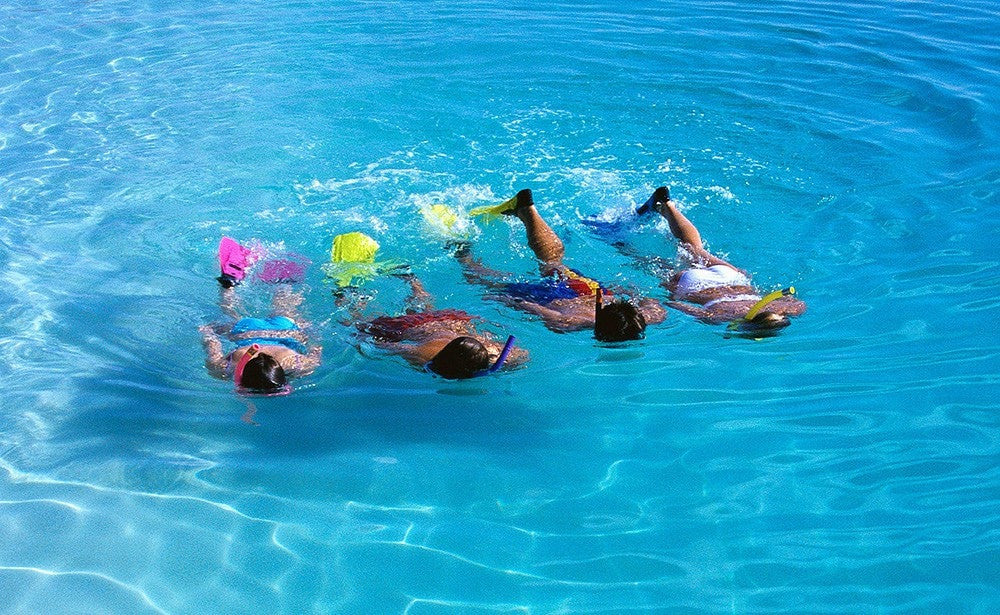 Underwater Adventures at Kuda Huraa
At Kuda Huraa, children will be compelled to leave their TV screens and cell phones behind, with colourful underwater adventures always at their fingertips. Join the weekly turtle safari and experience all of the magic the Indian Ocean has hidden below. Don't feel like joining the weekly excursions? The sunrise side of the island offers incredible snorkelling just steps from the beach, easily accessible for an afternoon family exploration!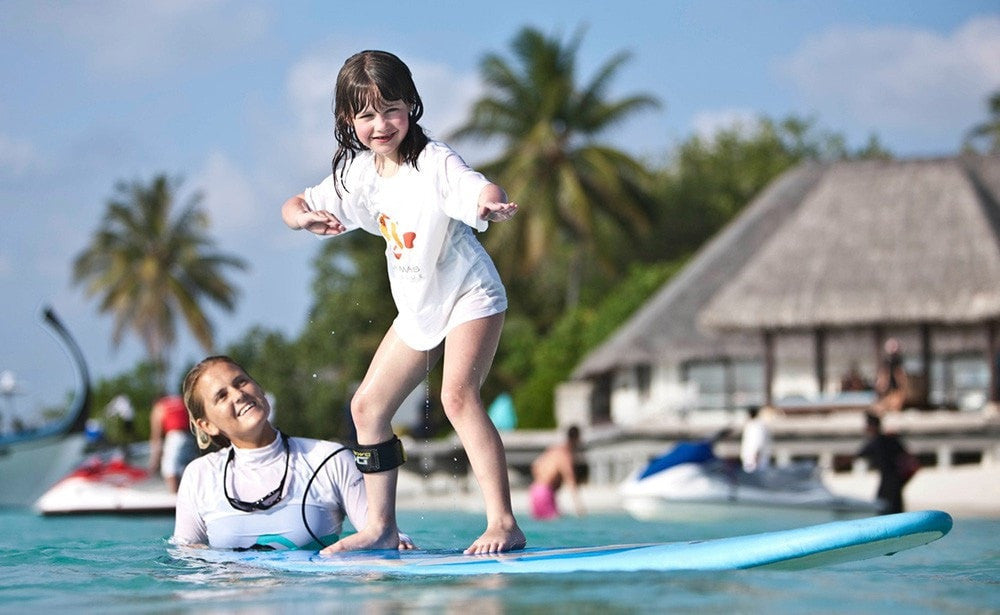 Catch Your First Wave at Kuda Huraa
Allow our expert surf guides to introduce the sport of surfing to your children in a controlled, safe and fun environment. They will spend an hour in the emerald blue lagoon learning to manoeuvre their surfboard, stand, fall safely, and above all, find confidence in the ocean. Our goal is to give children the knowledge and ability to feel comfortable and fall in love with the sport as much as we have!
Previous
Next
Experiences
---
At Kuda Huraa a range of unforgettable diversions beckon. For the action enthusiast a dedicated water sports centre offers a range of attractions like wind-surfing, sailing, kayaking or motorized water sports. A PADI dive centre can arrange scuba diving or snorkeling. Other activities include yoga, fishing excursions, gymnasium, children's activities, village or shopping tours to Male or simply enjoying the Four Seasons' service by the horizon pool.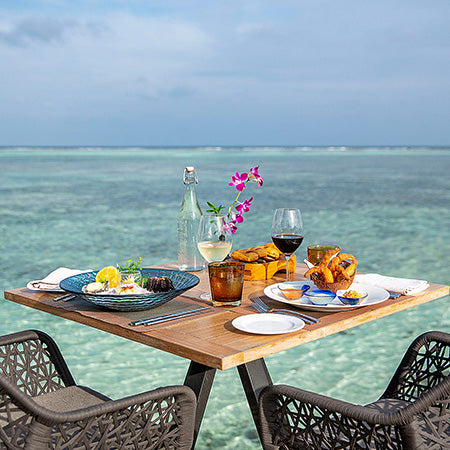 Dining
---
Magnificent natural settings befit the inspiring menus: relax at a table in the sand, settle into an oceanfront pavilion, swim up to the poolside bar, or perch above the lagoon on a torch-lit terrace. Savour superb Indian cuisine over the water at the exquisite Baraabaru. Or celebrate the tastes of contemporary Italy at the intimate Reef Club. Feast on Asian delicacies at Café Huraa or taste sumptuous seafood and prime meats at the outdoor Kandu Grill.
Spa
---
Arrive by boat and stay a good while at The Island Spa, a true retreat for relaxation and reconnection. You may have already swum, surfed and dived – but now it's time to take things deeper. Refresh, re-balance and rejuvenate with wellbeing classes and pioneering OSEA treatments that draw on the healing properties of the ocean – from sea oxygen and sea salt to wild-harvested seaweed and nutrient-rich sea algae.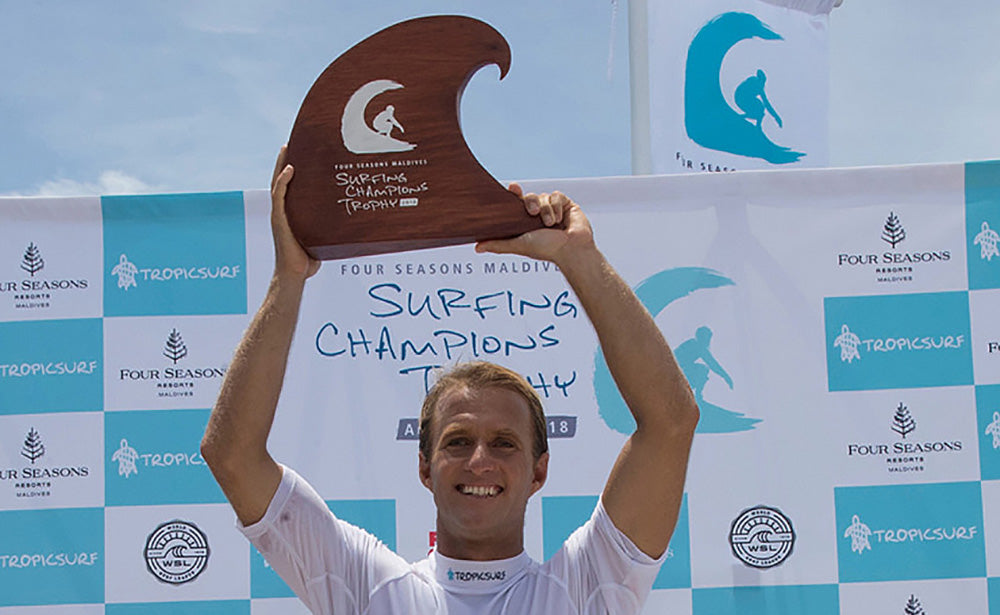 VIP
For surfers preferring a VIP bespoke package, Tropicsurf can provide a dedicated senior guide, photographer and private speedboat so that you can surf exactly when, where and how you desire. Your guide not only knows the Maldives' best kept secrets, they can also assist you through a detailed personalized coaching program. Add a day or two of seaplane surfing and a week like this becomes the ultimate rock-star way to go surfing.
Previous
Next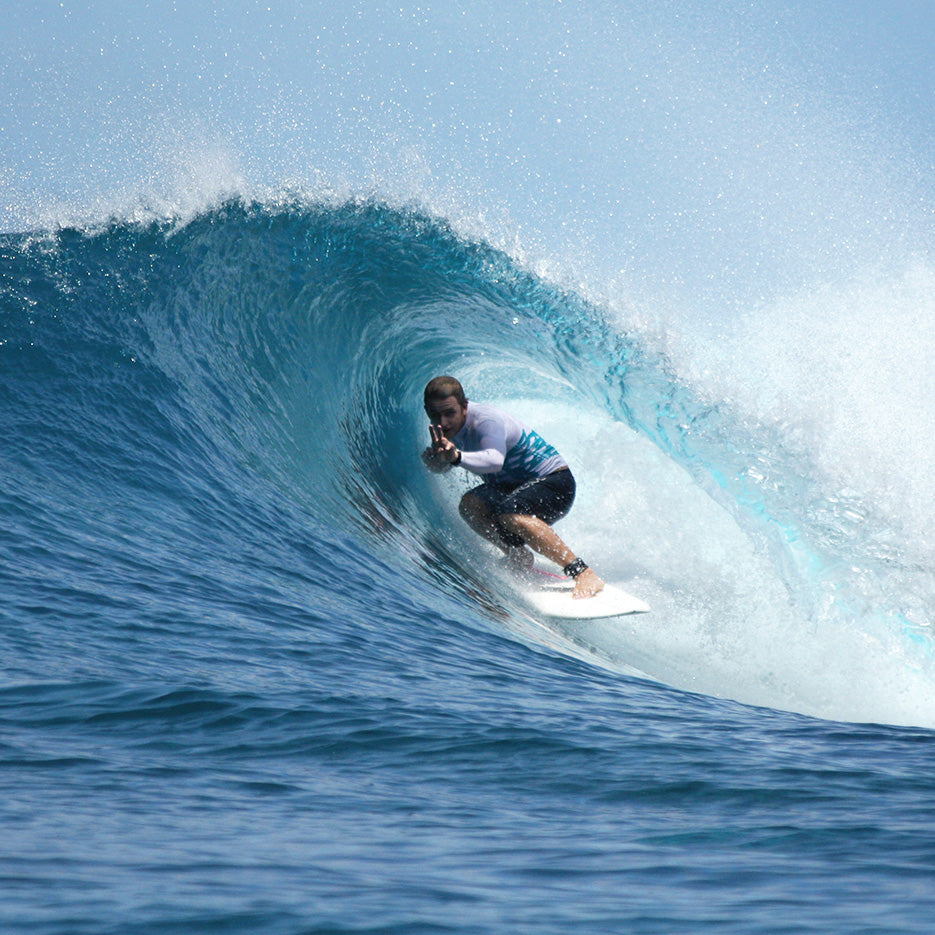 Tropicsurf
---
Tropicsurf provides a year round guiding and instructional service from the resort. Currents, wind, tide, swell directions and neighboring resort schedules all determine the best times and spots. Your guide is an expert in these complex waters and will ensure your time is maximized. Tropicsurf 's renowned services include daily boat trips by traditional Maldivian dhoni or bespoke packages upon request.
Seasons
---
Tropicsurf operates from Kuda Huraa year round. Small waves begin in mid February or March, by April wind direction improves and mid-sized swells from the SE start lighting up all of the best breaks. April is a favorite month, normally delivering shoulder to head-high, glassy waves with lower crowds. May sees the start of the SW monsoon. June to October typically sees the biggest and best swells.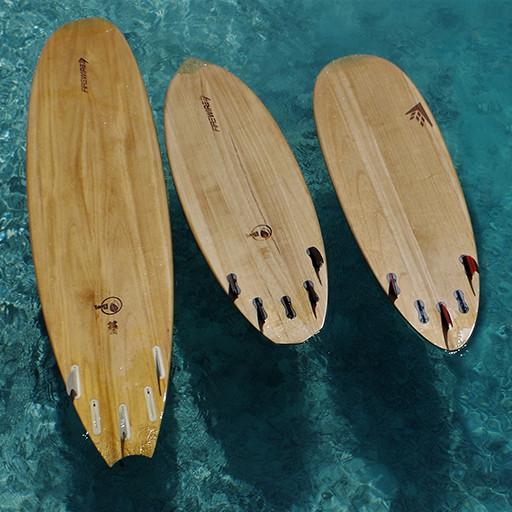 Quiver
---
Tropicsurf has partnered with Firewire surfboards to offer a complete quiver of cutting edge eco-friendly boards for guest use. Avoid the hassle of travelling with your board by contacting Tropicsurf in advance of your stay to reserve choice of board; shortboard, fish, hybrid, or longboard. Stand Up Paddleboards are also available from the Tropicsurf Centre.
LOCATION
---
Four Seasons Kuda Huraa
Nth Male, Maldives
.........
Best surf school

What we loved most about this resort is Tropicsurf - the surfing school. Having had surfing lessons from a few places, this is by far the best surfing school. After three days of lagoon lessons, we were ready for the 5-6 foot waves.

Brandon W - TripAdvisor
Great guides

Our main purpose for the trip was to go surfing. Kerri and Cheyne from Tropicsurf were amazing. They are both so insightful and helpful as guides and instructors out on the water. They were able to ensure that all of the guests had a great time and caught lots of waves. They balanced the various ability levels well and we were able to surf a few different breaks.

jsmmana - TripAdvisor
Incredible surfing experience

Our favourite part, and what will probably bring us back next year, was surfing with Chris from TropicSurf. We are eternal beginners and felt like we made the most progress because of him. Surfing off a boat we caught beautiful, long waves in crystal clear water - was incredible. We thought we were going to spend the week diving, but after one surf outing all we wanted to do was surf.

Jennifer D - TripAdvisor
"World class" experience and service

We used the resorts surfing company TropicSurf and found the experience and service provided by TropicSurf to be what I would consider to be "world class." We were taken each day out by boat to the surf breaks for a 3 hour surf session. At the end the session I also took out the snorkel mask and fin set provided by the resort (for free) and was able to see so many fish. We also got to see dolphins and turtles on these travels.

jsmmana - TripAdvisor
Knowledgeable team at Tropicsurf

For several of my surf sessions, we were able to have the break all to ourselves for an hour or more. Crowds and conditions depend to some extent on luck, but I am sure that the experience and planning of the Tropicsurf team were also major factors in creating the ideal surf experience.

Bobby F - TripAdvisor
World-class waves 10 minutes away

Being a surfer the waves within a 10 minute boat ride from the resort are consistent and world class with both left hand and right hand point breaks and the Tropicsurf guides are absolutely there to maximise your surf and get you in the right spot in the lineup. I can not recommend the entire experience any higher

VOCAustralia - TripAdvisor
Pure luxury

Tropicsurfing on the outside reef and the Diving with Manta Rays will be in my memory forever, these guys give care and attention that I've only ever found at Four Seasons Kuda Huraa! Pure luxury with attention to detail and for the true VIP travel.

Jason K - TripAdvisor
Best guide I've ever had

I just wanted to let you know we had the pleasures of surfing with Archie the past week. I've had many guides in the past and he was by far the best. He was always positive and was a great teacher. He didn't "over teach" but made key pointers that really checked my surfing. He was very professional and along with his great accent, he was just a pleasure to be around. I can't say enough good things and how well he represented your company and the four seasons in general.

Robert, via email
Great team at Tropicsurf

I just wanted to write a quick note and say my wife and I had a wonderful time with Archie, Josh and Angela at the Tropicsurf in Kuda Huraa Maldives. It was a perfect surf trip and they were great ambassors for the brand. We definitely will be looking to work with Tropicsurf in the future and appreciate all the great work the team has done. Very cool operation and we definitely will try to book through you in the future to have some of the added perks.

Dom, via email
Paradise!

I'm just checking in to let you know that we are having an amazing time!! It truly is paradise! Navi has been an incredible guide and has really helped our boys. He is so knowledgeable, friendly and bends over backwards to accommodate us and makes sure everything runs smoothly.

Christine, via email
Absolutely amazing

I just want to pass on my thanks for an amazing time in Kuda Huraa with Hamish and Holly. We had 5 or so surfs with them and they were absolutely amazing, especially with our twin 10 year old girls who came on leaps and bounds during the week thanks to Hamish's patience and great teaching style. They couldn't have made the girls feel more comfortable or been more professional, the girls absolutely loved Holly as well. Thanks again and until next time !

Aaron, via email
Everything went perfectly!

First let us thank you and the tropic surf team for a most incredible adventure! Everything went perfectly and we had a great time, especially the surfing.

Richard, via email
Incredible enthusiasm, encouragement and technical coaching

FYI Brodie was amazing with the kids. Just incredible enthusiasm, encouragement and technical coaching. She was by far the best guide we have had over the years with TS. Is it possible to get her to Six Senses for our trip later in the year. Thanks

Angus, via email
Completely fulfilled all of my Tropicsurf expectations and then some.

We had an amazing trip. As you may have already heard from Ryley & Jessie, we got really lucky with the weather - almost no wind and decent swell - so the conditions couldn't have been much better. Completely fulfilled all of my Tropicsurf expectations and then some. Even better - all of our other (non-surfing) guests had the trip of a lifetime as well - with so many opportunities for SUP, snorkelling, beach walking, Scuba, etc. Even me - the jaded adventure traveller - got to have my mind-blown by getting to Scuba with a giant Manta one day and then swim with Whale Sharks that next. Ryley, Jessie, and Navi were exceptional. Fun and helpful, in the water and out. And finally, the FSE experience is pretty amazing as well. Super comfortable, great food, and an absolutely amazing crew.

Marc, via email
I just wanted to write to express how amazing my experience was at Kuda Huraa,.

I just wanted to write to express how amazing my experience was at Kuda Huraa, and specifically praise the exceptional work of Julien and Lisa. As a couple they work perfectly together and go above and beyond consistently to make you feel special and taken care of. Julien is one of the hardest workers that i've ever seen, constantly pushing to get all of his clients the attention they deserve and deliver the experience they're looking for, both on land and in the water. They should be held up as the gold standard for Tropicsurf, and I can only hope that my next experience with Tropicsurf will deliver to their levels.

Ian Via, email.
They simply excelled all my expectations that were already very high given the Tropicsurf standard!  

I thank all the team! The trip was fantastic and everything went very well! Last but not least, I need to make a special compliment to Juilen and Lisa. They simply exceled all my expectations that were already very high given the Tropicsurf standard!   Julien and Lisa always make that extra mile effort to support us in any way they can! Congratulations for Tropicsurf in having them on board! 

Paolo, via email
Thank you so much for providing the dream surf vacation for my family.

Our trip to the Maldives was incredible. It was the perfect surf trip for our family. My son surfed world class waves every day and I found plenty of shoulders. My wife loved just being in the ocean including taking a couple of surf lessons and of course took advantage of all the amenities. You have done an amazing job recruiting a team laser focused on client service and more importantly being a lot of fun to be with. Recruiting leaders along with their partners is a smart move to keep your team stable and that makes it even more special.  We loved surfing and being with Harry, Pete and Travis along with their partners and of course Mark who spent a lot of time with us chasing waves. Great genuine people who represent your company well. We deviated a few times from the plan because of swell direction and Mel had to pick up the pieces and negotiate with the hotels. She did an amazing job. Next year we will do it again in Fiji so get ready Mel.

Greg, via email.