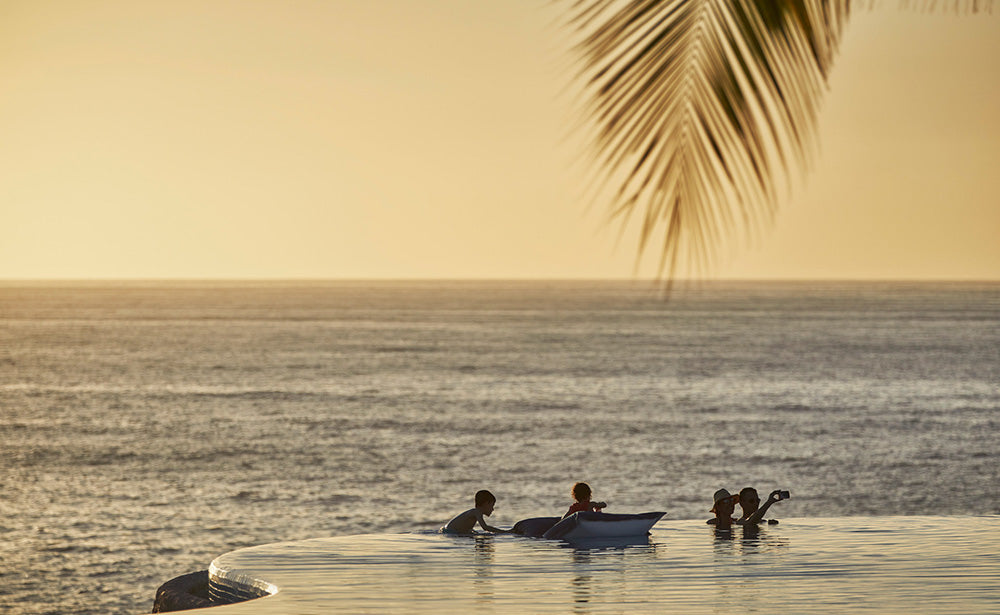 Families, Four Seasons Style
This is a fabulous location for families with children. 'Kid-friendly' surf breaks are everywhere – including the Four Seasons, house-wave. Four Seasons Kids For All Seasons program is also renown for offering stimulating activities across a broad range of ages. Activities could include traditional Mexican crafts, making a tie-dye shirt or Hawaiian necklace, nature walks, beach crab hunts, sports and pool time. There's a great outdoor playground and a big treehouse in the middle of the playroom.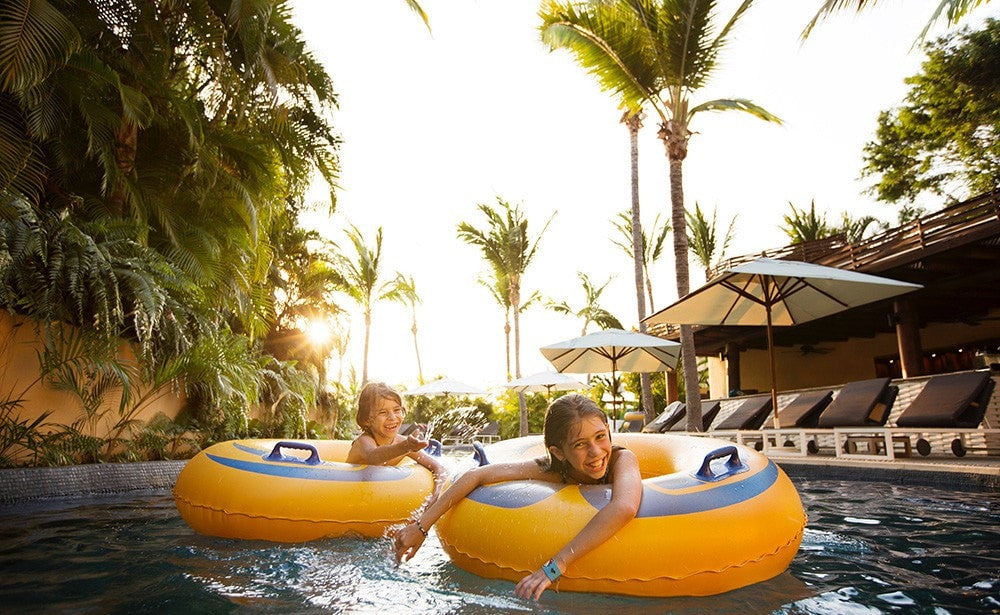 Fun For All Ages
At Punta Mita, there's no need to feel guilty about leaving the kids while you head out for a surf, round of golf or massage; they're probably already off hanging out with the friends they've made through the Kids For All Seasons. This is a location where kids are socially stimulated too; doing laps of the lazy river, playing basketball and hanging out at the Four Seasons Punta Mita Gelato Shop with their merry band of new buddies.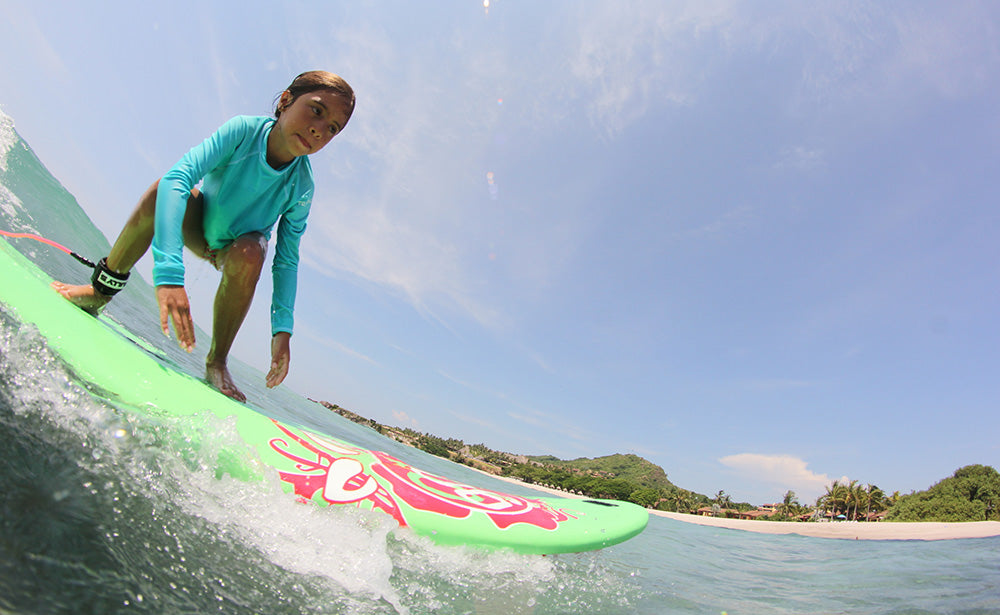 Punta Mita's Safe Surfing
No transport is needed to get to our 'house-wave'- just a few sandy steps to the waters edge - which means that parents can watch in style as their children are guided through their first steps of becoming a surfer. Starting in calm waters, and then leading in to some gentle rolling waves, our Tropicsurf Guides prioritise safety, fun and learning. There's always a soundtrack of laughter and high-fives coming from the water.
Previous
Next
Experiences
---
Within steps of your casita or suite are ample options for fun and enjoyment. Grab a mask and snorkel, SUP or kayak, and explore the turquoise ocean. Treasure-hunters will find no shortage of unique Mexican treats in the on-site boutiques. The resort's tennis center hosts an impressive set-up managed by Peter Burwash International. Basketball, volleyball, salsa dancing, scuba clinics, water aerobics, relaxing by the quiet, adults-only pool… there's so much to do.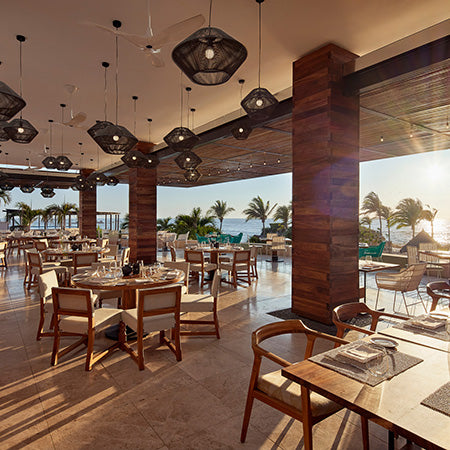 Dining
---
Whether relaxing with a drink at a pool lounge or savoring one of world-renowned creations, you are guaranteed a unique experience. Dos Catrinas is a sophisticated two level restaurant with stunning ocean views and is a tribute to Mexico's past and future combining traditional fare with Mexican street food with a contemporary twist. Bahía is a contemporary seafood-centric beachfront grill offering a relaxed atmosphere. Or experience Aramara's fine dining with contemporary Asian cuisine where influences from the Far East are blended with a taste of Mexico.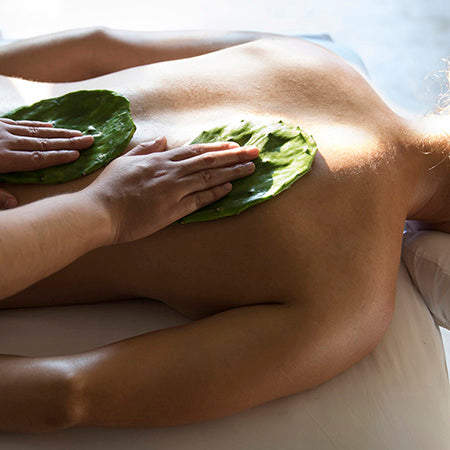 Spa
---
Step into a coastal haven of rest and tranquility in Four Seasons Apuane Spa. An enticing alternative to busier and more commercial Nuevo Vallarta-area resort spas, sun-soaked Apuane, Spanish for "healing waters," is an oasis of serenity in scenic Mexico, using local and natural products. Or enjoy outdoor tranquillity and soak up the sun as a therapist massages away your stress at one of our outdoor spas. Better still, step into a soothing, sun-drenched steam room, hydrotherapy bathtub or shower specially designed for couples.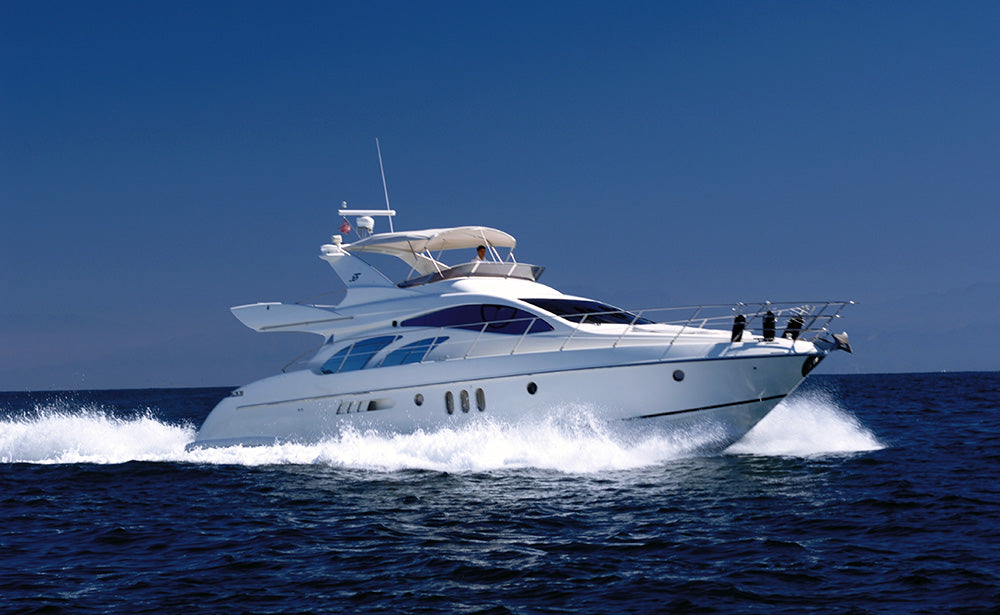 VIP
With the Resort's ideal location on the Pacific coast of Mexico, surf cruises aboard Four Seasons' luxury yacht is particularly practical. At the same time, apres surf diversions can be just as exciting. Guests can also enjoy fishing, snorkelling and diving from the yacht, and from December to March, there's the opportunity to watch the annual humpback whale migration, a truly memorable experience.
Previous
Next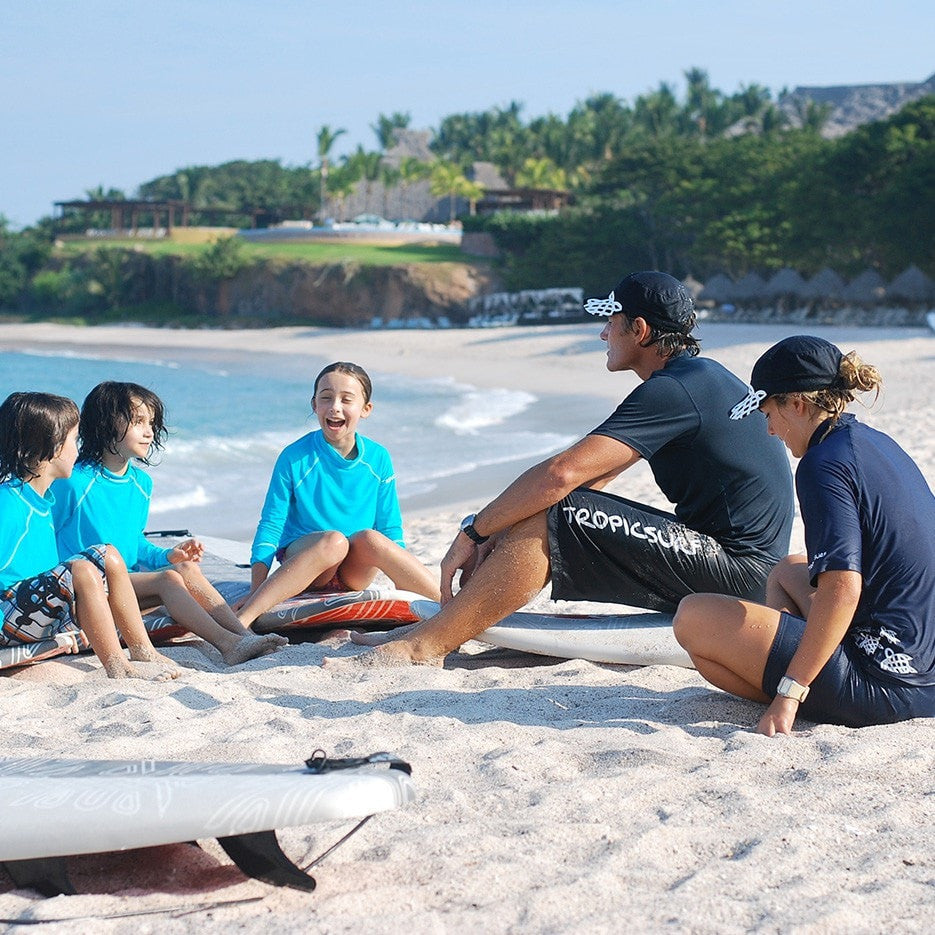 Tropicsurf
---
Tropicsurf's renowned guiding and instructional services are available exclusively to guests of the Four Seasons only. Our small team of experts comprise both expat and locals and are on-hand all year round. Our range of unique services includes twice daily panga trips to all local breaks with guest pick-ups at the resort beach, learn to surf lessons right on the property's surf break and expert guiding with complimentary coaching tips.
Seasons
---
Punta Mita's coastline sits just outside the Bay of Banderas and is exposed to varied swell directions. You can surf here any time of year. The Northern Winter is arguably the best time of year thanks to larger, groundswells coming from the WNW and Hawaii. Winter winds stay offshore longer and the weather is divine - sunny and not too hot, with virtually no rain. On the other hand, Summer season sees SW groundswells sneak up to offer nice, playful, long period waves that rarely get too big.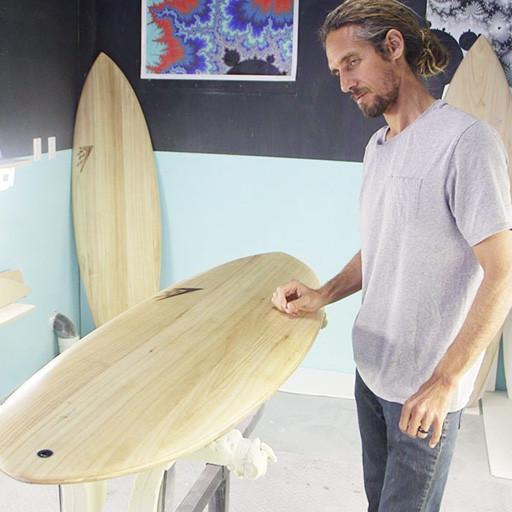 Quiver
---
Tropicsurf has partnered with Firewire surfboards to offer a complete quiver of cutting edge eco-friendly boards for guest use. Avoid the hassle of travelling with your board by contacting Tropicsurf in advance of your stay to reserve choice of board; shortboard, fish, hybrid, or longboard. Stand Up Paddleboards are also available from the Tropicsurf Centre.
LOCATION
---
Four Seasons Resort Punta Mita
Punta Mita, Bahía de Banderas, 63734 Punta Mita, Nay., Mexico
Excellence!

If you surf, book a trip with Tropicsurf. Such a blast surfing with the guides at Tropicsurf.

Kevin C - TripAdvisor
Four Seasons is five star!

My son also did private surf lessons on property which was a huge success.

HanRy31 - TripAdvisor
Wonderful team at Tropicsurf

I just got back from spending a week at the Four Seasons in Punta Mita and surfed with the tropic instructors multiple times while I was there. First let me say what wonderful team you have down there, everyone was very nice and welcoming. In particular, I wanted to reach out on behalf of my entire group to say what an amazing instructor Pepe was. Although a few of us admittedly have no business on a surfboard, Pepe was able to get everyone up, even catching multiple waves. More importantly, he is super outgoing and speaks incredibly fluent English which made our experience that much more fun.

Thank you for the great experience and we will surely be back.

Joel, via email
Great surf coaching

I'm writing to provide positive feedback on our surf instructor, Pepe. My 15 year old daughter and I had 5 days of lessons with Pepe in Punta Mita. Pepe was excellent!! He was able to teach, engage, and challenge my daughter in an appropriate way for a 15 year old, while also providing excellent teaching and technical training for her more analytical 50 year old father. Both of us improved significantly and had so much fun with Pepe. We highly recommend him for surfers of all skill levels and ages and thank Pepe, Gavin, and the rest of Tropicsurf team for an amazing vacation and surf experience. We will definitely be back for another Tropicsurf experience.

Brett, via email
Tropicsurf guides are absolutely wonderful

The kids had an awesome time with Hannah and Brad yesterday!! They are absolutely wonderful. My younger son said he will only surf with Tropicsurf from now on because he has so much fun with them and they really talk to him.

Siobhan, via email
A very happy future repeat customer

I'm sending this email to tell you that your operation here in Punta Mita is awesome. Every instructor I had, Pepe, Brad and Job, was fantastic. They were helpful, informative and just great people. And Hannah, who handled all the organizing, was the same. These are exactly the kind of people that will keep clients coming back and spreading the news. Give them all raises. They deserve it. 

Michael, via email
We had a fantastic time

We had a fantastic time - we had a great instructor and the surfing was the highlight of the trip! We hated to leave but are already looking to plan our next vacation! 

Lauren, via email.