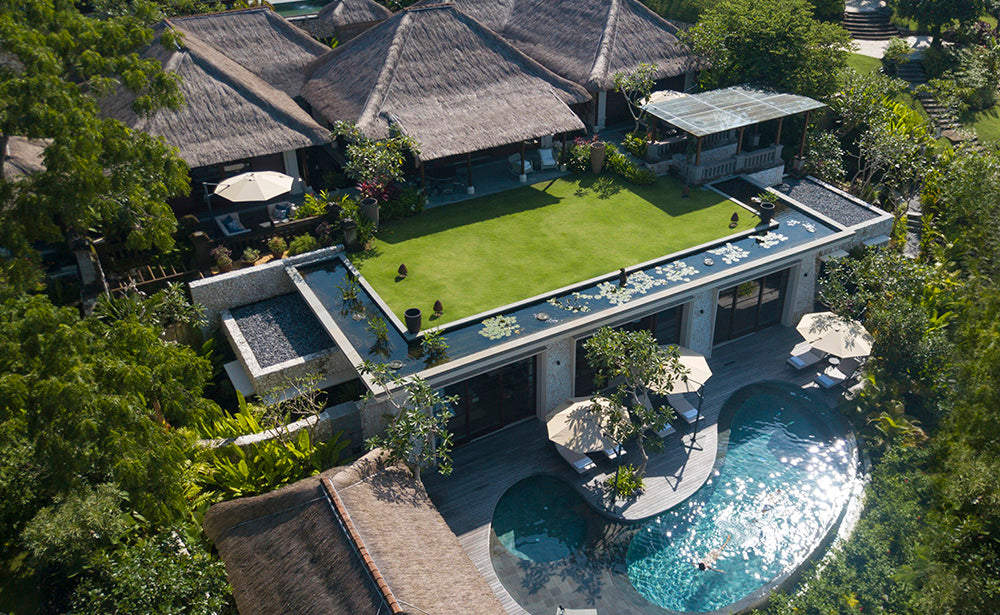 Rooms at Four Seasons Jimbaran Bay
Inspired by traditional Balinese architecture, the Resort's 147 villas are housed within a private courtyard featuring separate thatched-roof pavilions. Each villa includes oversized living areas, lush gardens, a private pool and a sun terrace. Décor features authentic Indonesian furniture, fabrics and artifacts. The Resort's nine residence villas are grand-scale homes located in an adjoining enclave just steps from Jimbaran Beach.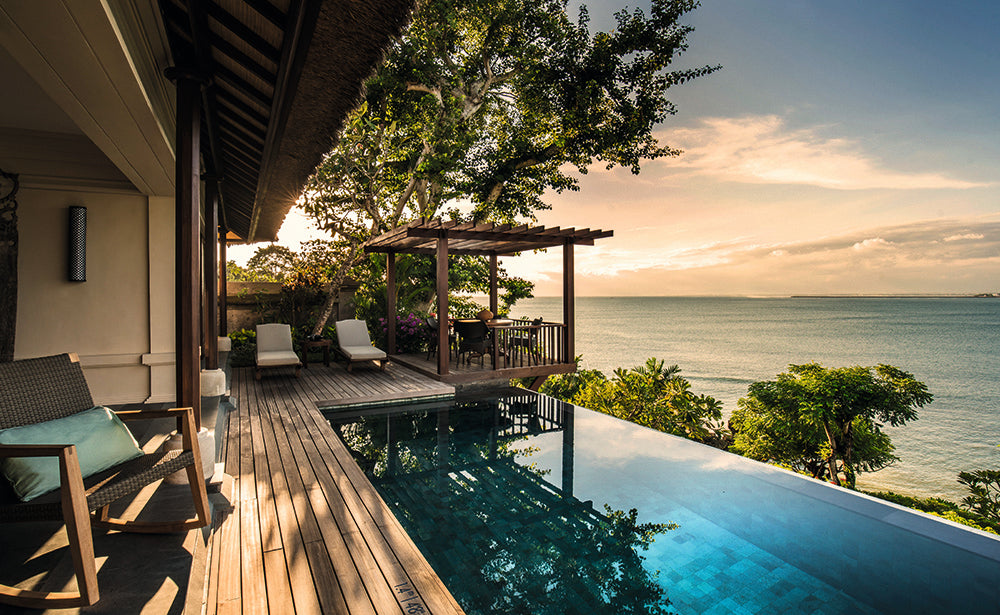 Indian Ocean Energy
The Indian Ocean is an integral part of Balinese culture and is in full display with the breathtaking views you wake up to at the Four Seasons Jimbaran Bay. While watching the fisherman in the mornings, or watching the edge of your private pool melt into the Indian Ocean at dusk, it is easy to drift into that feeling of connection that the Balinese feel.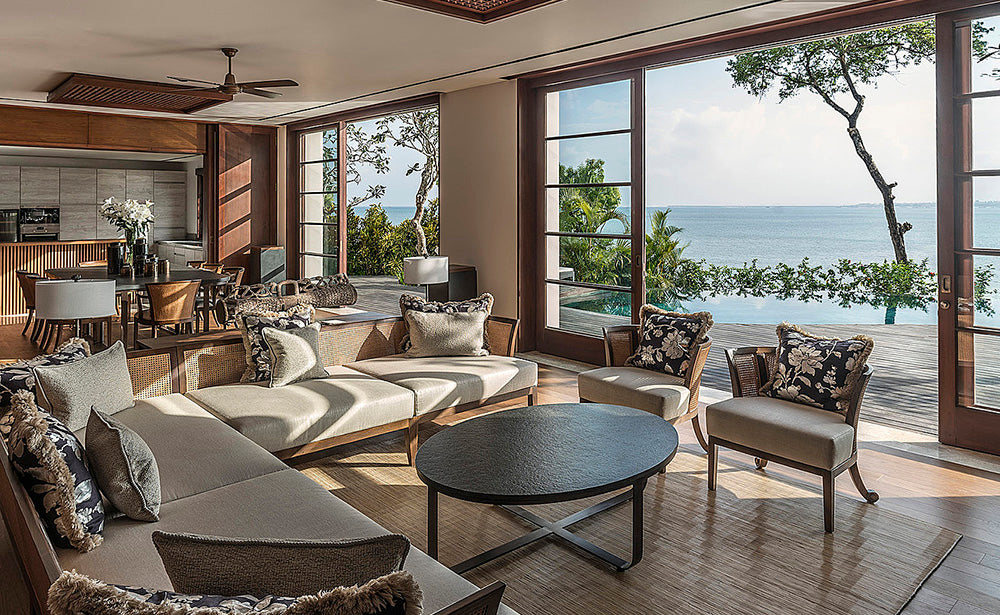 Private Balinese Paradise
There is an infectious hustle and bustle to life in Bali and it can be easy to get caught up in this non-stop energy. However, the beauty of life in Bali is this balance between fervour and serenity. The Four Seasons Jimbaran Bay understands the importance of having your own private sanctuary. This allows for you to disconnect from the various stresses of life, and reconnect with yourself.
Previous
Next
EXPERIENCES
---
A dazzling array of activities is why we flock to Bali. Too many to list, contact us for our personal favorites. Examples include learning authentic Balinese cooking at the resort's renowned school. A scenic bike ride through mountain rice paddies to Bali Asli for a traditional lunch with Penni Williams. A local fish dinner under the stars at Jimbaran Bay Market just a short beach stroll from your villa. The list goes on…..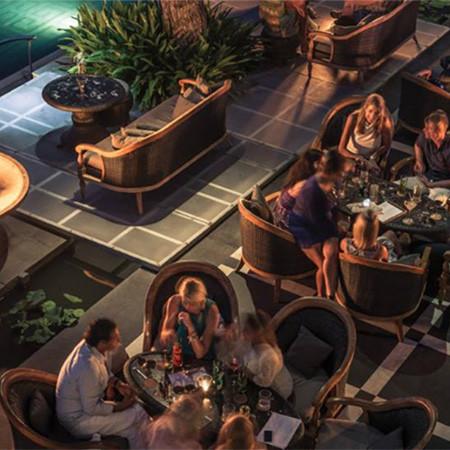 DINING
---
Savor spectacular Bali views with authentic Indonesian or global fare in a range of tropical open-air settings. From lunch to late night, the spectacular Sundara beachfront restaurant offers eclectic international cuisine and innovative cocktails. Or take in the breathtaking views to Jimbaran Bay and distant volcanoes at the open-air Taman Wantilan where you may try traditional Indonesian delicacies.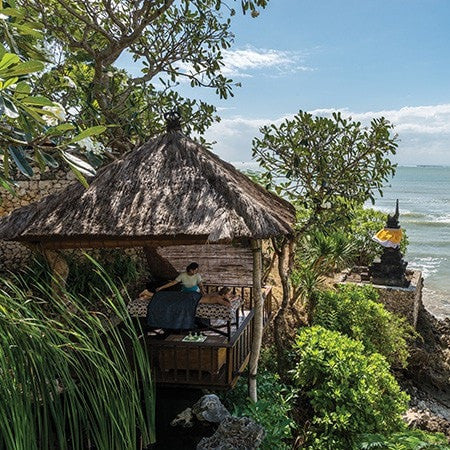 SPA
---
Reflecting our beach-side garden setting, the Spa at Four Seasons Resort Bali at Jimbaran Bay celebrates the healing and cleansing powers of water. In an atmosphere that feels fresh, open and uplifting, intuitive Four Seasons care brings you to a state of deep relaxation while guiding you towards lasting wellness.
VIP
Tropicsurf offers guiding Heli Surfing from Four Seasons Jimbaran Bay. It's possible to depart just near the resort, be delivered to the legendary waves of Grajagan (G-Land), surf most of the day and be back at Four Seasons for a sunset daquiri. With former clients such as Kelly Slater, Mick Fanning and Julian Wilson, this is definitely a rock-star way to go surfing!
Previous
Next
Tropicsurf
---
Many Balinese breaks can be seasonal, tidal or difficult to find. Expert guiding is essential unless you want to waste precious time. Tropicsurf's base is strategically chosen with easy access to West, South and East coasts. From here we operate private guiding, beginner lessons and our renowned coaching programs on a year-round basis. Trips include transportation by our authentic, local-style boat or sometimes car.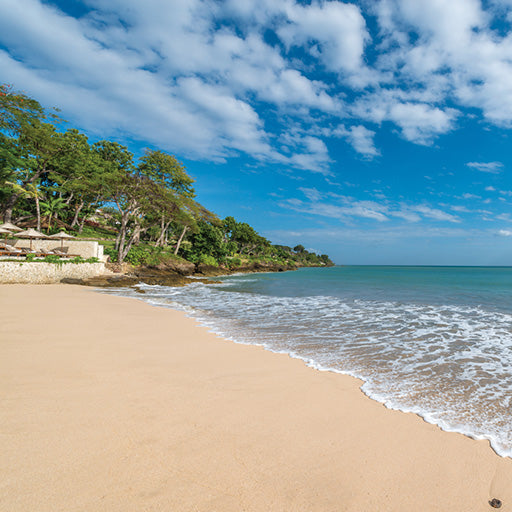 Seasons
---
Bali has quality surf all year and is predictably determined by two trade wind seasons. Dry season (April to October) features offshore winds on the West Coast. Wet season (December to February) brings offshore winds to the East Coast. Peak surf is June to August but the waves will be at their busiest then. Shoulder months such as March-April or October-November normally deliver less size, less crowds and can be more enjoyable.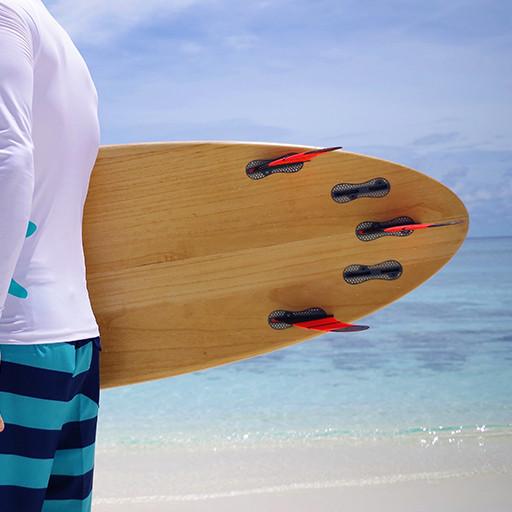 Quiver
---
Tropicsurf has partnered with Firewire surfboards to offer a complete quiver of cutting edge eco-friendly boards for guest use. Avoid the hassle of travelling with your board by contacting Tropicsurf in advance of your stay to reserve choice of board; shortboard, fish, hybrid, or longboard. Stand Up Paddleboards are also available from the Tropicsurf Centre.
LOCATION
---
Four Seasons Jimbaran Bay
Jimbaran Bay, Jimbaran, Kuta Selatan, Kabupaten Badung, Bali 80361, Indonesia
Tropicsurf gets an A+

A+ for surfing with TropicSurf on the beach and private boats to reach various surf spots. Strongly recommended.

Sebastien1125 - TripAdvisor
Enjoyed surfing with Tropicsurf

We enjoyed 3 days of surfing with Tropicsurf, which is located on the Four Seasons property.

rshea67 - TripAdvisor