EXPERIENCES
---
Dhigu features an elegant spa that offer a contemporary range of indulgent, body treatments. If it's action you seek, a dedicated water-sports centre offers a range of distractions. The PADI dive school can reveal coral reefs teeming with an abundance of tropical sea life. Snorkeling trips occur daily. Or you can take one of the resort kayaks, sailing boats or windsurfers for a scenic tour of the beautiful lagoon.
DINING
---
Between the temptations on offer on Anantara Dhigu and those of its sister resort Anantara Veli, an array of casual and fine dining destinations unmatched by any other Maldives resort is yours to savour. Alternatively let us arrange a banquet on the beach, a candlelit picnic on your own stretch of sand or desert island or a barbecue with your personal chef on your terrace. Global cuisine meets tropical paradise.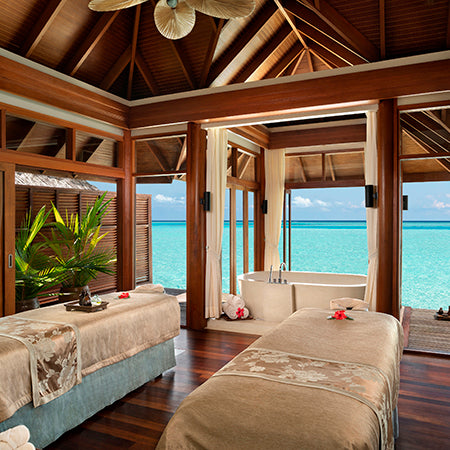 SPA
---
Pamper. Enliven. Release. Unwind. Spoil your body, soul and mind with a selection of Anantara Spa's world-renowned signature treatments, alluring bath and steam rituals and holistic therapies. Anantara Spa Dhigu is a true oasis of tranquillity, with over-water treatment suites nestled on one of the world's most remarkable tropical island settings. Discover what the Anantara brand is famous for.
VIP
Feeling adventurous? Tropicsurf regularly arranges VIP excursions to the North Male surf breaks aboard a private luxury yacht. Alternatively delve deeper into the southern atolls in search of your perfect wave via a private seaplane safari. Return to the comforts of your Dhigu villa by dusk to unwind and watch the sun go down.
Previous
Next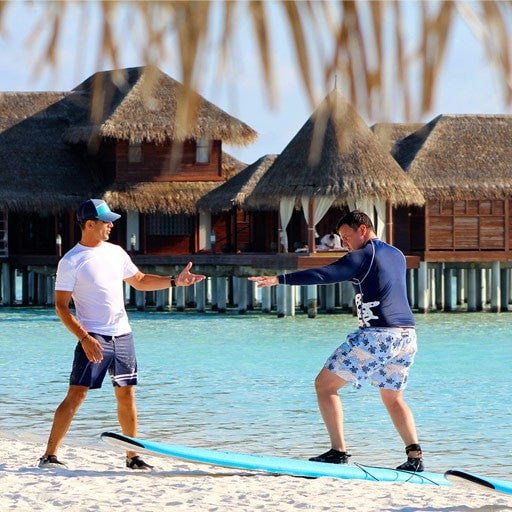 TROPICSURF
---
Dhigu operates a surfing-pass system that ensures a qualified guide, boat and equipment are dedicated to surfing guests. Tropicsurf delivers a 5-star service with no more than eight surfers booked at any one time. TTR allows you multiple surfs per day, and privileges like board hire, surf updates and coaching. Seaplane surfaris or speedboat excursions to North Male are also available.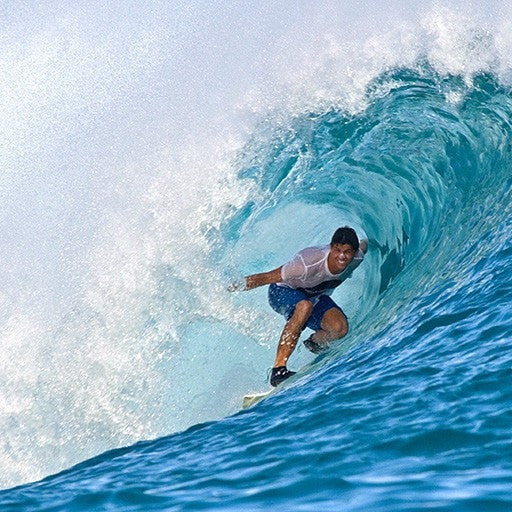 SEASONS
---
Tropicsurf operates out of Dhigu year round however the surf season is between April and October. Swell size in the off-season months can vary and shouldn't be counted on for a serious surfing vacation. During the season itself the swell direction starts to change, swell size and consistency normally increases. Waves are typically chest-high to a little overhead.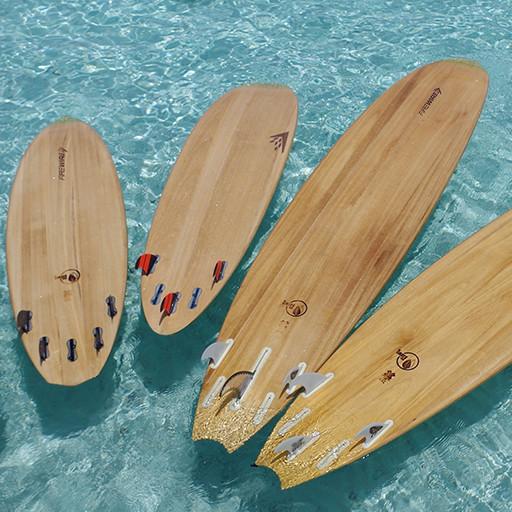 QUIVER
---
Tropicsurf has partnered with Firewire surfboards to offer a complete quiver of cutting edge eco-friendly boards for guest use. Avoid the hassle of travelling with your board by contacting Tropicsurf in advance of your stay to reserve choice of board; shortboard, fish, hybrid, or longboard. Stand Up Paddleboards are also available from the Tropicsurf Centre.
LOCATION
---
Anantara Dhigu
Dhigufinolhu, South Male Atoll 20109
Dhigu Delight

My husband and kids aged 14 & 9 spent a lot of time with Tropicsurf Josh & Fiona, thank you Fiona for towing Luca around on the waves, yoga on surfboards whilst waiting for the next set to come thru. Josh with his fantastic tuition had them all surfing nearly every day.

Kim M - TripAdvisor
Great for beginner to advanced surfers

I would highly recommend a surfing session with Josh & Fiona at Tropicsurf. Everyone from beginner to advanced surfers will have a great time progressing their surfing in excellent waves

Marcus S - TripAdvisor
Paradise

Speaking of awesome water sports, I booked him into the Learn to Surf with Fiona and Josh at Tropicsurf. From the minute we arrived for his lesson, they were amazing! My son was up riding those waves from the start and he had such a great time and it's something he'll never forget! Josh was so good with him and so patient.

Lisa G - TripAdvisor
Magic

You will find yourself in the lagoon and the magic begins.

Alexander_XXXX - TripAdvisor
Fantastic Stay!

Our son took 2 surfing lessons from Tropicsurf's Brad & Hannah. He had so much fun the first time he begged for a second lesson! Kudos to Brad & Hannah for their enthusiasm. They are such fun loving people, and made our son's first surfing experience so wonderful.

bunny252 - TripAdvisor
Amazing service and attention makes this a "must return" spot

Now... for the icing on the cake for this trip... the surfing! We booked through TropicSurf - Jenni was fantastic, helping to resolve tons of questions I had to ensure we knew what we'd be getting from a surf experience. Not having been on a board since moving to Singapore, did not want to be tossed out into a lineup with 50 aggro guys and gromms. Alex was fantastic. He created a great vibe amongst the small pod of surfers that went out each day. I don't think there was a day there were more than 4 people surfing the peak, and all were cool, taking turns to be sure everyone got their waves of the day. It was toward the end of the season, so while the surf may have been only shoulder to head high (ok, I'm only a 5'4" female) so smaller, it was a long fun right that would wrap on the inside with the tide, and would kick up a faster steep inside section to keep the speed to take it all the way into the inner reef, just in front of the staff quarters. Alex has a great way with some of the newer to surfing participants, and gave coaching tips to all which was a treat.

Flashpacker08 - TripAdvisor
Once in a lifetime trip...

once in a lifetime trip....nope we'll be back

Jeff C - TripAdvisor
Very Impressed

We were so impressed with Anantara and Tropicsurf we are definitely coming back and yes, we will book with you. If you could pass on how incredible Josh, Fiona and Jessie are that would be appreciated. They have helped us create some lifetime memories!

Scott, via email
Wonderful Tropicsurf Team

Josh and Fiona were terrific as always. They are just the best hosts. And they have shown Jessie how it is done – really had a great time with him as well. Such a wonderful crew. Another reason to try Laamu in 2020….

Jans, via email
Great holiday!

Thank you very much for a great holiday!
Anantara is great. Thank you for the nice villas, location is perfect👍
Fiona and the guys are VERY friendly, professional and nice! We like them very much😘
I am so happy with Tropicsurf and you personally, great job👍
Will stay in touch! I am already looking forward to other trips with you:))) will ask you about other destinations later, as soon as we are ready for the next vacation:))

Anastasia, via email
Time of our lives

Josh, Jesse and Fiona are amazing! Very professional and friendly. We are having the time of our lives.

Maria, via email
I loved every minute of it.

Shane and Tereza are solid, good-hearted people who are absolutely top quality.  They're the prototype for sure. Looking forward to the next time.

Chad - Email
You have 2 awesome guides and 2 very happy surfers here!

Just a quick note of thanks, it's the last day here for us and it's been so good. The villa is beautiful, and the surf has been really great, just what I needed. Travis & Erin have been truly amazing guides; picking the best times for maximum output, getting both Chie and I into amazing waves, and always sharing the stoke at the end of each ride. You have 2x awesome guides and 2x very happy surfers here!

Rob, via email.
Erin, Travis and Jessie are all amazing.

Great surf coaches but even better humans and my family adore them. 

Donnie, via email.
Exceptional professionalism and willingness to go above and beyond

Eli provided an outstanding experience during my recent surfing trip to Qtr surf break in the Maldives. During my time in the water, Eli displayed remarkable qualities of dignity and maturity. Despite being part of another surf group, Eli took it upon himself to guide and direct everyone in the lineup, ensuring that each person was positioned in the best spots to catch waves. His knowledge and guidance allowed all of us to have a remarkable and enjoyable time without any complications or issues. Eli's 'in providing a positive experience truly stood out. It was clear that Eli's dedication to his role extended beyond mere job responsibilities and reflected a genuine passion for creating memorable experiences for his customers. Tropicsurf should be proud that he represents your company as its clearly made us all think twice about who we book our next regular surf adventure.

Scott, via email
Josh and Fiona were amazing and my 7 year old son caught his first wave based upon everything Josh did with him.

Just wanted to say one big thank you for all your help with booking our whole entire group at Anantara. Everyone loved it and everything was great. Also, just wanted to let you know Josh and Fiona were amazing and my 7 year old son caught his first wave based upon everything Josh did with him. He was so hyped on Josh and they helped him so much. Was so cool to watch it all.

Mike, via email
We will be back next year!

We had the most awesome time at Anantara. Made all the more special by Fee and Josh who are, quite simply, the best. You guys are lucky to have them! Thanks for helping us to book it up - we will be back next year ... although our kids are adamant that they will only go where Fee and Josh are!

Jim, via email.