Gili Lankanfushi Families
Gili Lankanfushi gives the ultimate sense of space for the family to unplug and reconnect. A myriad of water sports and activities allow you to immerse yourself in nature in contrast to a dedicated kids club or program. PADI dive instructors ensure that little snorkelers experience the very best instruction and marine life viewing in small group sizes.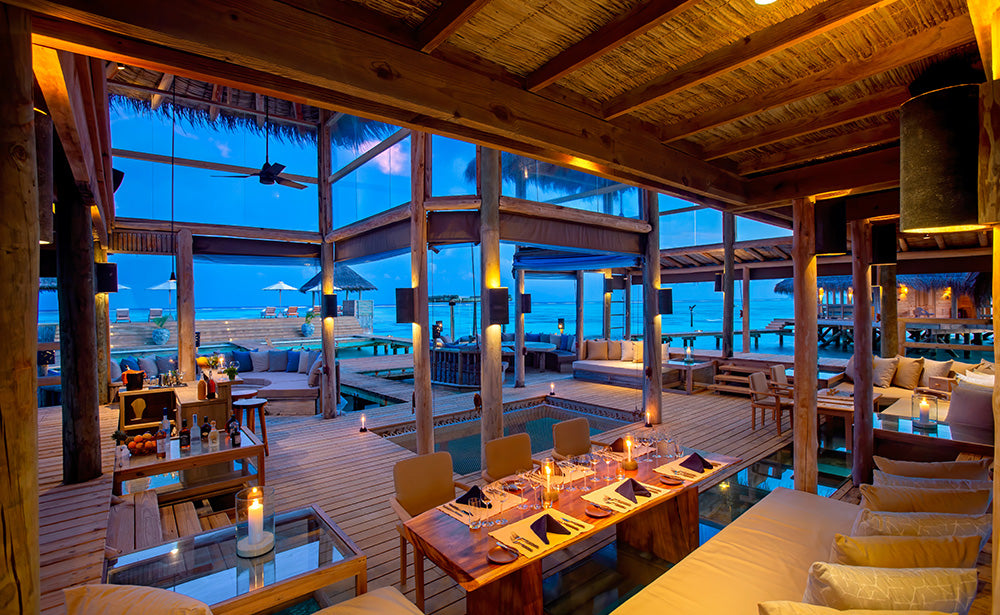 Perfect For Special Occasions
There is no better place to celebrate that special one's birthday or anniversary than the luxurious Gili lankanfushi. Bringing the family together in luxurious paradise. The spectacular setting of the resort allows for a celebration that dreams are made of. Why not get the whole family surfing together? There is no better way to create memories that will last a lifetime.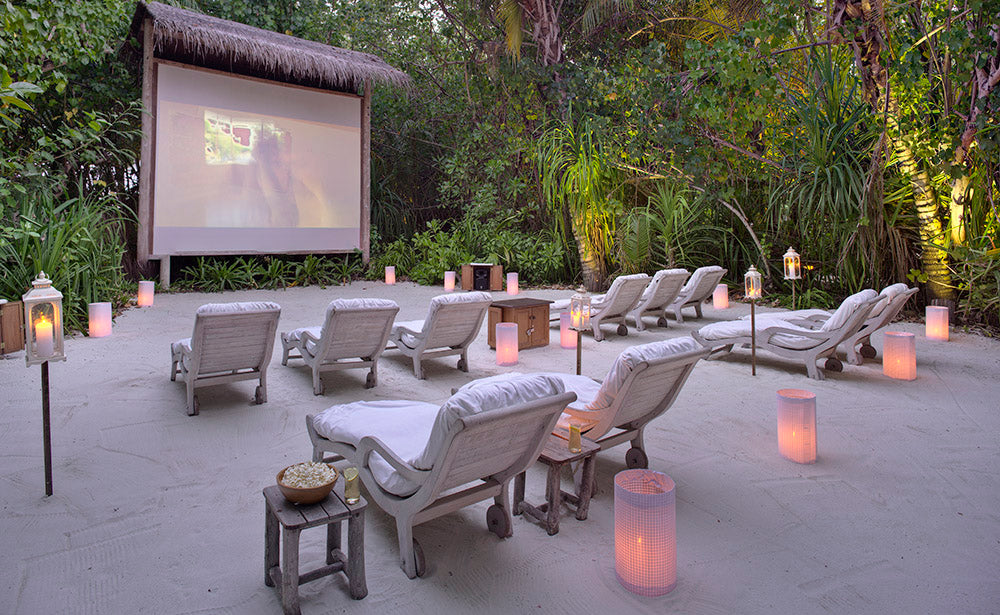 Family Fun
Quality time is essential for every family. Gili Lankanfushi offers something for everyone. While mum and dad are being spoiled in the spa, the kids can be making pizzas, playing soccer with the hosts, watching movies in the outdoor cinemas and enjoying some tennis or exploring the spectacular lagoon with one of the resort's Marine Biologists.
Previous
Next
EXPERIENCES
---
It's tempting to simply meditate in the serenity of it all and the house sunrise yoga and meditation sessions invite you to do just that. Water sports include catamaran SUP, sailing, kayaking, canoeing, water skiing and windsurfing. There's a tennis court, volleyball and ping pong as well as library and fitness centre. Sunset dhoni cruises, sandbank picnics, dolphin spotting and excursions to the capital Male or a local village can all be arranged.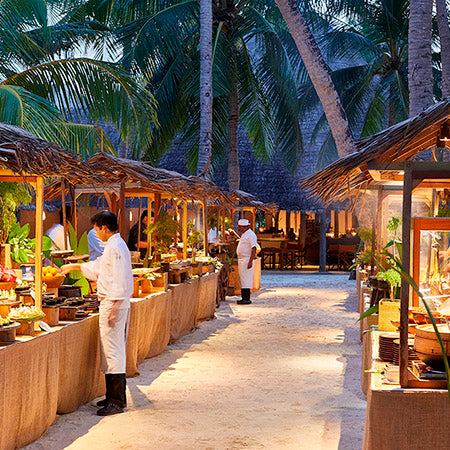 DINING
---
Whether you crave European delicacies, Asian delights or fusion fare, you can savor superb cuisine at the main restaurant, over water bar, the intimate Japanese restaurant By the Sea or from an array of private, romantic dining destinations dotted around the island or lagoon. Be sure to descend to the underground wine cellar and chocolate cave for a selection of over 400 wine varieties, artisanal cheeses, cold cuts and handmade chocolates.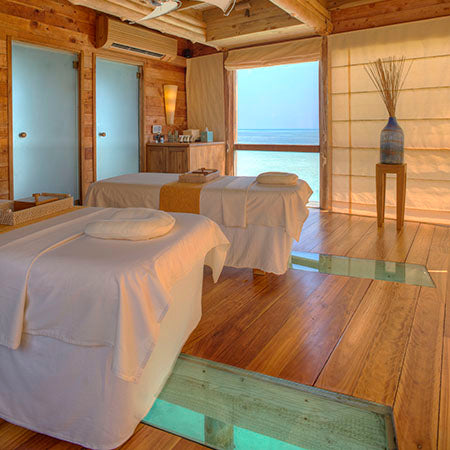 SPA
---
Meera means ocean in the Sanskrit language and the glass floor panels beneath the massage tables offer recipients a unique peek underwater to heighten the sensual experience. The spa offers a range of holistic therapies and the signature massage with warmed aromatic oils presents yet another fresh encounter. The overwater treatment area also incorporates a yoga and meditation champa.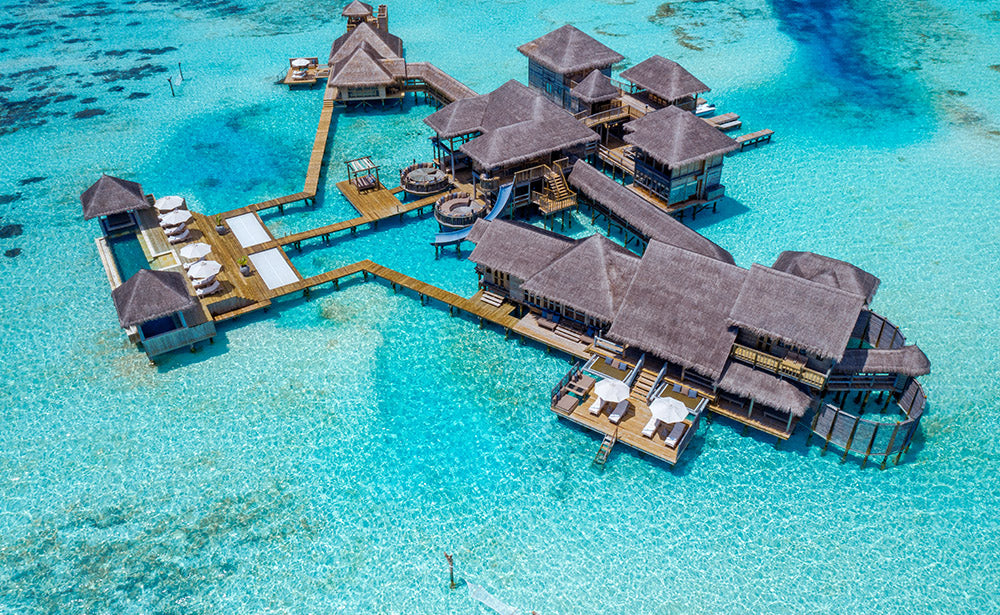 VIP
The Private Reserve, legendary in the Maldives for its 1400 sq.m design, features a private infinity pool, spa, cinema and second-level gymnasium. It's unsurpassed VIP accommodation shrouded in privacy and accessible only by tender. Surf views to the Jailbreak reef means that VIP Tropicsurfers never miss a rising swell or shifting breeze. A Luxury yacht is on hand for around the clock surf excursions.
Previous
Next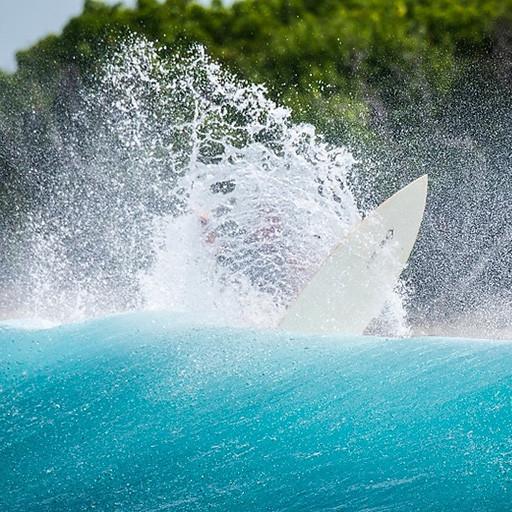 TROPICSURF
---
Tropicsurf provides a year round guiding and instructional service from the resort. Currents, wind, tide, swell directions and neighboring resort schedules all determine the best times and spots. Your guide is an expert in these complex waters and will ensure your time is maximized. Daily boat trips by fast speedboat are flexible and adaptable to guest needs due to the low surfer numbers at Gili Lankanfushi.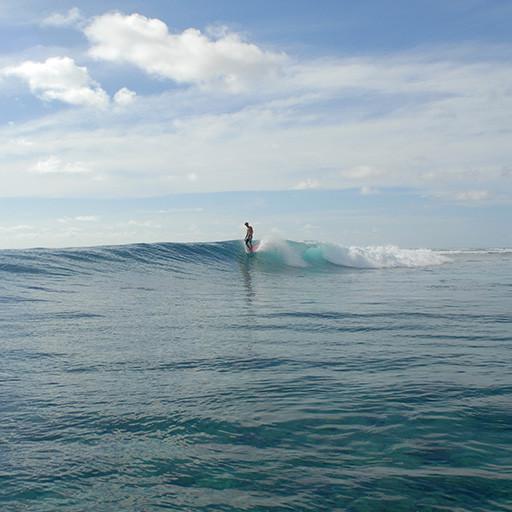 SEASONS
---
Tropicsurf operates from Gili Lankanfushi year round. Small waves begin in mid February or March, by April wind direction improves drastically and mid-sized swells from the SW start lighting up all of the best breaks. April is definitely a favorite month, normally delivering shoulder to head-high, glassy waves with lower crowds. May sees the start of the SW monsoon. June to October typically sees the biggest and best swells.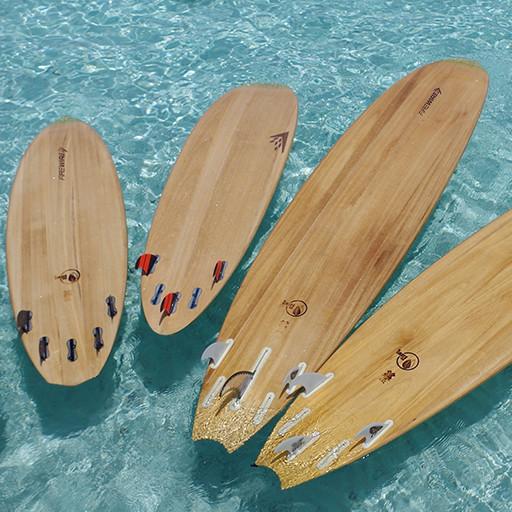 QUIVER
---
Tropicsurf has partnered with Firewire surfboards to offer a complete quiver of cutting edge eco-friendly boards for guest use. Avoid the hassle of travelling with your board by contacting Tropicsurf in advance of your stay to reserve choice of board; shortboard, fish, hybrid, or longboard. Stand Up Paddleboards are also available from the Tropicsurf Centre.
LOCATION
---
Lankanfushi Island, North Malé Atoll, Republic of Maldives, Maldives

Out of this world vacation spot

We used Tropic Surf and they are the best in the business. If you you need instruction, they are the best. If you don't need instruction and you just need a ride to a break, also not a problem.

eddieglenn - TripAdvisor
Blown Away!

If you are keen on surfing, visit the surf shack on the island and speak to Chris and Hannah at Tropic Surf. I surfed 2 days at breaks nearby (sultans/jailbreak). Both breaks are world class right hand point breaks and during the stay we scored some great waves. Chris is very knowledgable on the surf breaks and will make sure you are in the correct position to catch the wave of your life.

Tim A - TripAdvisor
Simply the best!

Beau Nixon from Tropic Surf - without any doubt the best surf school in the world( thanks for your commitment and the super fun time in the water).

Culture771502 - TripAdvisor
Perfection Again!

During the day we have been surfing the local breaks with Tropicsurf, the resort's surf service providers, and have had some of the best waves ever.

seasurfsoul - TripAdvisor
Dream Stay

Two days of amazing waves that we experienced with the expert guidance of Beau (the onsite Tropic Surf instructor)

jkmccall - TripAdvisor
Searching for words

Thank you Chris and Hannah from 'Tropicsurf' for worldclass-teaching and challenging the teenies in worldclass-waves and in their personality!

caro-roswitha - TripAdvisor
Grant was terrific!

I cannot speak more highly of Grant! He was a helpful coach and a tactical crowd navigator, and a very soulful guy. 

Luke - Email
The experience was absolutely wonderful!

Our family of four spent two weeks at Gili Lankanfushi during the Christmas holidays. My husband and my daughter had the chance to try surfing for the first time with Aaron Kelly and Keely Smallwood. The experience was absolutely wonderful! Keely and Aaron are full of positive energy and they were close to Vivian, my 13 year old daughter, making sure she was having fun and was safe at the same time, in her first contact with surfing. They are an important reason for us to go back to Gili or even follow them in another resort in the Maldives of the same level. 

Olga, via email.