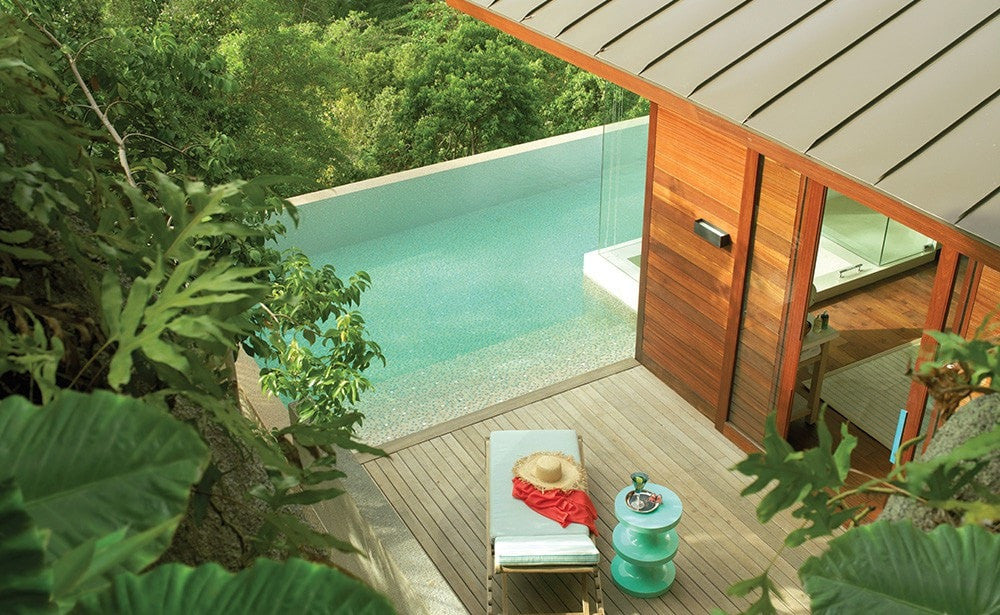 Rooms at Four Seasons Seychelles
Offering solitude and serenity, the Four Seasons villas offers a private sanctuary, perched on stilts high on the jungle hillside or nestled amidst greenery close to the beach. Living areas are more outdoors than indoors. Many incorporate existing granite boulders into their sleek, airy interiors. Each villa features a large deck with infinity-edge plunge pool, and shaded day bed. Each villa is well distanced from the next. Tropicsurf recommends the Ocean View Villas for their impressive views.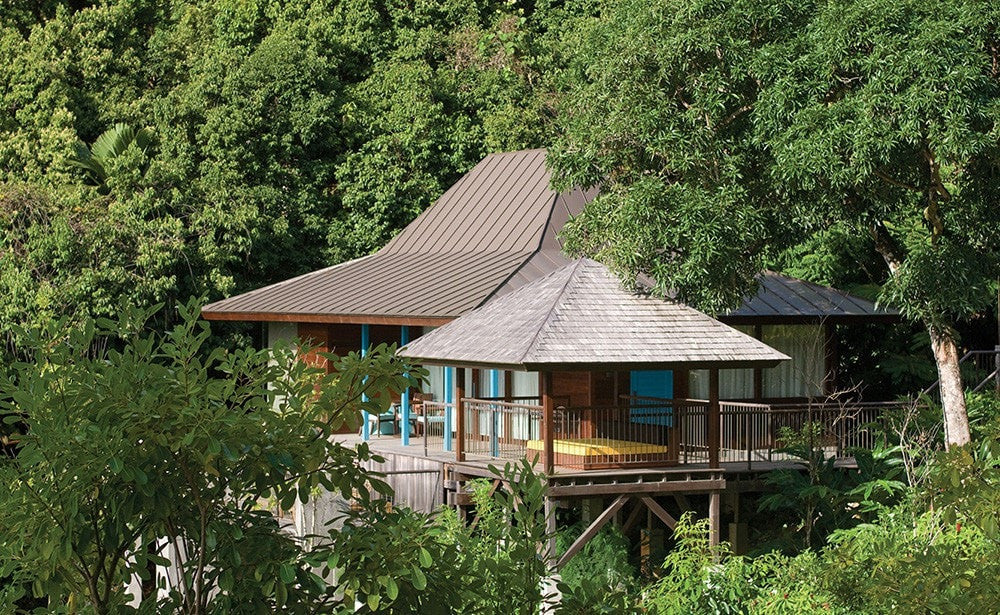 Natural Privacy
The villas at the Four Seasons Seychelles are carefully positioned amongst the natural landscape, giving you a sense of natural seclusion that immediately makes you feel like you're on your own private island reserve. The views are, put quite simply, stunning. Take in the deep blues of the ocean during the day and the pastel hues of an Indian Ocean sunset at dusk; you'll want to spend a lot of time out on the terrace.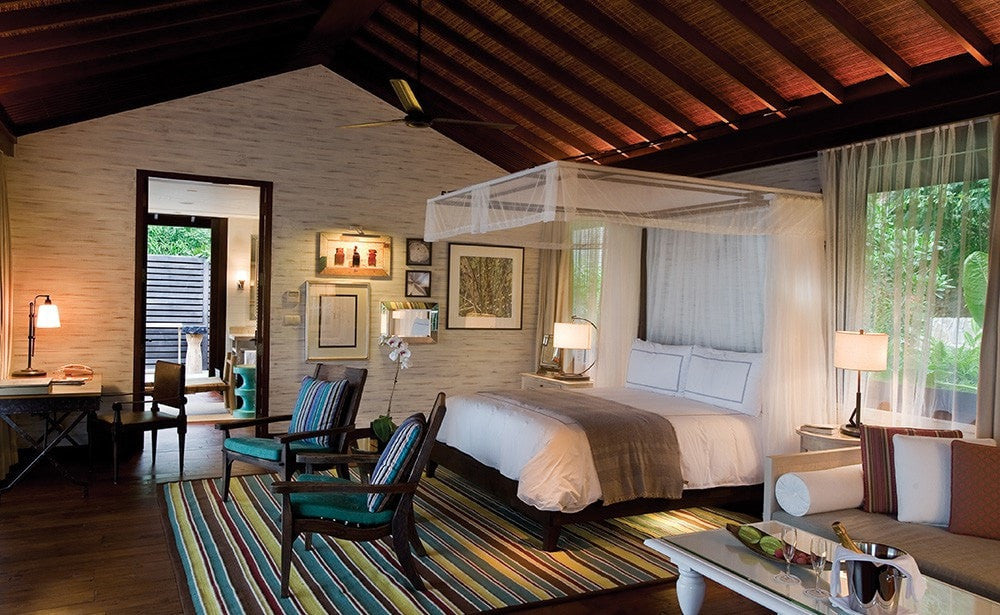 Four Seasons Island Style
Natural timbers and locally sourced furniture provide a sumptuous feeling of being connected to the simple island vibes of the Seychelles. Elegant interior and exterior design blends the 5-Star Four Seasons style with the surrounding natural environment perfectly. This is a resort that facilitates relaxation, reconnection and romance.
Previous
Next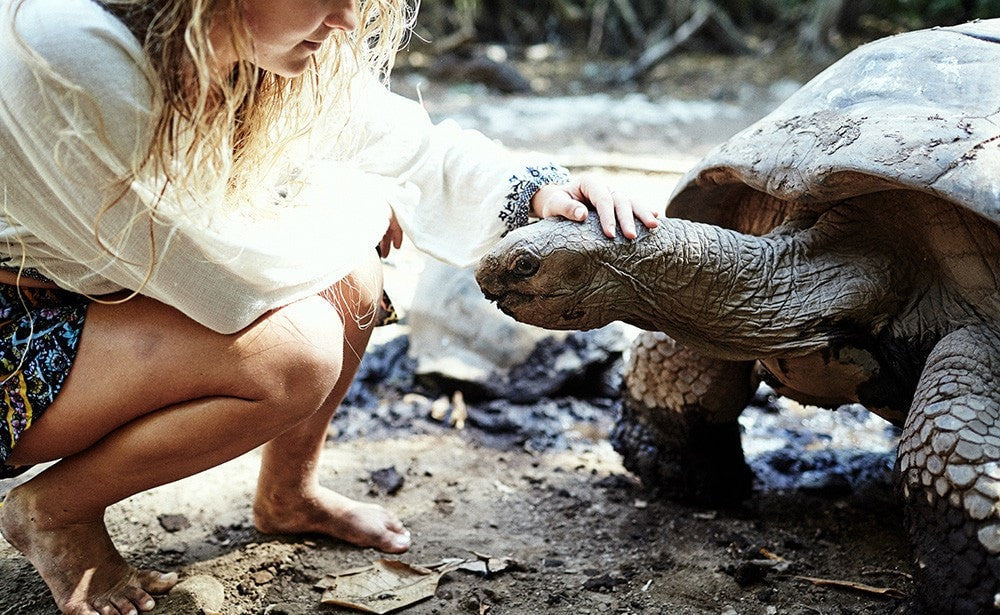 Families at Four Seasons Seychelles
Seychelles beaches are the best in the world. Framed by ancient granite boulders and powder-soft sands, their turquoise waters offer sublime opportunities for swimming or pure relaxation. But a diversity of attractions await. Family activities are plentiful. Kids can choose between some of the many Resort activities on offer, including bodyboarding, rock climbing, time at the Kids' Club or even snorkelling with the WiseOceans Marine Educators.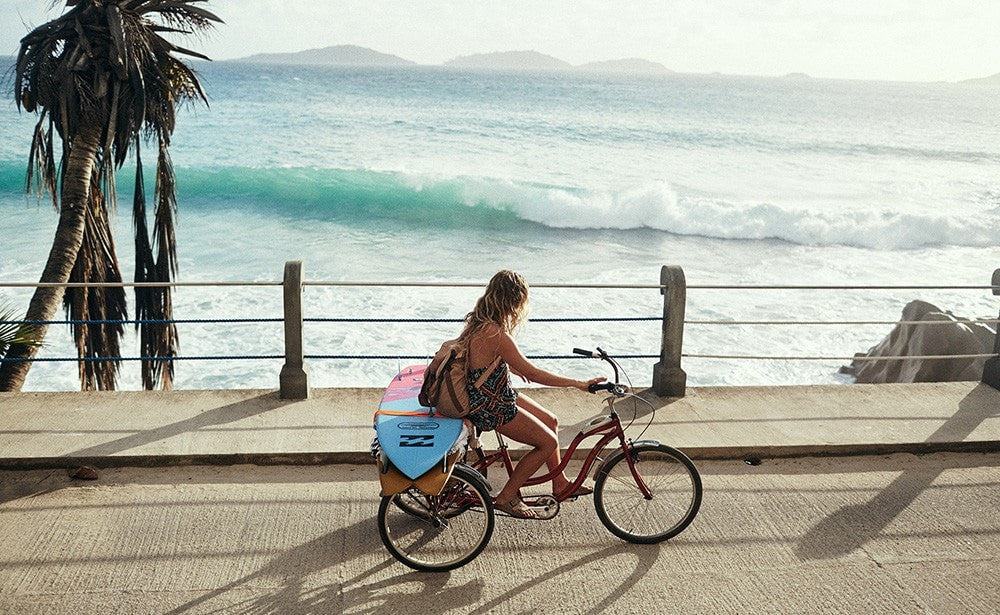 Sandcastles and Safe Waves
Just 5 minutes from the Four Seasons Resort is the beautiful Baie Lazare. This is where the first person, French sailor Lazare Picoult, ever set foot on the Seychelles. He probably wasn't thinking it at the time, but our guests all agree that it's one of the best places in the world to share surfing as a family. Soft white sands, shade from the palms, warm welcoming water, gentle rolling waves and a Tropicsurf Guide provide all the fun and tropical delights needed for a perfect day.
Kids For All Seasons
At the Four Seasons Seychelles, you don't have to worry if your kids are going to be entertained, in fact, it isn't uncommon for kids to have a busier schedule than their parents. Not only does the Kids For All Seasons provide educational, creative and cultural activities, but your kids will also have the opportunity to interact with the natural wonders of the Seychelles by feeding Giant Tortoises and partaking on guided snorkel excursions with the expert snorkel teachers from WiseOceans.
Previous
Next
EXPERIENCES
---
Expand your discovery of Seychelles, connect with local attractions, and allow the Four Seasons concierge to arrange tour guides and transport to suit your individual needs. Whether taking a tour of Victoria, cruising on a ferry to Praslin or La Digue to see the famous Coco de Mer, or flying high over scenic views in a helicopter tour, the team are on hand to guide you every step of the way.
Dining
---
Dining and cocktails are offered at two restaurants and two lounges, set hillside and beachside. Zez- Spectacular ocean and sunset views from the top of the hillside featuring Mediterranean and Middle Eastern dishes. The restaurant's open-air design takes full advantage of Seychelles' warm, sunny weather. Or grab some fresh sushi and sashimi in the nearby Zez Lounge. Kannel - Stylish yet informal, serves Creole and international fare, featuring a variety of fresh fish and seafood.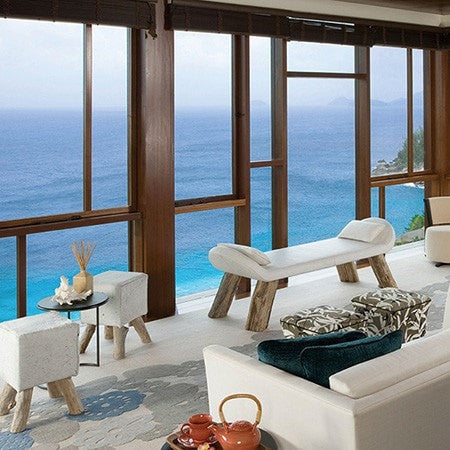 Spa
---
Located at the top of the hill, with spectacular views of Petite Anse, the Spa is designed with a focus on solitude and seclusion. Featuring treatments that are indigenous to Seychelles, the Spa incorporates fusion techniques from India and other Asian traditions. An extensive yoga pavilion is connected to the Spa. The space is available from sunrise to sunset for private instruction or individual yoga sessions.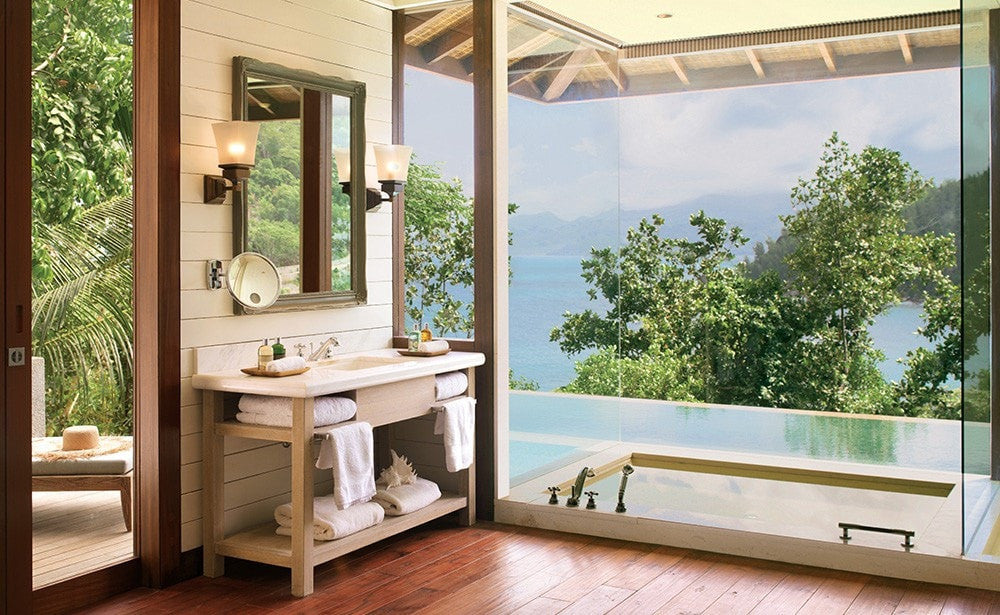 VIP
Take a Tropicsurf helicopter tour of Seychelles' surrounding islands to discover empty pristine surf. Touch down on a white powder beach to enjoy the solitude of empty waves, private coaching and the convenience of returning to your Four Seasons' Private Residence in time for sundowners. A private bartender will prepare apres surf cocktails by your private 88ft pool as a DJ spins endless tracks to create your very own poolside lounge bar.
Previous
Next
Tropicsurf
---
Tropicsurf professional surf guides are located at Four Seasons Seychelles year-round. Our guiding service typically provides half-day surfs with transport to local breaks and all equipment. Instruction is available for novices and the waves are ideal. Coaching is also available should you wish to improve your high level technique. Stand up paddle lessons are offered in the scenic waters. Surfing around the tides is critical and your expert guide will have you on the best breaks at the right times.
Seasons
---
Seychelles' enviable climate is always warm and without extremes. This is a tropical, year-round destination for sun worshippers. The months between May and September bring drier weather, this is also the time of the biggest waves and occasional solid groundswells that can be up to double overhead. April and October are 'transitional months' with minimal wind and more clean breaks, however that's only if the swell is up.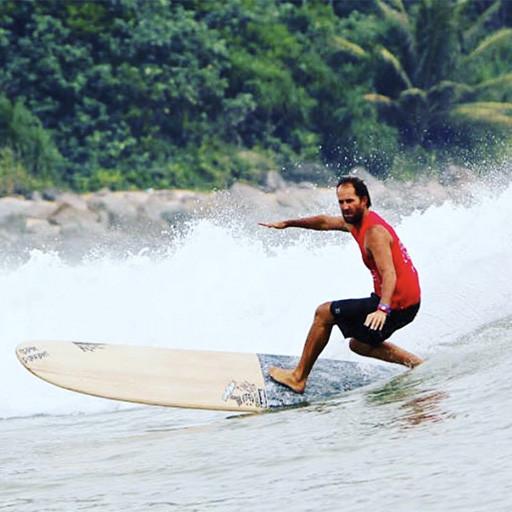 Quiver
---
Tropicsurf has partnered with Firewire surfboards to offer a complete quiver of cutting edge eco-friendly boards for guest use. Avoid the hassle of travelling with your board by contacting Tropicsurf in advance of your stay to reserve choice of board; shortboard, fish, hybrid, or longboard. Stand Up Paddleboards are also available from the Tropicsurf Centre.
LOCATION
---
Four Seasons Resort Seychelles
Petite Anse, Mahe Island, Seychelles
Awesome hotel with a great surf coach

Our kids had surf lessons with Ben, the coach from Tropicsurf. They loved it and made great steps. The coach is really excellent!

BHLJ - TripAdvisor
Family holiday in paradise

All four of us surfed with Ben at Tropicsurf on waves ranging from intermediate (Dad's an avid surfer) to perfect beginner waves (Mum and Daughter are now hooked too).

Andy S - TripAdvisor
Amazing Resort and Staff - A 5 star plus experience!

We also spent three days surfing with Steve from Tropicsurf. He was an excellent coach for our kids and made the experience of Seychelles truly memorable.

G2POW - TripAdvisor
10/10 Experience

Just wanted to share some feedback re Jacob Stuth from our recent stay in the Seychelles.

- Jacob was really fantastic from the get go. Jacob made it very easy to plan the first and subsequent sessions (using WhatsApp and being available around the resort)

- Sessions were a joy from beginning to end. Jacob helped pick the perfect board for the waves and the pre session drive was great to get into the surf spirit (he has a great all round approach to surfing).

- For the actual sessions, Jacob had great knowledge of 1) which waves to go to, 2) where to be positioned to catch the most waves, and 3) what to do on each wave to maximise/improve.

- Jacob also helped push me into numerous waves (which my 40+ year old shoulders were very grateful for) and as result I got more waves with Jacob last week than I did in the past 10 years all put together.

- Jacob was also superb with the kids, making their first surfing experience truly fantastic. He picked the right spot, the right boards, and rode with them into the whitewash initially, and as a result both were able to stand alone and ride super quickly.

A ten out of ten experience with Jacob last week.

Stan, via email
Archie is the best!

Just spent five days surfing with Archie at Four Seasons in Seychelles. Archie did an excellent job with the instruction and was a credit to TropicSurf. I have had several instructors at different surf spots around the globe, and Archie is the best!

Steve, via email
He is one of the best coaches we've had, very much involved.

We had a great time surfing with Steve. Waves were fantastic, few people on the spots. He is one of the best coaches we've had, very much involved and making his best to make us enjoy our time.Thumbs up! 👍

Pascale, via email