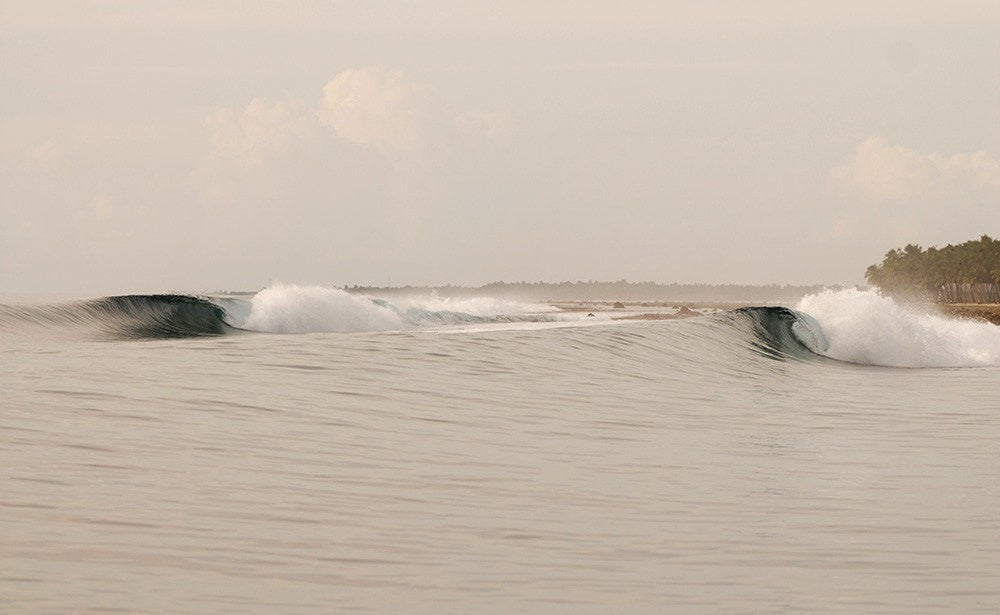 Four Seasons Explorer Waves
A Tropicsurf Four Seasons Explorer cruise is the ultimate way to conquer empty surf breaks. Tropicsurf's philosophy is that we best capture the true spirit of surfing adventure when we visit remote regions - often with no others surfing. Our guests return year after year because the Tropicsurf Four Seasons Explorer experience is peaceful, relaxing and in the true aloha spirit.
Previous
Next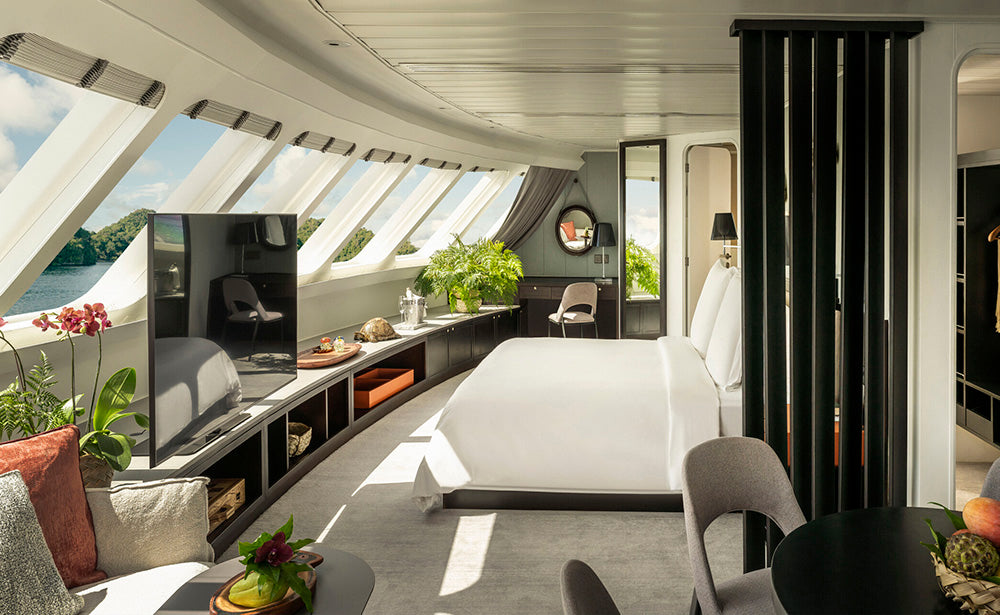 Four Seasons Explorer Rooms
Four Seasons Explorer offers State Rooms and the large Explorer Suite, which are bright and airy, with all the luxury and style you expect from Four Seasons. Awake to a new view each morning – large windows frame ever-changing vistas of the azure ocean and sky, emerald-topped islands edged in turquoise waters and brilliant white sand. All cabins are air-conditioned, with an ensuite bathroom, minibar and LCD TV.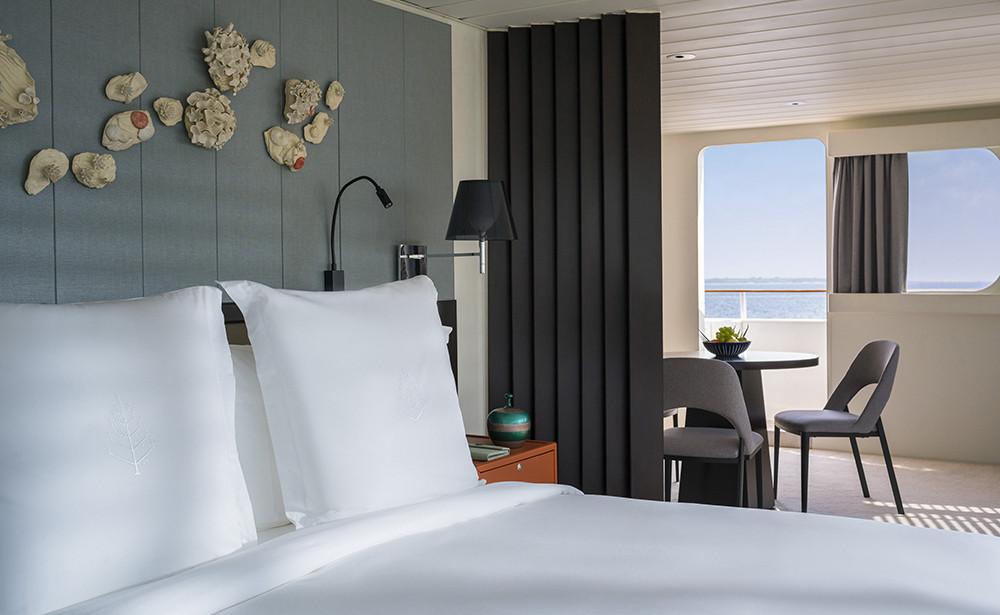 Explorer Suite
The Explorer Suite lies on the upper deck and features a wall of windows that allow for panoramic views of the Indian Ocean. You will have to pinch yourself upon waking up to ensure you aren't dreaming on a cloud, but are actually on the signature Four Seasons king bed and looking out over some of the most beautiful water in the world.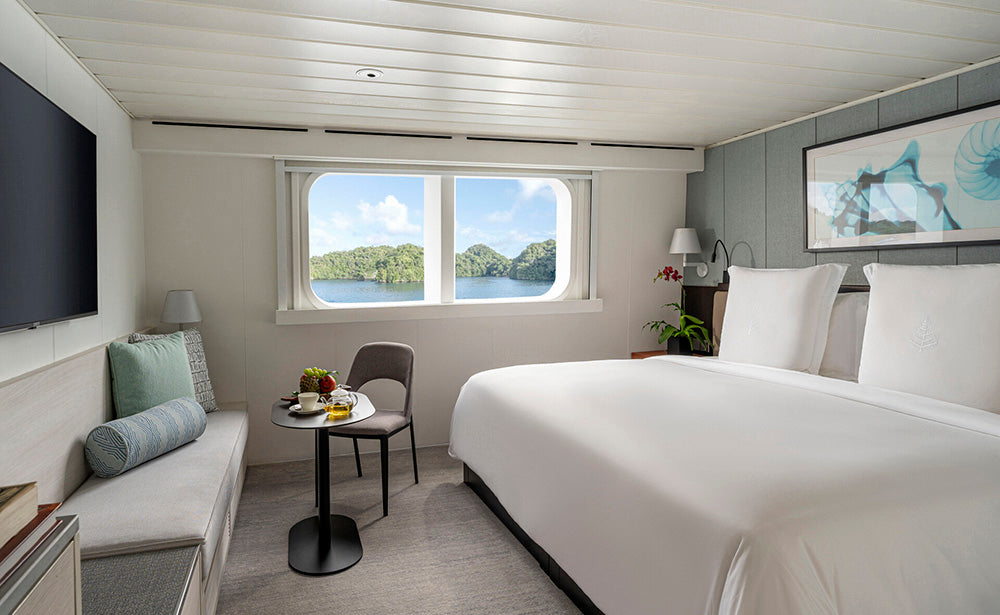 State Rooms
All ten of the Explorer's State Rooms feature large, port windows that provide glorious Indian Ocean views. Leave the blinds open at night and gaze over the stars before falling into a deep sleep. Wake up to the sunrise in a new location (the Explorer is capable of travelling at night), ready to surf a fresh swell, which you pinpointed with the help of our Tropicsurf Guides the night before.
Previous
Next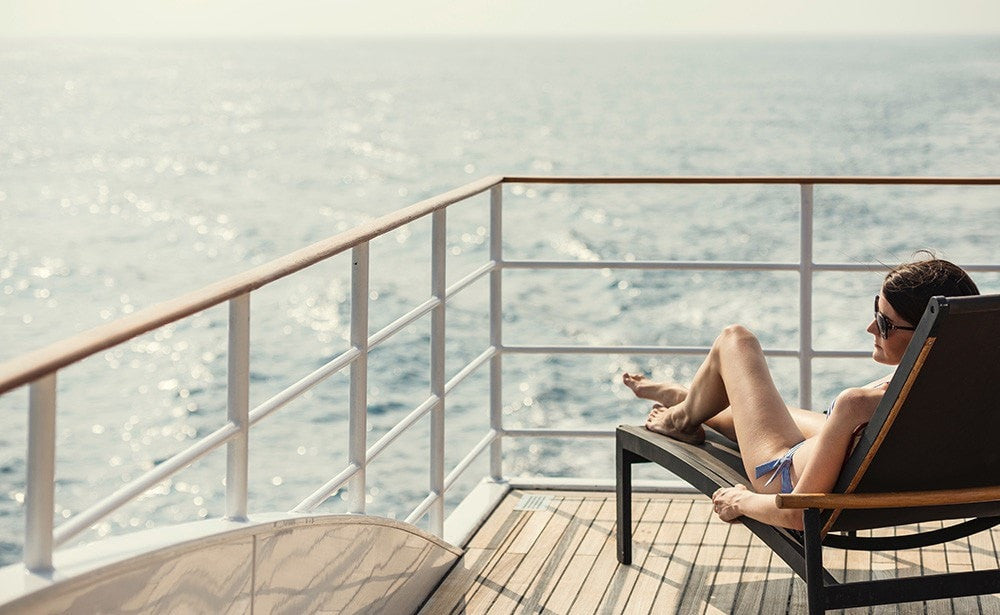 Companions
A cruise aboard the Four Seasons Explorer is the ultimate balance between a surf trip and an activity filled 'partner friendly' vacation. This vessel offers plenty for the non surfers, even beyond its state of the art appointments and famous Four Seasons service. Enjoy secluded island picnics, culturally diverse village tours, sensual spa treatments, fine wine and dining, a plethora of water activities.
Previous
Next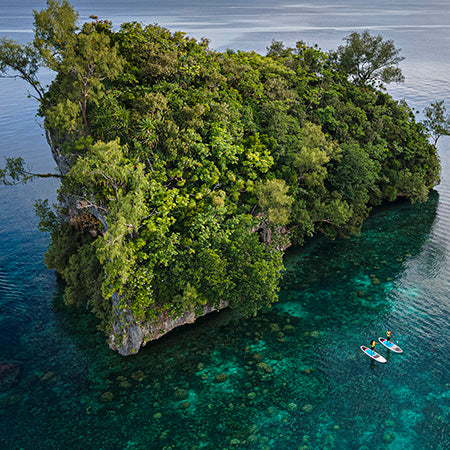 EXPERIENCES
---
Explorer is a ten million dollar vessel with every luxury conceivable. Combined with Four Seasons' outstanding attention to service, and a varied sea sports and sightseeing program you will be exceptionally comfortable and well catered for. Activities include snorkelling, stand up paddling,kayaking, water skiing, deep sea fishing, island sightseeing, sunset fishing, beach barbecues and seaside massages.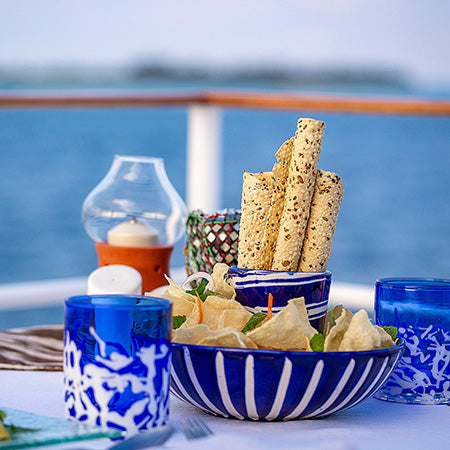 DINING
---
Dining on the Four Seasons Explorer is, as at all Four Seasons resorts, an eclectic experience. Guests can savour fine international cuisine, celebrate the tastes of contemporary seafood delicacies and choose from a cellar of handpicked fine wines. Natural settings inspire the palate and invite toasts to the magnificent Indian Ocean. Enjoy the best surfers' fare imaginable.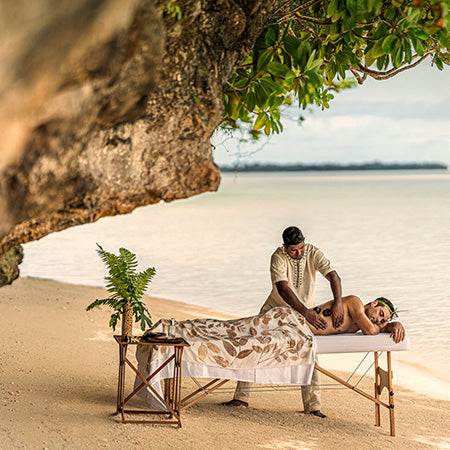 SPA
---
Four Seasons Explorer's resident spa therapist offers natural therapies inspired by Asia's ancient healing principles. Retreat to the private treatment area on the upper deck – curtained for privacy yet open to the refreshing sea air – or indulge in a massage at one of the secluded beaches visited during the cruise.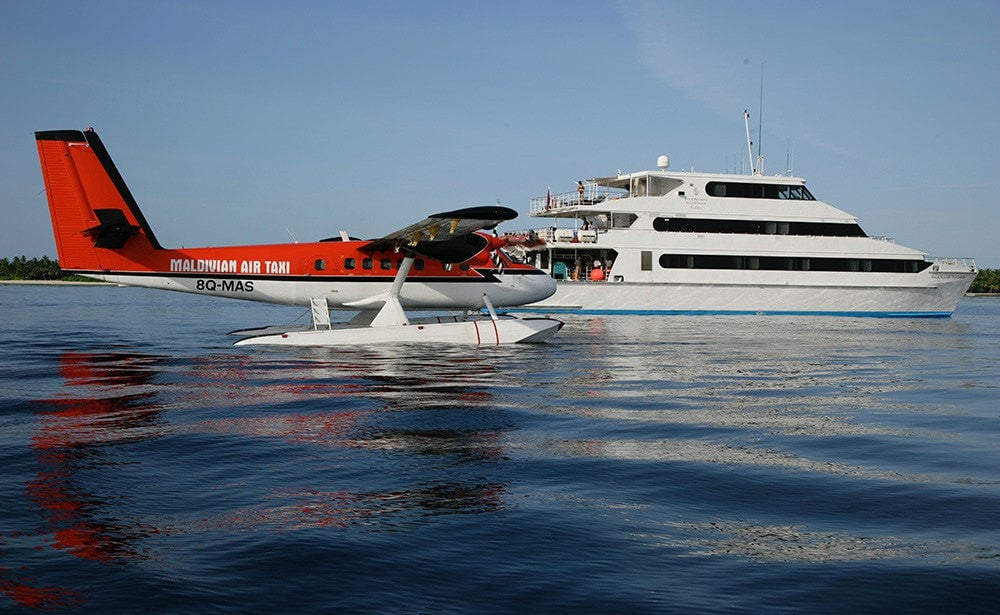 VIP
This is the ultimate VIP trip. Wake up each morning and decide on the day's conquests. Zoom to a different surf break over a five course lunch. Drift off to sleep overnight whilst the captain repositions the Explorer to literally any wave in the country. This is the trip to find and conquer YOUR perfect wave.
Previous
Next
TROPICSURF
---
Our specialty is in providing an exciting but safe surfing vacation that can be enjoyed by all abilities. Even in the biggest of swells, our boat can deliver you to chest high fun waves you'll be comfortable with. Experienced surfers travelling in peak season should expect overhead swells offering world-class waves as good as you'll find anywhere. Surfers will find their utopia aboard the Four Seasons Explorer.
SEASONS
---
Tropicsurf Four Seasons Explorer offers charters year-round. Annual mean temperature is 27°C (82°F). Rainfall can occur throughout the year, more frequently between July and October. The water temperature ranges from 28 to 30°C (82 to 86°F). Private charters are also available during other months. Please contact us for for more information.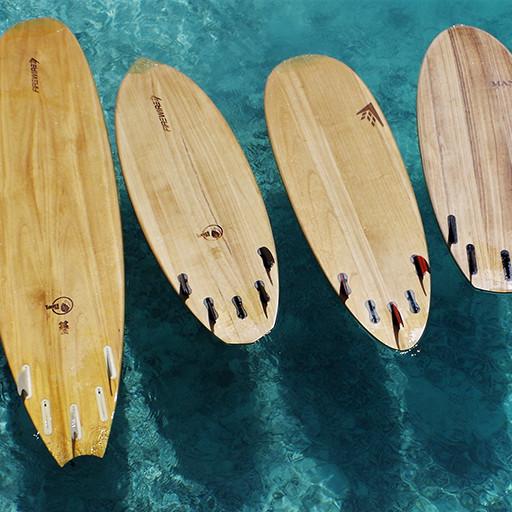 QUIVER
---
Don't want to lug your longboard to Palau? No problem. Travel light knowing that Tropicsurf has got you covered. Pick from our variety of shortboards, fishes, hybrids and longboards to assure you have a board 'on call' for any conditions Mother Nature throws at you.
LOCATION
---
Four Seasons Explorer
Palau
FSE trip was a remarkable success!

Wow- we had an amazing time. Kuda Huraa was spectacular, the Explorer was terrific. Staff, accommodations, food, etc- all were outstanding. It would not have gone better. Adman, Dave, and Navi were fantastic company and great coaches. We really enjoyed their company. They went out of their way to not only set us up on great surf breaks but to also make certain that every facet of the trip ran smoothly. Adman was almost like our personal cruise organizer- no detail too small, no request too big. Terrific guy- really appreciated his help.

Tropicsurf did a great job for us and we really appreciate it. Thank you for the great job you did in helping to orchestrate a trip that can only be described as a remarkable success!

Nick, via email
Best surf trip ever

I just wanted to send along a personal note of appreciation for our trip last week on the Explorer. That was unquestionably the best surf trip I've ever had in my life by a very large margin.

I can appreciate that it's not always easy picking the eyes out of the forecast and getting us on good waves but you did that and then some. You did an unbelievable job with the spot calls. Two days of empty Coffins alone would have made the trip but add in the sessions at Sultans, Honkys, Ninjas, Sharks and, yes, even that bitch Betty. :D Epic.

Thank you for also keeping me laughing while getting mowed down by 8' sets at Sharks.

Looking forward to the next time we get to shred together.

JB, via email
Amazing week

What an amazing week. Pretty sure we'll remember that for the rest of our lives. OMG Coffins.

Matt, via email
Beyond grateful

Legends, all of you!!!!! Beyond grateful for the experience and care you guys provided us. Can't wait to see you guys in the future.

Greg, via email
Amazing trip

Thank you again and again for such an amazing week. It was such a privilege to get to share the lineup with you and surf under your tutelage. Can't believe on the very last wave of the trip you unlocked backside pumping for me, something I have struggled with for years! So stoked on the trip, it was amazing.

Jonathan, via email
Time of our lives

Time of our lives!! You guys were unquestionably tops in all aspects of surf wisdom, hospitality, and stoke amplification. I'd do it all again in a blink. 

All the very best to you guys, and here's to possible lefts on future outings!

Nick, via email
So appreciative of their hardworking and dedication

Everyone on the Island and on the boat were so professional, attentive, and had the best attitudes and they are all to be congratulated! I could go into each one but hopefully you will spread the word how all the things they do really matter and we are so appreciative of their hard work and dedication to the guest at every phase, they are all pro's!

Richard, via email
Many described it as a trip of a lifetime.

Everything about the experience was remarkable. A true adventure. The best part tho was having the family together, truly together, for 10 days. So different being on the water and not in a big house. No where to go, everyone breaths each other's air all day long. We simply don't ever get that, most don't. Maybe a long holiday weekend but even then land based spreads you out. Many described it as a trip of a lifetime, i told them until the next one! Which I want to start planning now!!!

Bill, via email
The three guides on the trip were all quite exceptional.

The three guides on the trip were all quite exceptional. Their competence, patience and nature really made the whole experience for both Paddy and I fantastic.  Not just the surfing but also fishing talking and general vibe on the boat. In terms of helping the group I was with they all had the patience of a monk. Julien at the four seasons was equally great. I was quite nervous about being out of my league and either not being able to surf on the breaks or holding the group back. The opposite was the case given the way the groups were managed - everyone had a great time. Whilst you and the team told (convinced) me of this before the trip the reality is that not everyone delivers on what they say - your team did and I am genuinely grateful and impressed. The boat, crew food and facilities were all 5 star. It was stunningly good. There was a generosity about the way everything was handled which made everyone on board feel great. Nothing was too much trouble. Thankyou - I look forward to doing it again. 

Trevor, via email.
Thank you a thousand times for having created a company building dreams, with employees taking the word service to another level.

We are back home, back from our dream. Waking up, after two weeks of dreaming with our eyes wide open, breathing in the great vibes and the fantastic surf. We have memories for a lifetime made of smiles, laughs, songs, deep sky, crystal clear water, flaming sunrise, purple sunset, beautiful waves, fantastic surf, shallow reefs, dolphins, turtles… I wasn't going to forget about the Food, INCROYABLE (and it means a lot for a French working in the food business)! The friendship created on the boat and on the island will always bring sparkles in our eyes and heart. I have surfed more waves in 15 days than in my last 15 years, over 500 waves, but I will have to ask our favorite accountant for the true number: Hamish. The knowledge given by our guides in surfing, but mostly the reflection on life will guide me for the rest of my life. I already miss the big smile and the camaraderie of Ryley, Jesse, Hamish Naadu, and my daily discussion with my new guru: Pete. "I will always be a good person and be happy!" Jennifer, I am sure you must receive an enormous number of emails like mine, and I am certain that all these emails will never reflect the true bliss of a time spent with one of your colleagues. You can be proud of having won a repeat customer. One week with Tropicsurf every year is my new goal.

Charles, via email.
It was insane. 

Jesse and Gav were flawless. Both should be Knighted for their contribution to Surfing and Peoples Enjoyment. Both first class guides, and even better people. Don't underestimate how much they make the trip. Everyone loved them. Two words - Bloody. Legends.

Hamish, via email.