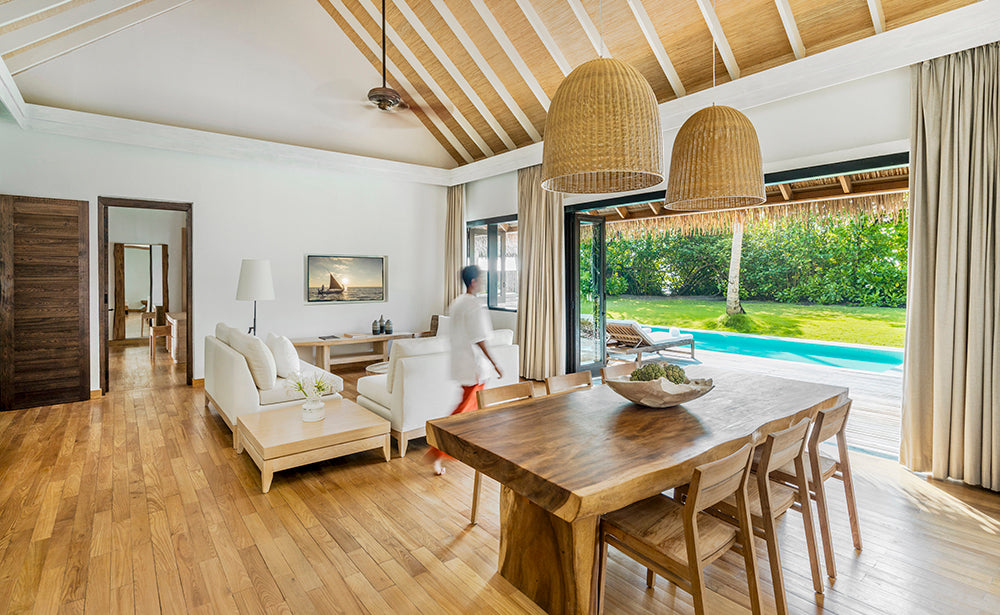 COMO Maalifushi Rooms
Accommodation references indigenous architecture while remaining elegantly pared back to reflect the island's calming setting. Overwater suites each has its own private plunge pool and a terrace for slipping into the sea. Beach villas benefit from being set into the island's tropical heart. The views are consistently spectacular - either lush gardens, where children can play, or directly out to the watery expanse.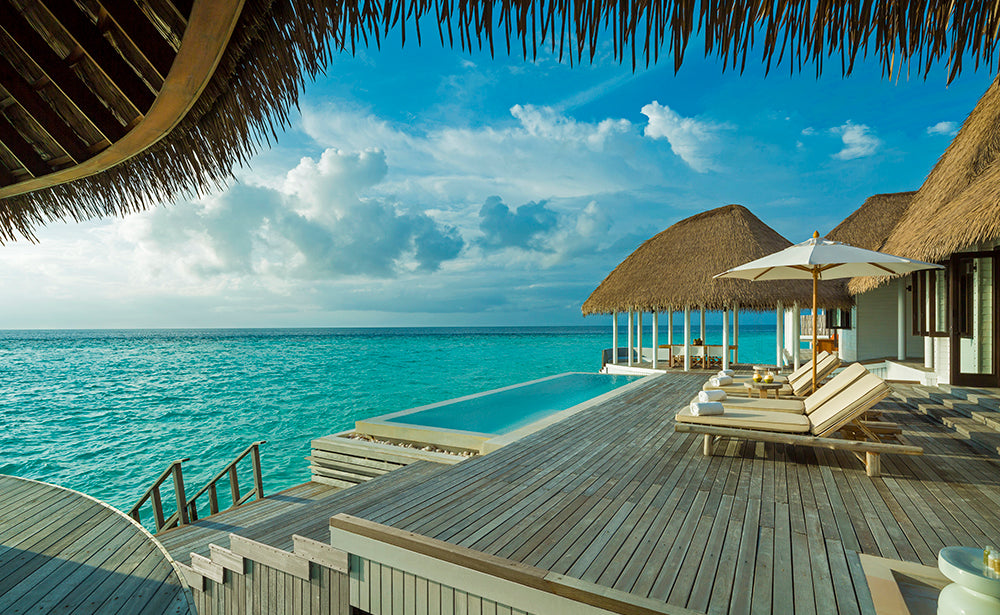 Think Big
COMO Maalifushi feels roomy. The island has been designed with a leafy intent and a strong sense of space. The subsequent distance between villas delivers a sense of privacy and calmness. Its Water Suites are some of the best in the Maldives including the COMO Villa which is an incredible 408 square metres in size. Similarly COMO's entry-level accommodation is cleverly designed to make 101sq feel like ample.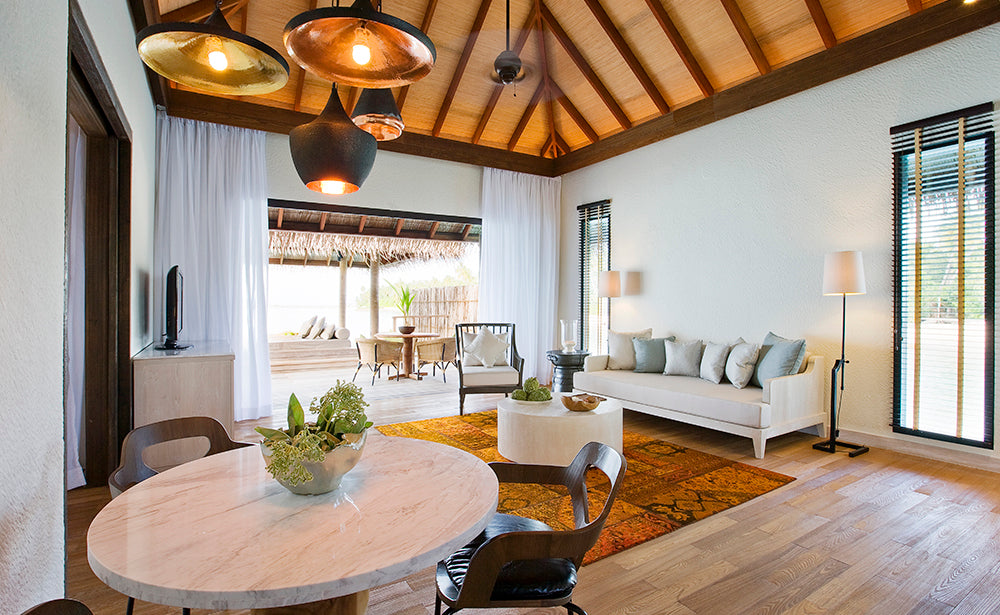 COMO Room Categories
Twelve different room categories are on offer at Maalifushi. Ranging from the entry level Garden Rooms right up to the COMO Residence and COMO Villas. Each room category is so unique with some concepts better suited to Tropicsurfers than others. We recommend speaking with our Travel Designers to ensure that your preferences are best matched.
Previous
Next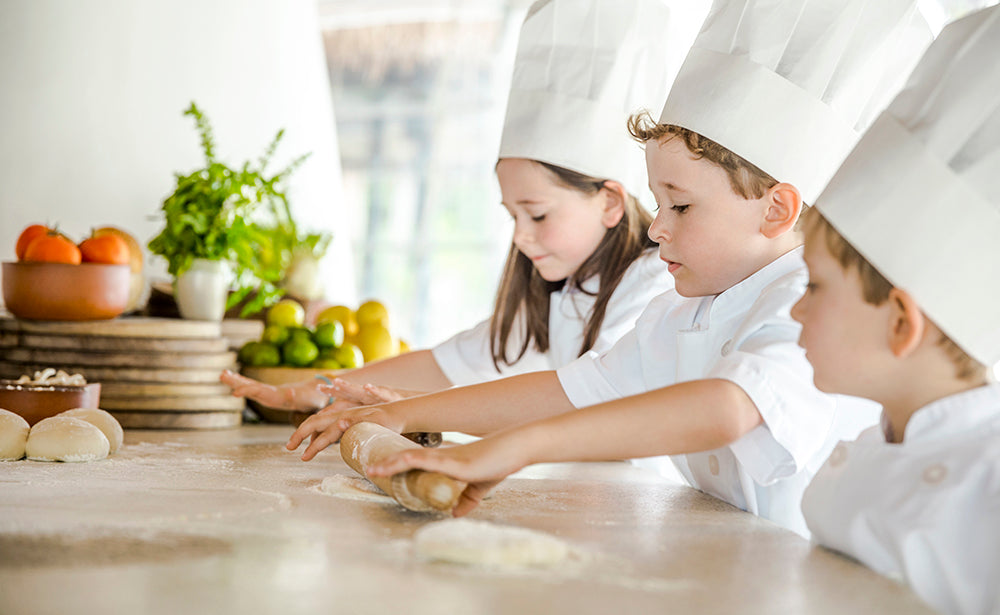 Families
A mood exists for all occasions at Maalifushi by COMO. Romance is abundant for couples, whilst families can enjoy versatile bungalow designs that accommodate the kids under the same roof. Non surfing partners will fall in love with a COMO institution; COMO Shambhala Retreat at Maalifushi is the embodiment of a philosophy for healthy living that COMO Shambhala has successfully refined at its award-winning retreats all over the world.
Previous
Next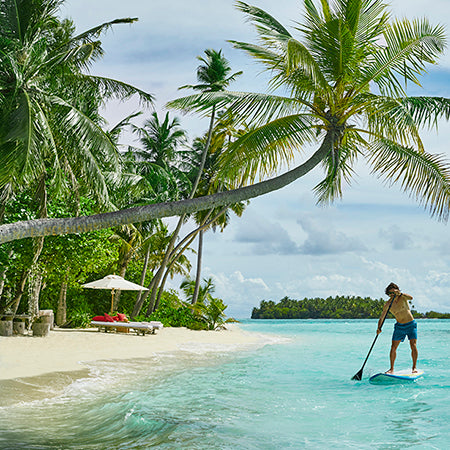 EXPERIENCES
---
Beach-comb a deserted island, try some catamaran sailing, work the core with a stand up paddle, or chase the big ones on a game fishing or sunset fishing excursion. The white sand and shallow lagoon is appealing to families, with children able to snorkel safely. While for divers, there are large tracts of unexplored reefs. Thaa's excellent reputation is assured by regular sightings of whale sharks, hammerheads and mantas.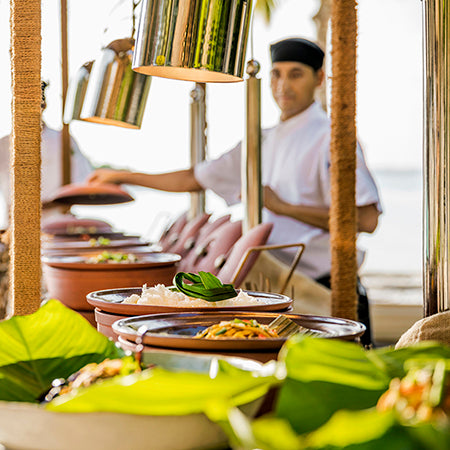 DINING
---
Maalifushi's food is is healthy and elegant: local seafood that's so fresh it's served as sushi and sashimi at Tai, the popular Japanese restaurant. COMO also grow some of their own organic produce rendered in healthy, all-day dining at Madi, Thila, and on the COMO Shambhala menus. Flexibility is key, and chefs always accommodate food intolerances, the preferences of children, and discerning palates full of expectation.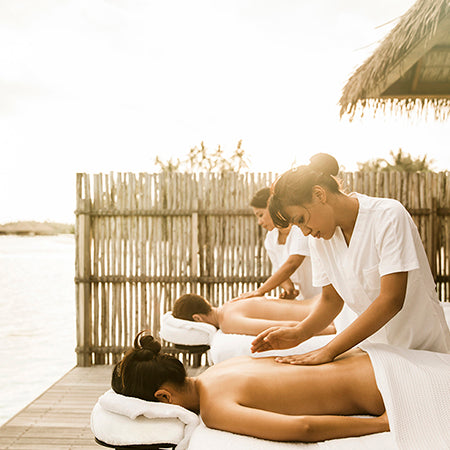 SPA
---
COMO Shambhala Retreat at Maalifushi is the embodiment of a philosophy for healthy living that COMO Shambhala has successfully refined at its award-winning retreats all over the world. Drawing on the best Asian traditions in its approach to health and wellbeing, the spa offers numerous treatments including massage therapy, emotional rebalancing, holistic treatments and restorative skincare.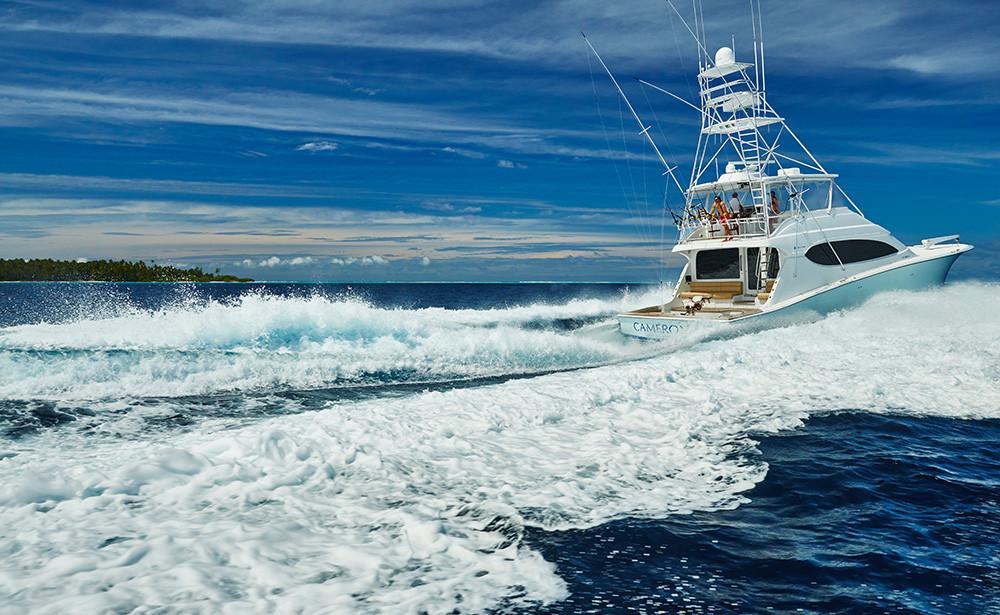 VIP
Farms is a favorite break of many Tropicsurfers. A perfect right-hander with an idyllic back-drop, this contoured, reef-corner delivers mechanical shaped waves that are ideal for noseriding, fish or finless, SUP or even tearing it up on a shortboard when the swell is up. VIPs can anchor metres from the break aboard COMO's yacht the Cameron, sleep overnight and score the dawn patrol.
Previous
Next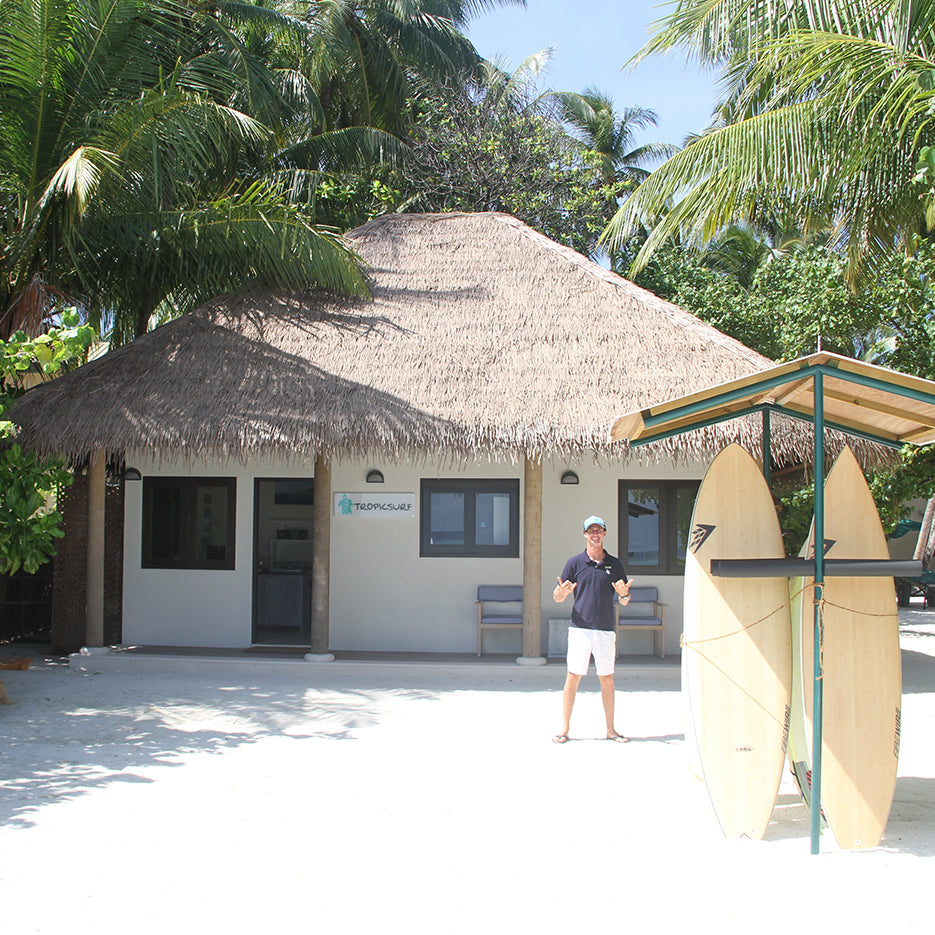 TROPICSURF
---
A full time Tropicsurf guide is based exclusively at COMO from April to October. Choose from the scheduled trips to the Farms area, or private charters to some remote, secret spots. Surfers may also enjoy the benefits of Tropicsurf's world renowned coaching system. Given the range of waves, there's generally something for all abilities.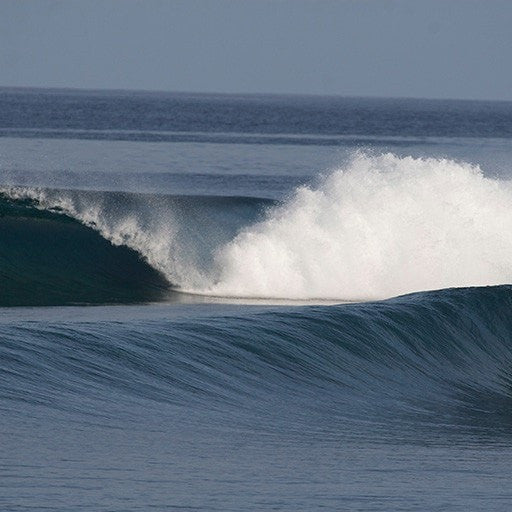 SEASONS
---
Tropicsurf only offers surfing from COMO on a seasonal basis between April and October. April is an excellent month for glassy conditions and May is normally the start of the monsoon. June to September offers more swell size and more consistency. October tends to be smaller, glassier and quite good. Water is a near constant temperature of 30°C (86°F)
QUIVER
---
Our surf program at COMO Maalifushi provides access to three different atolls and more than 20 surf breaks. With this variety, you need the quiver to match. Rest easy knowing that Tropicsurf has got you covered with a cutting edge quiver of eco-friendly Firewire surfboards. Contact Tropicsurf in advance of your stay to reserve your board of choice.
LOCATION
---
COMO Maalifushi
Thaa Atoll, Maldives
Best surf trip ever

We booked 7 days of surf in advance through Tropicsurf and as usual it was a world class experience, the BEST surf trip to the Maldives ever. Mike and Adman from Tropicsurf were able to get us into uncrowded, dreamy waves at Farms.

jsmmana - TripAdvisor
Great Guides

Most days were spent surfing with the Tropic Surf crew. Adam and Dave were not only patient with us (we're mediocre surfers at best) but they helped us develop over the course of our stay.

Karl T - TripAdvisor
Best surf trip in 35 years!

I chose Maalifushi for the Surfing, via "Tropic Surf" and was not disappointed !!! The best surfing in 35 years. Steve the Tropic Surf Guide was perfect. He has the place wired and we had chest high to double overhead waves for 7 days straight.

Anne D - TripAdvisor
Nothing short of an incredible experience

I want to start by saying, WOW!!! You guys have been awesome from start to finish. From the moment I emailed Jenni for a quote, to stepping off the boat at COMO Maalifushi and being greeted by the warm smiles of Archie & Angela, it's been nothing short of an incredible experience.

I truly love the Tropicsurf customer proposition coupled with the guide knowledge of the surf breaks, which provided a huge degree of comfort and safety in the water, especially after a 7-year hiatus from surfing. This trip has returned to my life a sport that once took priority over everything, including school, and for that, I thank the Tropicsurf team. Cindy wants to add that her Lagoon session with Archie was her first ever lesson and can't thank Archie enough for his patience and encouragement that made the experience a memorable one.

Phil & Cindy, via email
First Class Experience

I wanted to take the opportunity to write and give feedback on the experience at Como Maalifushi.

Eli has been first class since we arrived. The information and organisation prior to the trip was very professional, with a great laid back approach in keeping with the island. I took my daughter on the trip to Farms and it was fabulous, from the instruction right through the session support.

The team at COMO are a real credit to your company, and Eli no doubt will continue to provide a first class experience for your clients.

We look forward to booking with TS again in the future.

Simon, via email
Great Coaches

By way of feedback, your guides Glenn and Eli at Como Maalifushi are a credit to your organisation. All 3 of our kids managed to find a way to need some medical attention at some point during the week and Glenn and Eli were fantastic with them and helping fix them up. And of course we loved surfing with them, great coaches and great guys.

Christoph, via email
Best week with Tropicsurf Guides

I just wanted to send in a review as we just had the best week with Eli and Glen at COMO Maalifushi. We surfed 6 days in a row at Farms and the whole experience could not have been more positive.

We felt completely looked after by Eli and Glen. They both went above and beyond to encourage us and make sure we were having a great time. They had a few special touches such as leaving handwritten notes in our room each night and sending us photos from the day. Eli captured a lot of really special memories for our family which is such a sweet surprise to come away with.

We definitely plan to stay in touch with Eli and Glen and surf with them again. We've had a few Tropicsurf experiences and felt they've all been great, but this one has really set a new bar because of Eli and Glen in particular. They managed to strike the perfect balance between having fun and helping us learn and improve.

Thanks for all the work you do to make our surf trips awesome.

Katie, Nate, Dave and Karen, via email
Thank you for making our honeymoon so special

My name is Shea, and my wife and I recently had our honeymoon at the COMO Maalifushi Resort in the Southern Maldives, where Tropic Surf has an outpost.

Being a surfer, I was excited to take advantage of this trip to catch some world-class waves for the first time. (I'm an East Coast surfer so we'll take what we can get) All I can say is that Tropicsurf didn't disappoint.

Guides Glen and Eli, from the very first moment, were nothing more than perfection. They were extremely polite and accommodating, and took every extra step to make sure I was as stoked as possible.

I went on two excursions to a reef break known simply as Farms, and both sessions were simply the best of my fairly short surfing life.

Both Glen and Eli were attentive, provided feedback only when needed, and made me feel extremely comfortable in a foreign line-up surfing a new wave, and understanding the movement and flow of the spot which would have been quite intimidating if I was to paddle out on my own.

With their help, I was able to catch the best waves I've ever surfed. SO fun.

Glen and Eli - you both are great guides and better human beings. Thank you for making our honeymoon and my surf experience so special.

Shea & Esme, via email
Best surf days ever

Just finishing up an amazing stay at COMO Maalifushi with Glen and Eli. Had 3 of my best surf days ever at Farms. It was perfect - waist to shoulder high, working on staying up high and turning.

Ram, via email
We loved COMO

Just a quick note to say that your recommendation was fantastic! We loved COMO, the Farms waves and Glen and Eli really made the surfing experience together as a family such fun, they were great.
Many thanks for making such a great call, we had the best holiday. It's going to be hard to beat in the future.........

Jean, via email
Great for kids

I really don't have enough good things to say about Glen (Tropicsurf Guide). He made our experience so much fun, easy and memorable but even perhaps more importantly for me made us all feel safe and, as a mother, I felt safe with the kids with him (even so much that sometimes I didn't even go out on the boat but stayed at the resort). He is not only very personable with adults but he has a way with children in which the kids respect him and what he tells them but they also have fun with him. As a mum you notice these things and every time Glen would talk to my 11 year old daughter he would come down to her level and talk to her, not at her, which many instructors in different sports do. He was very knowledgable about the area and the conditions but also wonderful to talk to about many other things as well. On top of that, he gave as beautiful memories to take home in the form of photos of us all surfing which was above and beyond his role. We were all sad to leave the Maldives but also sad not to be able to go out and surf with Glen. The kids have asked after him many times since we have gotten home. Glen really made our surfing experience at the Maldives wonderful. We hope one day to surf again with him somewhere in this wonderful world.

Lara, via email.
We really couldn't have had a better time

a note to say what a great time we had. Especially thanks to Pete (and Britt) who did an amazing job - really couldn't have had a better time that we did and we're all pretty depressed to be back home in the cold…..

Greg, via email
Thank you a thousand times for having created a company building dreams, with employees taking the word service to another level.

We are back home, back from our dream. Waking up, after two weeks of dreaming with our eyes wide open, breathing in the great vibes and the fantastic surf. We have memories for a lifetime made of smiles, laughs, songs, deep sky, crystal clear water, flaming sunrise, purple sunset, beautiful waves, fantastic surf, shallow reefs, dolphins, turtles… I wasn't going to forget about the Food, INCROYABLE (and it means a lot for a French working in the food business)! The friendship created on the boat and on the island will always bring sparkles in our eyes and heart. I have surfed more waves in 15 days than in my last 15 years, over 500 waves, but I will have to ask our favorite accountant for the true number: Hamish. The knowledge given by our guides in surfing, but mostly the reflection on life will guide me for the rest of my life. I already miss the big smile and the camaraderie of Ryley, Jesse, Hamish Naadu, and my daily discussion with my new guru: Pete. "I will always be a good person and be happy!" Jennifer, I am sure you must receive an enormous number of emails like mine, and I am certain that all these emails will never reflect the true bliss of a time spent with one of your colleagues. You can be proud of having won a repeat customer. One week with Tropicsurf every year is my new goal.

Charles, via email.
We'll be booking again with Tropicsurf for future trips.

Thanks again for helping to make our Maldives trip a great success, especially in recommending COMO Maalifushi. It was exactly what I was looking for (less crowded waves, quieter resort), and my wife also had an amazing time. I'm sure we'll be booking again with Tropicsurf for future trips, and look forward to chatting again soon!

Eric, via email.
Exceeded our already high expectations.

We had an amazing time. Once again Pete and Britt were consummate hosts and made the trip that much more special. Couldn't have had more fun and been more relaxed (for someone who finds relaxing a challenging!). We got blessed with amazing waves but we wouldn't have been able to surf them if we weren't there at the right time at the right spots . . . And we scored!  Pete and Britt went above and beyond; Pete pushing my little ones onto waves and giving them the rides of their lives and much needed confidence (frankly giving me amazing tips. Britt even baby sat them while I surfed with Nikki. . . But as I've said before, just great people to be with regardless. You have some high quality staff and operators there that make all the difference. The activities for kids is great. Kids made friends but didn't do a lot of kids club. Can't wait to recommit for next year!

Henry, via email.
Thank you so much for providing the dream surf vacation for my family.

Our trip to the Maldives was incredible. It was the perfect surf trip for our family. My son surfed world class waves every day and I found plenty of shoulders. My wife loved just being in the ocean including taking a couple of surf lessons and of course took advantage of all the amenities. You have done an amazing job recruiting a team laser focused on client service and more importantly being a lot of fun to be with. Recruiting leaders along with their partners is a smart move to keep your team stable and that makes it even more special.  We loved surfing and being with Harry, Pete and Travis along with their partners and of course Mark who spent a lot of time with us chasing waves. Great genuine people who represent your company well. We deviated a few times from the plan because of swell direction and Mel had to pick up the pieces and negotiate with the hotels.  She did an amazing job.  Next year we will do it again in Fiji so get ready Mel.

Greg, via email.