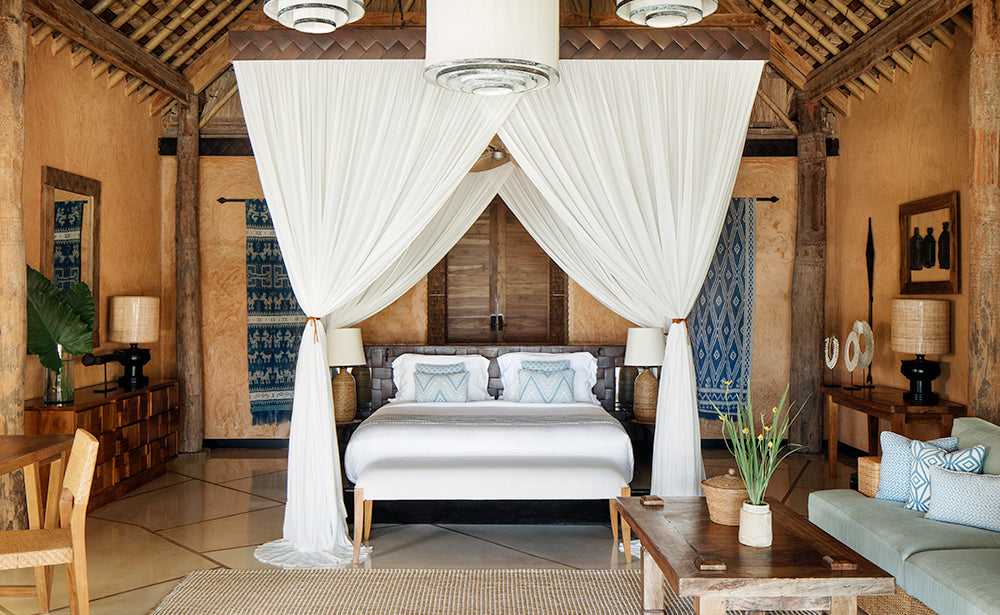 Rooms At NIHI Sumba
All villas are air-conditioned with panoramic views. Various configurations of single level and two-storey accommodation represent stylish tropical living at its best. Tucked amongst the trees are the owner's exclusive digs that represent the cutting-edge of responsible luxury, or even better still, stay in brand new the tree house complex. This is epitome of understated luxury, featuring spacious outdoor living areas, sandy-floored bathrooms with an open-air concept and private pools.
Comfort Galore
Private yet connected, each villa provides a home away from home with their own gardens, verandah and pool. Built with homage to traditional Indonesian and local Sumbanese architecture, Nihi Sumba is a place that will leave you lost for words. The details and decorations are truly incredible. "Average" is a word that will disappear from your vocabulary during a stay at NIHI.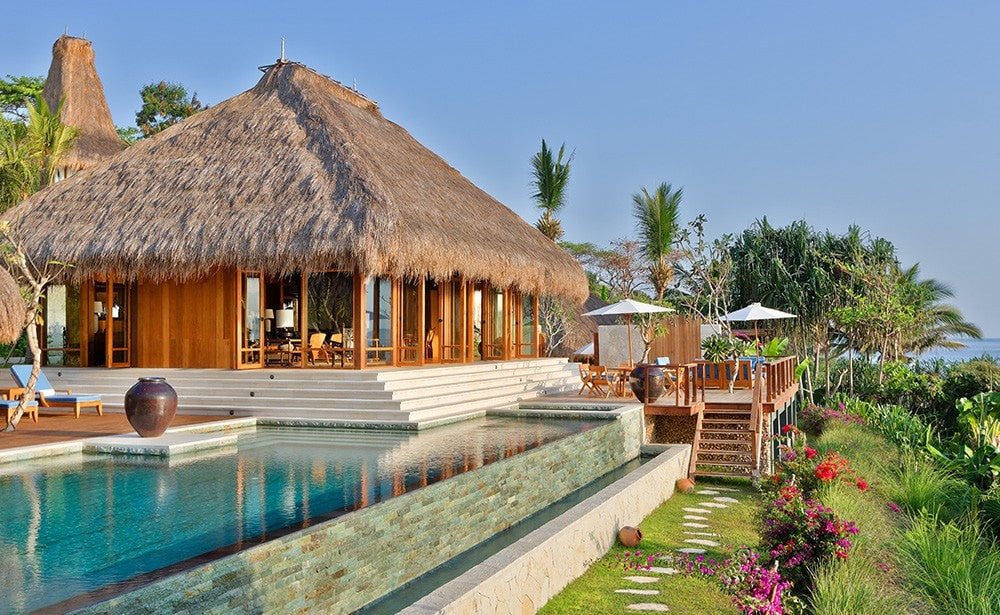 Live Like A King Or Queen
The Raja Mendaka Estate is the King's crown (literally) of all of NIHI's luxury abodes. This palace boasts front row seats to the action in the water and is equipped with its own separate living room, infinity pool and expansive lush garden. That being said, there isn't a villa around that will make you feel like you ended up in second place. Each and every room is built for everyone to feel like royalty.
Previous
Next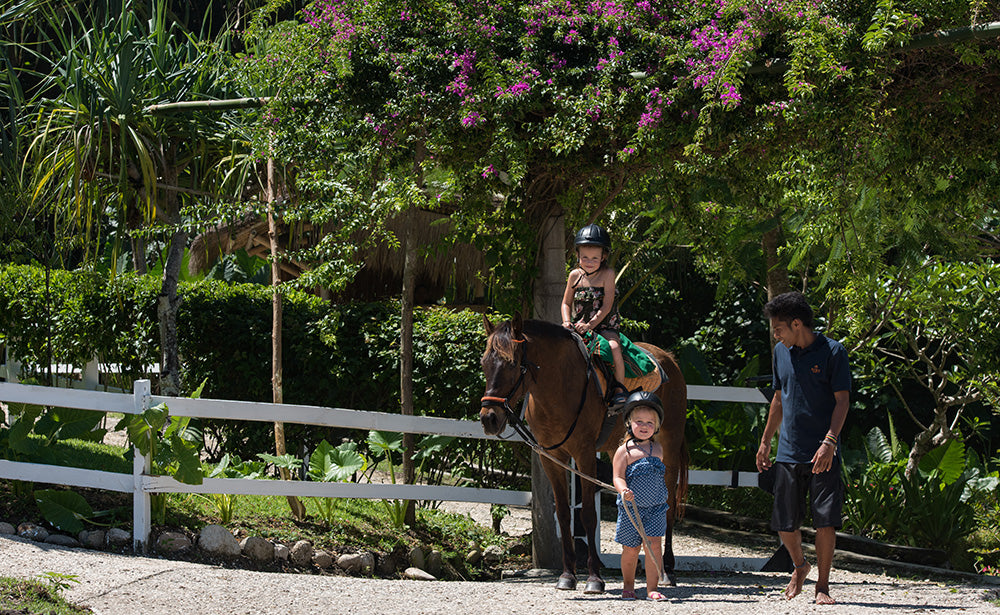 Families At NIHI Sumba
Don't let NIHI's rustic luxury put you off. Once the preserve of savvy surfers only, NIHI has evolved into a ruggedly luxurious destination for the global jet set and their families. Learn to surf waves abound, or take a ride on the resort's sweet natured Sumbanese horses. Better still, let the little ones escape to the chocolate factory. This haven of fun, tucked in the shade by the creek on the way to the Stables, will keep the little ones fun and fulfilled from 10am-5pm daily.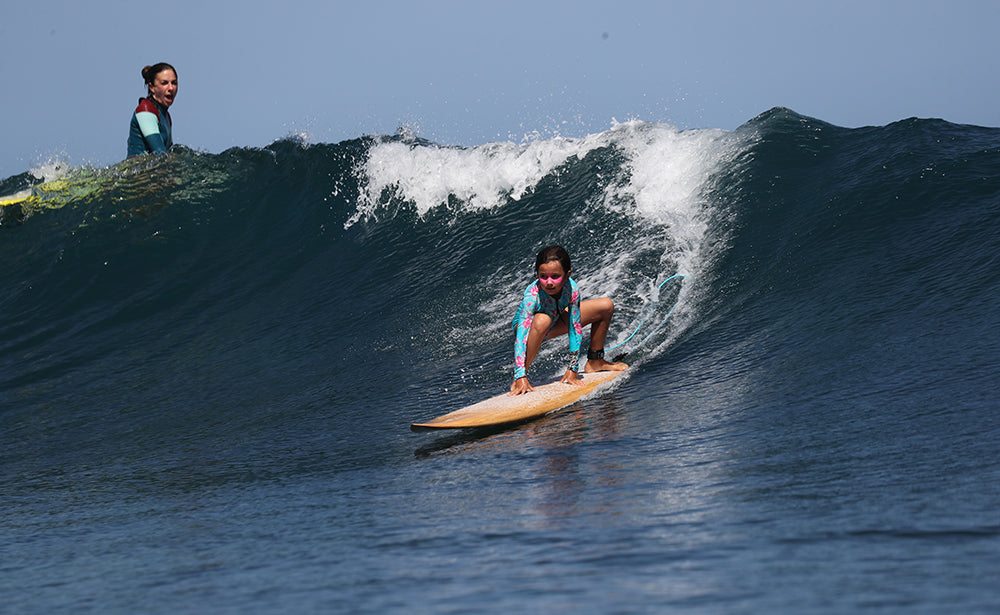 Toddler Temptations
A short excursion from NIHI (15 minutes by car) is the resort's satellite boathouse at Coconut Cove, which is fully equipped and ready for barbecue lunches and beach games. Just in front, on the high tide, there is the ultimate beginner wave where the young ones can get their first taste of surfing under the tutelage of expert guides (Tropicsurf offers daily lessons when conditions allow for it). This is a great option for families looking to enjoy water activities in calmer waters than the more exposed coastline in front of the resort.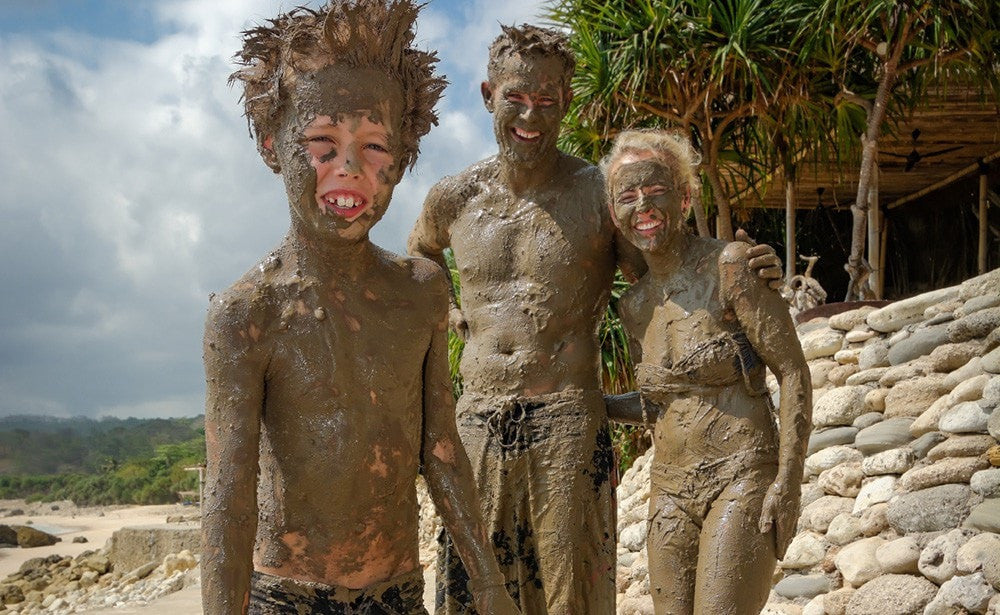 New NIHI Experiences
NIHI offers a plethora of activities for all ages and interests. Whether it be a family mud baking session at the Boathouse, or a guided trek through rice fields to unfathomable sceneries, it might be difficult to choose which activity is on the day's menu. Prepare yourself for a toss up between spending the day getting pampered beyond belief at Nihioka Spa or trekking to the Blue Waterfall. Or do both. For more of a cultural experience, visit the local villages and witness the impact of the Sumba Foundation; this is a must and will leave a lasting impression that is guaranteed to make your visit to NIHI unique.
Previous
Next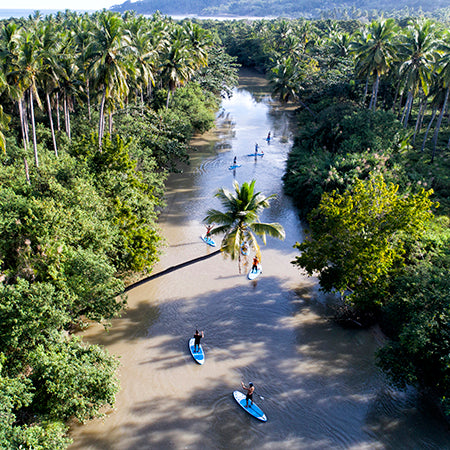 Experiences
---
Nowadays, NIHI really specializes in excellent activities for non-surfing guests. It's most certainly a place where everybody will be captivated. Examples include long walks along a beautiful sandy beach, massage treatments at the hilltop spa, hiking, deep-sea fishing, open air Land Rover discoveries, spear fishing, SUP, waterfall yoga, scuba diving, snorkelling, mountain biking, yoga classes, village visits and cultural activities.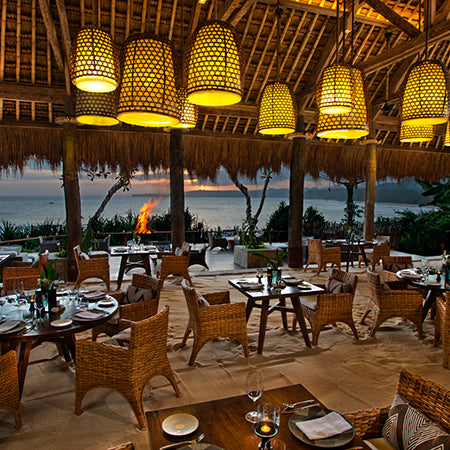 Dining
---
The original Restaurant and Bar has been rebuilt with extended space and a magnificent terrace adorned by coconut trees and frangipanis, perfect to relax and enjoy the sumptuous food and sunset cocktails. The hub of social activity is the main sandy-floored restaurant with open-air pavilions that overlook the sea and beach. Daily menus are inspired by the fresh local ingredients and home-grown produce to make your stay diverse, exciting and slightly adventurous.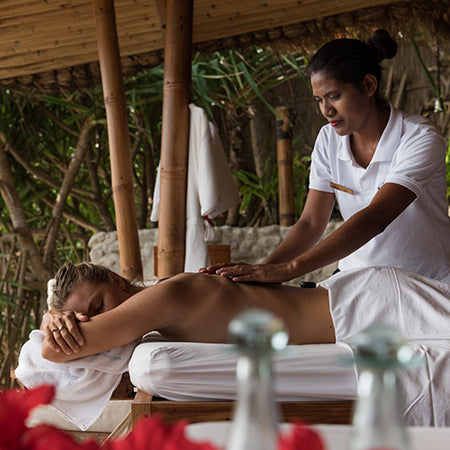 Spa
---
You should not forego an awe inspiring and unique spa safari when staying at NIHI. A 90-minutes trek will bring you through rolling hills, typical villages and an abundance of rice fields up to the show-stopping final destination of NIHI oka between two pristine beaches. On arrival, you will be greeted by the nihi oka team bearing fresh coconuts, invited to the tree platform where you will be under the vices of your dedicated therapists for unlimited treatments. Your wish is their command.
VIP
To be honest it's hard to distinguish between a VIP experience and a standard package at NIHI. Some high rolling Tropicsurfers appreciate the expansive design of the owners' villas. Others choose a resort buyout exclusively for their family and friends. All take advantage of NIHI's private wave and the limited surfer numbers. Tropicsurf can arrange private jet clearances into Sumba combined with helicopter resort transfers if that's how you roll.
Previous
Next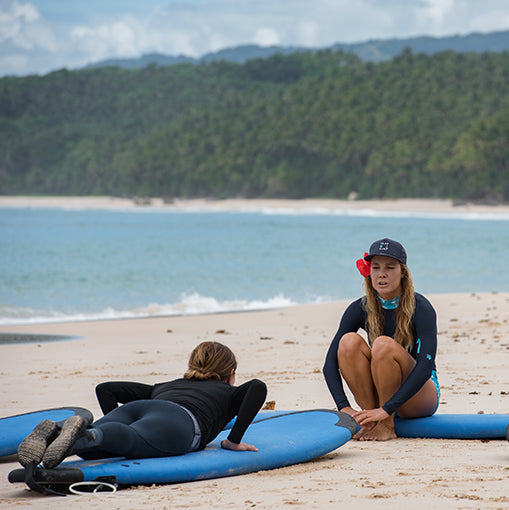 Tropicsurf
---
In partnership with NIHI, a full-time Tropicsurf coach is based exclusively at our on-property Surf Shack year-round. We can combine our local expertise and boat or road transport to guide you to the other breaks along the coast. However the left out front is the highlight and surfing it with more skill and confidence is what many people seek. Surfers from around the globe travel to enjoy the benefits of Tropicsurf's world renowned coaching system, especially here at Occy's left.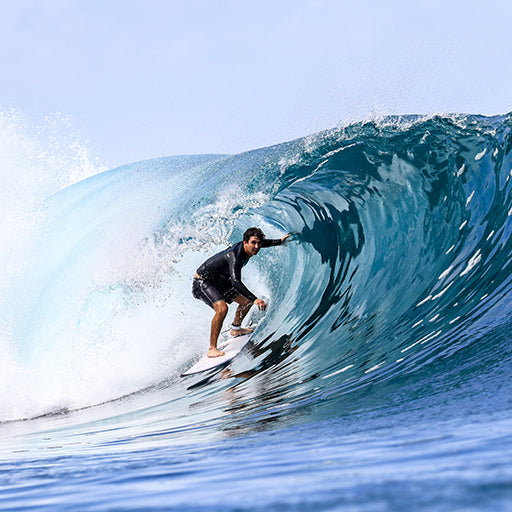 Seasons
---
Quality waves exist all year round. However the peak surf time is April to October. For those seeking the biggest swells, the months from May to September rarely disappoint. This is the time of year when solid groundswells can deliver double overhead or bigger waves in front of the resort. For those seeking something a little easier, shoulder season months such as March/April and October/November frequently deliver fun-style, head high days with lighter winds.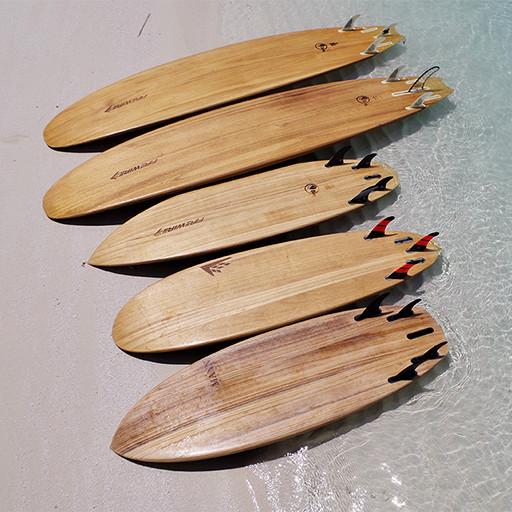 Quiver
---
Occy's Left looking looking like it would be fun on a longboard? We've got you covered. It's a bit big and you need a step-up? No problem. Our mix of cutting-edge Firewire shortboards, step-ups, hybrids and longboards will allow you to pick the perfect vehicle for any condition. Contact Tropicsurf in advance of your trip to reserve your board of choice.
LOCATION
---
NIHI
Sumba, Indonesia
Hoba Wawi, Wanokaka, West Sumba Regency, East Nusa Tenggara, Indonesia
Beginners get looked after too!

If you are a beginner, the incredible people at Tropicsurf who manage the wave there can take care of you as well. 

eddieglenn - TripAdvisor
Best vacation ever

I am probably like most people. I write a review usually if something is extraordinarily good, or horrifically bad. This is a REALLY good review. The surfing was simply fantastic, perfect or near perfect waves each day, up to 1-1/2 times head high each day. I've described it to friends and family as the best vacation ever, and the best surfing trip ever. Simply incredible.

David R, via email
Great staff & world-class surf

The surf staff, Brad and Eugene made me feel like a local, and Occy's Left (private surf break) provided world class waves with an empty lineup.

jeffmazzacano - TripAdvisor
Great Guides

I just returned to my home in Italy after two weeks at Nihi in Indonesia. I was an absolute beginner to surfing but enthusiast about trying. After my two weeks with with Tim and Giulia in the waves around Nihi, I really want to write a personal note of thanks for Tim, and Giulia, for all that he did. What a great person! That's where I want to start. He was a skilled teacher, kind and patient and always incredibly fun and enthusiastic. He went out of his way for me and my two young girls (Ginevra 10 and Liliana 8) and my wife. Whatever they're paid, it's not enough! :-) I have nothing but great things to say about him, and his wife Giulia. My hope is that, when the time is right, you will let him know that some strange, happy newbie from Italy wrote the Tropic Surf office to ramble on --- without end --- about what a great instructor he is and, more importantly, what a great person. I feel really lucky to have had the opportunity to learn with both of them. (And parenthetically, I went from a day-1 beginner at level 1 to... well, you should ask Tim, he'll have a clearer view of that. But whatever level it is, I had a great time and can't WAIT to surf again. That's the whole point, right? I lived a dream!)

Robert, via email
Amazing Tropicsurf Guides

By the way, have we ever told you guys how amazing Tim and Guila are? They are first class when it comes to customer service. They go out of the way to accomodate me and I am not even surfing. They go tell the chef to serve us more veggies because they know we love veggies, they book excursion for us, they make sure to introduce us to people they think we will like (like special guest chefs) and they are so attentive. That is why we followed them to Nihi and why we are going back to Nihi.

Carolyn, via email
Excellent Guides

I just spent a week surfing at Nihiwatu and wanted to get in touch to give a glowing review to the two surf guides there in both Tim and Giulia. As someone who has been surfing since I was young, I have been on many trips to places around the world with many different guides who have been excellent, but these 2 were without a doubt the best I have ever had the pleasure of being in or out of the water with.

Tim, via email
I cannot stress enough how great Giulia and Tim were

It was awesome and we're already thinking about booking for next year. I cannot stress enough how great Giulia and Tim were, they gave us the best Tropicsurf experience we've had so far!

Fred, via email
Unforgettable experience.

I would like to take this opportunity to express my gratitude to CJ for his fun and relaxed style during our stay at Nihi.  He was fantastic with both my boys and made the experience unforgettable.

Andrew, via email
Thank you again for your help with our trip to Nihi!

Thank you so much for setting me up with Tropicsurf. Everything was absolutely perfect. I also wanted to let you know that Robyn and Joe were the best surf instructors I have ever had, and I've had a lot!  I learned more from the both of them than I've learned from anyone. My surfing ability and confidence jumped at least a level, maybe two. Not only were they amazing teachers, both were also so encouraging, positive and fun to be with. They seem to make the perfect team.

Laura, via email
He is by far the best surfing instructor I have ever been with.

The experience at Nihi was absolutely incredible. Myself and my partner had a few private lessons with Robin and Joe. They were both absolutely incredible. I spent a lot of time with Joe and wanted to give the feedback because he made the experience one that we will remember forever! We spent a lot of time at the boat house and his energy there is what made it feel like home - we knew we could just go and spend time there whenever we felt like it. Over the 12 days the progression was incredible. His attention to detail, positioning you on the wave each time and angling you exactly where you need to be is out of this world. His approach and style went along way in building up confidence. When I thought the waves were too big for me he had the right words to make you believe you could do! My girlfriend who is terrified of waves ending up getting out into waves I never thought she would of and this is due to both Robin and Joe's style and approach. They know how to build confidence and she always knew they were there for her! 

Byron, via email.
Nihi was beyond our expectations.

Everyone was so lovely, the food was amazing and the pure beauty of the island was truly hard to take it. The spa safari property was unreal, what an amazing place. Thanks again for all your assistance from beginning to end. You made everything so seamless and we really did enjoy the family holiday with the added luxury of the hotels and transfers from start to finish.

Adam and Kylie, via email.