Bula From Six Senses Fiji
Words by Jennifer Edwards, Luxury Travel Manager of Tropicsurf
There's a theory that certain talents are inherent in particular races of people.  If that's true, then the Fijians are blessed with musical talent.  They all seem to have been born with a guitar in their hands, and angelic voices.  This is apparent with serenades the minute you step off the plane, and when you arrive at the resort.  In any other place it would be cheesy, but here it feels genuine and from the heart.  It's a beautiful way to remind you to adjust your mindset - you're in Fijian time now.  Don't be in a rush, don't sweat the small stuff, smile and go with the flow.
And with that mindset, I just loved the new Six Senses resort on Malolo Island!  The beauty of the resort, combined with the warmth and authenticity of the local people, had me falling into 'Fiji Time' right when I hopped off the boat.  Part of the charm of a holiday is to become completely engaged with the local culture, and the Fijian people make this easy by welcoming you into their home and hearts from the word 'bula'. 
The weather is everything you would expect from a tropical destination like Fiji -  sunny and humid, which allows for all of the lush greenery surrounding the resort to flourish. The bliss of an air-conditioned room cannot be overstated.  But the siren call of that beautiful pool, leading down to the beach, leading down to that stunning millpond-of-a-bay is too strong to stay indoors for long.
Had big plans of waking up at 6.00am, going for a paddle in that millpond-of-a-bay followed by breakfast. The first two things didn't happen (blame a long travel day), but the view from breakfast in Tovolea Restaurant soon got our mojo back. 
Tropicsurf's Surf Shack is also right in the line of fire from Tovalea Restaurant although unless you're early you won't catch our surf guide who is most likely already on the boat taking some lucky punters out surfing by then.  The water sports team next door are always available to help, and anything can be arranged by a quick message via WhatsApp or Viber to your dedicated GEM (Guest Experience Maker).  From activities, restaurant bookings, special requests, spa bookings, random questions .. having one contact is genius!
Swimming Pools is one of our favourite surf breaks (20 minutes by boat), and conditions were perfect for my beginner surfer daughter to get amongst it.  Such cruisy, long rides, she almost ended up in international waters.
And how beautiful is that water?
 All kudos to our epic surf guide, Kym, who coaxed me onto a board against my better judgement and actually got me to stand up and ride a swiftly moving piece of foam.  For a 50-something mother of two desk jockey (and dedicated flat water SUP rider), I thought there was no way I'd get up, but Kym changed my mindset (there it is again!) and told me to just take it slow (Fijian time, again).  Once I got past the panic of thinking I had to pop up super quickly … it happened!  Just goes to show surfing is every bit a mental game as much as physical at any level.
I know it's sacrilege to waste good waves when they are on, but frankly I'm just an embarrassment to the company in that department (we all have our strengths!) and I couldn't resist exploring the reef by snorkel.  I mean.. just look at that water.  Close enough to hoot everyone onto their waves while communing with the underwater world in between sets.  I'd highly recommend non-surfing partners ride along and bring snorkel gear - great way to be together, admire your partner's surfing prowess while having an exclusive, self guided snorkelling excursion!  With much of the world's coral reefs experiencing bleaching and die off, it was surprising to still see colourful coral here (given how warm the water is) and masses of tropical fish in all shapes and sizes.
Nomoto Lefts is another fun go-to spot for a soft safe wave, and Wilkies offers more of a punch for experienced surfers wanting to surf a right.  Unfortunately we didn't make it out to see Cloudbreak (not for beginners, that one!), but on its day it's a treat for spectators and brave surfing souls alike.  
Big tip for surfers and snorkellers - the sun is powerful.  Wear a long sleeve surf rashie and surf hat so you can enjoy being in the water in the middle of the day in comfort.  Tropicsurf can provide (borrow or purchase) hat and rashie, and this will serve as your best protection from the sun. 
Back to the resort, I spent a lot of time inspecting as many of the multi-room Beachfront Residences as possible.  For larger families and groups, these holiday homes with resort benefits are the bomb.  Mere steps down to the beach and the bay there are two small man-made islands where the resort is cultivating coral growth.  The biggest surprise was on the far side of the island on the point, where the drop off is home to a dazzling coral garden, clam 'farm' (get the kids to count how many clams they spot) and fish, fish, fish.  Literally a few steps into the water from the beach, which is a few steps from your Beachfront Residence.  Very special.
Loved the resort cafe / shop / ice-cream bar where you can purchase supplies to prepare meals in your Residence, or snacks (health conscious folk will appreciate the activated nuts and home made muesli).  The home made ice-cream is free!  Food is healthy and fresh - even down to the cocktails.  Six Senses brew their own kombucha in various flavours which populate the bar menu ingredients for "living" cocktail concoctions.  Best of both worlds - YAY!  Bottles of the brew are also available to purchase from the shop (tip - open carefully, outdoors.  Can be explosive, as we discovered .. and to housekeeping's dismay!)
The Six Senses offer plenty of stuff to do to keep you engaged - a surprising number complimentary.  From cultural pursuits (traditional wood carving, painting, cooking), ya-hoo pursuits (hiking, snorkelling, scuba, sailing, kayak, jet ski, tube riding etc), spiritual pursuits (meditation, yoga, spa) …. and then there's aerial yoga!
My favourite?  Sunset gazing.  Never disappoints, no matter which way you look at it!
---
RECENT BLOGS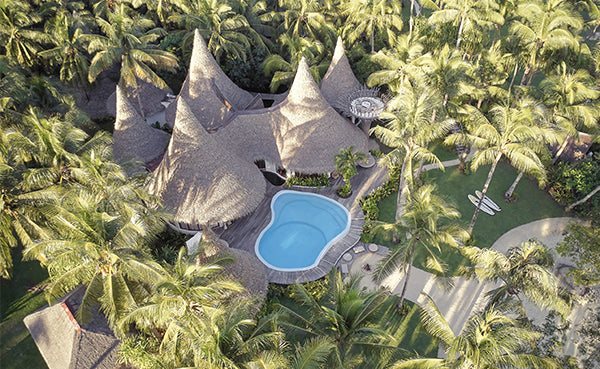 On the sandy doorsteps of Siargao Island, rests one of The Philippines' best kept secrets and newly reopened luxury resorts -
Nay Palad Hideaway
; Tropicsurf's latest resort partner. Aptly named, you'll discover this hideaway with just ten private villas nestled amongst proud palm trees and rich green mangrove forests. Only steps from your villa, the warm white sands lead to bright blue waters; and a short boat ride to secluded tropical waves.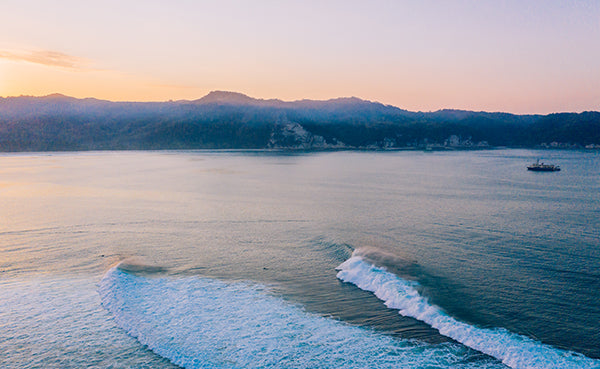 As the sun edges over the sheer escarpments rising from the sea, the shadows cast by those on the deck, saluting the sun, tell the story of the day that awaits. Anchored in the crystal turquoise waters off Sumba, the Kudanil Explorer, her crew, and the cohort of a dozen passengers are peaceful. They are immersed. Connected to the natural world.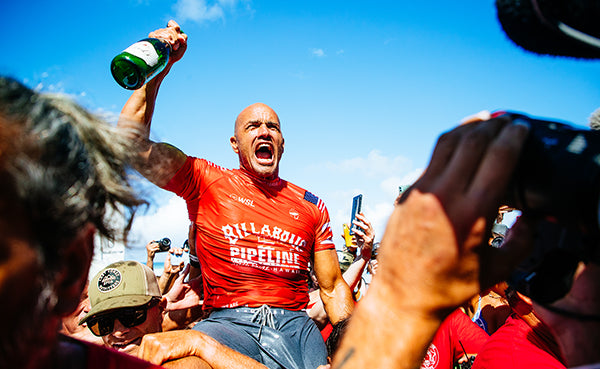 "
I hated lots of it. But I'll savour this
." This was the emotional confession from the G.O.A.T., Kelly Slater, after clinching his eighth Pipeline title at last week's WSL Billabong Pipe Masters. It was perhaps the most honest public statement ever made by a professional athlete and came off the back of what was arguably the greatest moment in pro surfing history. Just five days shy of his 50
th
birthday, Slater dominated youthful vertebra and notorious specialists with a masterclass display of brilliance. Read more about how to create your own ultimate tribute…..