Explore, Dream, Discover. A Month Of Seafaring Aboard Four Seasons Explorer, Maldives
A MONTH SEAFARING ABOARD FOUR SEASONS EXPLORER, MALDIVES
Where it's not always about the surf. (Unless of course you want it to be). Ross Phillips reports. Images by Navi (unless otherwise stated)
THE PRIVATE ISLAND 
Who among us does not love an aimless day at the beach? Nothing much to do. Nowhere particular to be. All day to keep busy doing nothing. Perhaps read a book under the umbrella then take a nap? Go for a snorkel or stand up paddle right out front? Or how about a quick bout of round robin wrestling on the floating crash mat moored in the tranquil lagoon? On this particular day, Tropicsurf guests of all ages, shapes and sizes found their nirvana on this private deserted island. The question is, how would you have spent your day here in paradise?
DANCING WITH THE MANTAS
Baa Atoll, Maldives is a protected UNESCO Biosphere and home to what marine biologists term a 'manta feeding station,' which is something slightly different to a 'manta cleaning station' that can be found in lagoons of neighboring atolls. So the waters of Baa offer visitors a world far removed from the norm. On this fourth of July, Explorer guests were treated to close encounters of the marine kind.
"Time was suspended," enthused guest Elliot Greenberg. "We were out there almost two hours. I grew up on land. I'm still shaking inside. Jitters all over" Nicole Mader was "amazed at how curious they were. I thought they'd keep their distance. It was a marvel just being in the water with animals that big."
John York, who is a flight commander in the US Airforce, likened the mantas to the F-22 fighter jets that he flies in "the way they soared through the water in formation like aeroplanes. They'd head towards you and at the last minute they'd turn, bank or dive out of your way. Super friendly and very smart. I've done some cool things in my life but how do you top that?"
TS guide Jed Avery: "Absolutely incredible. Massive creatures that appear out of the blue and come up to you, over you and around you. When they first arrive it's a bit scary because you don't know what to expect and they look prehistoric. But then they dance all around you and it becomes very peaceful. Then they just don't stop. It was like an underwater ballet."
Photographer Navi: "I started counting but lost it at fifty. We didn't need to do anything - they just came to us. It was very special. It was late in the afternoon so the light was just awesome. They are a bit tricky to shoot as one side is light and one side is black. You need to be on top of your camera settings, plus all the plankton made for some distortion in the water. I took 1800 photos. Now I just need to sort them all out!"
THE SURF
Welcome to the benefits of cruising aboard the world's ultimate surf boat. A chic floating hotel with every creature comfort you could imagine. But with one big advantage – if the surf ain't so good, you pull the pick (anchor) and cruise for somewhere better. The story behind the smoking right above, is that myself and TS guide Adman saw a tiny but very long-period SW pulse, and banked the galley sink that it would light up a favorite wave and probably not be too crowded. "It wasn't one of those booming, obvious swells" said Adman, a veteran of over 150 Maldivian boat tours. "Alot of surf guides don't really understand the subtleties in the charts. If you know what to look for, you can really score." And score we did. With not another surfer in sight.
A NEW BREAK. WE CALL IT CLINKERS
Over the course of time most surf breaks stay the same. But some get worse (due to factors like erosion, earthquake or development.) Then occasionally some get better. In this instance, who knows why the captain of this ship generously decided to park his boat at this formerly useless surf spot. But now Clinkers (named because of the haunting noises the hanging chains make as each high tide swell rolls across them) can be a respectable left and right peak, perfect for those pesky NW wind days where other spots are blown out.
THE PARTY
As the sun set on yet another grueling day of surf, sleep, eat, repeat, it was time to break ranks and party. On this occasion it was the 16th birthday of a guest named Olivia. With a playlist headlining the likes of the Bee Gees, Abba and Earth, Wind & Fire, the champagne was popped and the night was just getting started.
THE VILLAGE RAINSTORM
Surf season is monsoon season and rain scuds can come and go quickly. We hope you enjoy these stunning images by guest and amateur photographer Sandra Adorno, after her monsoonal stroll through a local Maldivian village.

THE HAIRCUT
"I couldn't quite catch his name but it sounded like 'Shoe-gum'", said guest Don Mader. It was the local barber shop on the island where our boat was moored for the night. "The chair was recycled and the scissors looked rusty. I paid $5. But then later Naveez said the local price was $1.50 which didn't surprise me. I got my money's worth. The experience was great." And the result was surprisingly hipster.
THE BEACH BBQ 
Destination: middle of nowhere. Apres fun-in-the-sun cocktails are served on this deserted beach in between frolicking our toes in the fluffy white sand, family portraits and exaggerated tales of that double overhead wave. A herculean effort is needed to maneuver through the seemingly endless menu of lobster, jumbo prawns, local red snapper, rib fillet and mouth watering lamb chops – all cooked before us over an open charcoal flame. A troop of Maldivian Bodu Beru dancers emerge from the jungle for an intense display of traditional drumming and dancing. Of course we dance. On a night like this, dancing comes naturally.
THE WHALESHARK ENCOUNTER 
Tropicsurf guests aboard Four Seasons Explorer wanted to swim with whalesharks so a day was set aside from the normal surf itinerary, the search party launched and by 1pm our intrepid explorers were face to face with this five-meter whaleshark who was just a juvenile, but large and majestic nonetheless. Five to six meters is the average size amongst the 299 individual whalesharks that have been identified in this unique corner of the Maldives. The sharks can be reliably sighted all year round, with a day to day success rate of around 70%. Swimming face to face with one is an unforgettable experience.
"Elegant…fabulous" was John York's description: "A graceful giant. It moved at a good pace so you could swim with it and just keep up. The longer you swam with it, the more you would appreciate the details – the spots, the ridges, the giant tail, what it was looking at. I've done a lot of cool things … but what a great life experience this was. Plus it was carried out super safely which was nice, so we just got to enjoy it all."
"Even the search was fun – just looking for it and cruising around, the expectation and build-up," said guest Kenan Siegel from Miami. "I swam down under the whole thing and it just kept going and going. It could have taken off, but it stayed with us – totally unfazed." "The energy was very calming and peaceful" said Betsy Siegel. "Simply amazing."
Guest Nicole Mader, a professional dolphin researcher, recalled later: "It was so gentle and patient with us. I'm still in awe. An amazing creature." Said TS guide Jed Avery after his first-ever encounter: "To be so close in the wild for an hour with this beautiful, big, powerful creature was (along with the mantas) my best experience with wild creatures."
---
RECENT BLOGS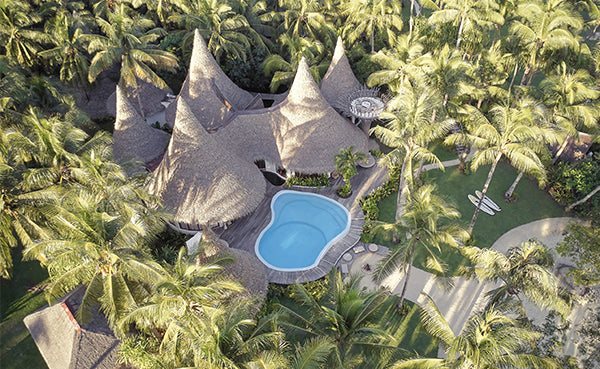 On the sandy doorsteps of Siargao Island, rests one of The Philippines' best kept secrets and newly reopened luxury resorts -
Nay Palad Hideaway
; Tropicsurf's latest resort partner. Aptly named, you'll discover this hideaway with just ten private villas nestled amongst proud palm trees and rich green mangrove forests. Only steps from your villa, the warm white sands lead to bright blue waters; and a short boat ride to secluded tropical waves.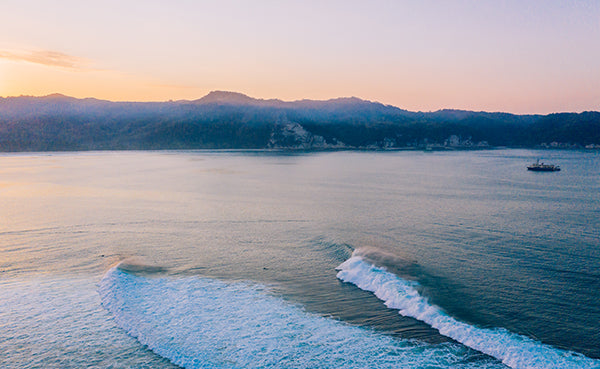 As the sun edges over the sheer escarpments rising from the sea, the shadows cast by those on the deck, saluting the sun, tell the story of the day that awaits. Anchored in the crystal turquoise waters off Sumba, the Kudanil Explorer, her crew, and the cohort of a dozen passengers are peaceful. They are immersed. Connected to the natural world.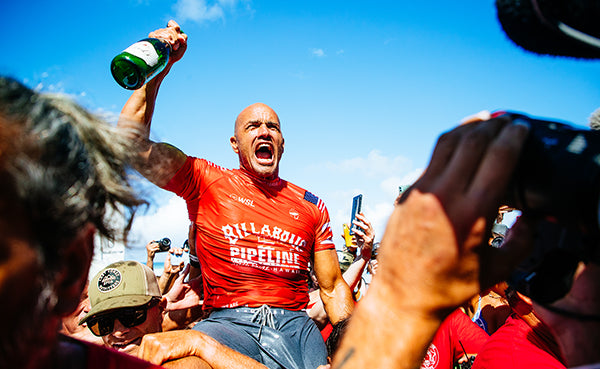 "
I hated lots of it. But I'll savour this
." This was the emotional confession from the G.O.A.T., Kelly Slater, after clinching his eighth Pipeline title at last week's WSL Billabong Pipe Masters. It was perhaps the most honest public statement ever made by a professional athlete and came off the back of what was arguably the greatest moment in pro surfing history. Just five days shy of his 50
th
birthday, Slater dominated youthful vertebra and notorious specialists with a masterclass display of brilliance. Read more about how to create your own ultimate tribute…..