Roughing It
A brief history of surf exploration by Phil Jarratt
Surfers have been travelling in search of waves since about 300 AD, when the Polynesians started to set sail for Hawaii in their voyaging canoes, pausing to ride their short wooden boards at reef passes en route. Or arguably even thousands of years earlier, back in pre-Inca times, when the Peruvians first ventured into the sea on their reed caballitos.
But in those bygone times, discovering surf was a byproduct of much more pressing issues, like survival. It wasn't until the late 19th century and early 20th that adventure writers of the time began promoting the idea of travelling to remote and idyllic locations to try the Hawaiian sport of kings, usually with disastrous results. (see None but the natives, page 45).
In the early 1900s, the writer and entrepreneur Alexander Hume Ford was surfing's greatest "booster", as well as one of its least-skilled exponents. But enthusiasm went a long way in those days, and through the founding of the Outrigger Canoe Club on the shores of Waikiki, Hume Ford introduced the newly-revived sport to hundreds of thousands of intrepid tourists from around the world. However it was Duke Paoa Kahanamoku, the most talented of a band of Waikiki beach boy brothers who did not meet the rigorous social standard of Outrigger membership, who became surfing's first global ambassador.
After winning the gold medal in the one hundred metres swim at the Stockholm Olympics of 1912 – and therefore the mantle of "world's greatest swimmer", the handsome and engaging athlete demonstrated the art of surfboard riding on both American ocean coasts, and then in Australia and New Zealand. Even in Sydney, where a tiny cell of enthusiasts had been plugging away on heavy imported redwood boards for half a dozen years before his arrival, Duke's dexterity on a rough sugar-pine board he had knocked up on a sawhorse behind the Freshwater surf club, impressed all who saw him.
Interestingly, two young men who saw Duke perform at different stages of his global promotion of the Olympic idyll, the Hawaiian Islands and, yes, of surfing, could lay claim to being among the first true surf explorers. Tommy "Looney" Walker kept a low profile when Duke gave his surfing exhibitions at Freshwater, Dee Why and Manly in the summer of 1915-15. Some said that as the most accomplished surfboard rider on the Australian East Coast, his nose was out of joint about all the fuss. Others claimed he was away on one of his regular north coast runs working as a merchant seaman on a sugar boat. But by March 1915 – a month after Duke's departure – Walker was riding a Duke-styled eight-footer, and he continued to ride it over the next several years as he surfed alone at breaks that would later become famous.
Wisconsin-born Tom Blake was a high school dropout and something of a drifter when he met Duke in a theatre lobby in Detroit in 1920, after watching the great man surfing in flickering footage from Waikiki. Blake was sold on the spot. He moved to Los Angeles and took up competitive swimming, and such was his newfound dedication to athletic excellence that he was soon among the best in the country, even beating his idol, Duke, at one meet.
Blake was slower to progress in surfing, particularly after suffering a nasty wipeout at Santa Monica, but he persevered, and became a seriously good wave rider and paddler after moving to Hawaii, where he became part of the Kahanamoku brothers' circle. As well as becoming an innovative designer of surfcraft, a writer and a photographer, Blake constantly searched for waves that had not been ridden, and in the 1920s these were not hard to come by. In 1927, alongside New Jersey surfer Sam Reid, he rode Malibu for the first time. He also surfed first in the Bahamas, and in parts of Florida.
In August 1936 a handsome young tennis pro and film set worker from Los Angeles named Robert Koke arrived on the little-known island of Bali in the East Indian archipelago with his girlfriend, Mrs Louise Garrett. Koke was hoping to get as far away as possible from Mrs Koke's husband, the Hollywood director Oliver HP Garrett, from whose Beverly Hills mansion he had plucked her some months earlier.
Koke had no idea what to expect of Bali, but having learned to ride a surfboard while working on a film in Waikiki, he liked what he saw at the end of the sandy beach track just past the village of Kuta – line after line of gentle waves rolling into the shore – and immediately sent for his redwood plank to be shipped out from Hawaii, while he negotiated some beachfront land and started to build Bali's first beachfront hotel. To be honest, Bob Koke wasn't much of a surfer. He was better at making the cocktails and charming the guests at the Kuta Beach Hotel during its short, dramatic life. But he was Bali's first, followed within months – and within a year completely outshone – by his two Balinese houseboys, who learned the basics on the big redwood, and then fashioned themselves smaller boards from wood they found on the beach.
Bali's first era of surfing lasted just five years, until the Japanese occupation began in 1942, and subsequent waves of violence and bloodshed that engulfed the tiny island would put the second era on hold for more than 30 years.
The next great breakthrough in surf exploration also came out of Hollywood, when Malibu surfers Richard Zanuck (the son of legendary studio boss Darryl F Zanuck) and screenwriter Peter Viertel took a break from filming Hemingway's The Sun Also Rises in Pamplona, Spain, in the summer of 1956, and struck out for the coast with their Velzy pigs, finding surf at La Cote des Basques, across the border in Biarritz, France. 
Viertel, who later married the actress Deborah Kerr, made Europe his home and became an important part of the development of surfing in France, founding the Waikiki Surf Club in Biarritz in 1962 with France's best young surfer, Joel De Rosnay.
Within its first year the new club hosted a travelling Australian surfer who was just setting off on his first great four-year surfing adventure – one that would lead to him devoting decades of his life to visiting more than 140 countries and discovering surf in many of them. Peter Troy learned to surf in the chilly waters of Torquay, Victoria, where his paddling prowess saw him compete as a junior in the 1956 Olympic surf carnival, where he first tried the balsa Malibu surfboards brought to Australia by the Hawaiian and Californian lifeguard teams. Hooked on surfing, he started making his own "T-Boards", and in 1962 he and partner Vic Tantau started the Bells Beach Classic, hoping to promote their primitive balsa surfboards.
In 1963 he began his great journey, introducing surfing to the Channel Islands before rolling up at the Waikiki Surf Club in time to take out first place in the debut European Surfing Championships. Later in the summer he carted his heavy board through Italy, Spain, the Canary Islands and Morocco, before crewing on a yacht across the Atlantic and resuming his search for surf in South America, again, arriving just in time to make the finals of the 1964 Peru International Championships. Next, leaving his board behind, he took a train to Rio De Janeiro, where he spied a fine new board on the sand at Copacabana, which its owner, the son of the French ambassador, was only too happy to loan him.
Troy's exhibition on the busy beach that day made headlines and, not for the last time, earned him the credit for having "introduced" surfing to Brazil. While there may be some dispute about that and other claims made on behalf of Troy's "discoveries", like Duke Kahanamoku before him, the big, affable Aussie, who could ride any board in any surf, helped popularize the sport in many places where the locals had little to guide them.
Troy returned to Peru to compete on the Australian team at the 1965 World Surfing Championships at Punta Rocas before crossing the Atlantic again, crewing on a freighter, and working his way from the Spitsbergen Islands near the North Pole, through Europe and Africa to ride the newly-discovered wave at Jeffrey's Bay. On his way back to Australia, boardless again, he watched perfect waves go unridden at a place called Tamarin Bay, Mauritius. It would take him a few years to get back to that one.
By 1970, Peter Troy's attention had turned to Australia's closest neighbor, Indonesia. When the photojournalist Leonard Lueras took a break from covering the Vietnam War in March that year and got himself and his board to Bali, the first person he ran into was Troy, lounging up the back of a cheap Chinese restaurant in Kuta. They were almost the only surfers in town. But that was changing fast.
Following the opening of an international airport at Tuban, near Kuta, in 1969, Bali fast became a hangout for youthful drifters, hippies and travelling surfers doing the so-called "denim trail" between Asia and Europe. The three Ks along the trail – Kathmandu, Kabul and Kuta – became famous as stopping-off points where the lifestyle was easy and everything was cheap, including drugs. The fact that Kuta also had good waves made it a magnet for the many young surf explorers who often financed their travels by buying and selling dope along the way. Kuta soon had a club of these cronies, among them, and perhaps the most intriguing, was a military brat from Florida named Mike Boyum.
Boyum and his younger brother Bill spent their childhoods moving from base to base as their navy pilot father was promoted, developing a passion for surfing and sailing. It was the latter that prompted Mike to drop out of college in Washington, DC, and start exploring the Pacific, washing up in Kuta early in 1970. As a surfer, Mike made a great sailor, but he was game for anything, and when he developed a penchant for starting each day with a soup or omelette made from the strong local magic mushrooms, he could be heard cackling maniacally as he plummeted out of control down the faces of large waves on Kuta's skirting reefs.
In 1971 three Australian surf film crews made their way to Bali, thereby hammering the first nails into the coffin of Kuta's surfing Nirvana, but it was Albert Falzon who first filmed the long, freight-train left-handers that peeled from the very tip of the Bukit peninsula along the virgin cliffs. Who exactly was the first to ride the extraordinary waves of Uluwatu remains a mystery – it could have been the stylish Russell Hughes in 1969, or the wily old sea captain and surf explorer Ron Ware a few years before that, or it might have been the Kuta cronies just a few months earlier – but Falzon's famous footage of Rusty Miller and young Stephen Cooney cruising majestically through backlit Outside Corner was what let the cat out of the bag, and what made the Kuta cronies think they'd better start looking further afield.
During the same dry season that Falzon was shooting the waves of Uluwatu for the first time, a Kuta crony named Bob Laverty was flying from Jakarta to Denpasar when his flight was diverted over the Plengkung Forest Reserve to avoid a storm cell. From his window seat Laverty saw what surf explorers dream of – a long crescent of reef stretching along the south-eastern tip of Java, with lines of white water visible at altitude indicating that it was open to plenty of swell.
What happened next is open to conjecture. According to several sources, Laverty rode a motorbike alone to the Java ferry at Gilimanuk, then rode overland to the village of Grajagan, took a local fishing boar across the inlet, then walked some 30 kilometres along the sand to the break. According to Bill Boyum's account, written many years later, he was with Laverty when the legendary breaks of G-Land were discovered, and subsequently mounted the first expedition to surf them. Laverty wasn't around to dispute it. An epileptic, his body was found floating in the Uluwatu rock pools a few weeks after the Kuta cronies surfed G-Land for the first time.
Mike Boyum subsequently set up a surf camp in front of the break at the edge of the dense jungle, ostensibly to promote tourism to the remote reserve, but in reality it was primarily a private camp where Boyum could impress his new surf star friends, like Gerry Lopez and Rory Russell, with perfect waves all to themselves. The regional authorities objected, and in time Balinese surfer Wayan "Bobby" Radiasa was given the permit to conduct a camp there, but not before Boyum had given his critique on the decision by burning the original camp to the ground and dancing around its embers, stoned to the gills on mushrooms under a full moon.
Around this time Californians Craig Peterson and Kevin Naughton became the first surf explorers to document their travels as they occurred, with regular articles in Surfer Magazine describing their discoveries. While Peterson and Naughton were usually coy about revealing the whereabouts of the perfect waves they found, there were often enough hints to enrage other surf explorers who had been sworn to secrecy.
For a decade from 1972, they chronicled the waves and people they found in places like Mexico, El Salvador, Costa Rica, Africa, Morocco, Ireland, France and Fiji, motivating a whole generation of surfers to broaden their horizons. Among the motivated were aspiring writers and surfing buddies Bryan Di Salvatore and William Finnegan, who spent four years chasing isolated waves across the Pacific and in Australia and Indonesia. Finnegan wrote of one of their discoveries in his Pulitzer Prize-winning Barbarian Days:
"On the fifth day, or maybe it was the sixth, we surfed. It was still too small, really, but we were so surf-starved by then that we scrambled out at the first hint of a swell. Thigh-high waves zipped down the reef, most of them too fast to make. The few we made, though, were astounding. They had a slingshot aspect. If you could get in early, top-turn, gather just enough speed that the hook didn't pass you by, and then set the right line, the wave seemed to lift the tail of the board and hurl it down the line, on and on and on, with the lip throwing just over your back continually—a critical moment that is normally no more than a moment but that seemed to last, impossibly, for half a minute or more. The water got shallower and shallower and even the best rides didn't end well. But the speed runs were dreamlike. I had never seen a wave peel so mechanically."
The wave they surfed was known to only a handful of surfers, and referred to by its code name of "Da Kine". It remained a secret until a surf camp opened on the tiny island of Tavarua, Fiji, and the perfect wave featured on the cover of Surfer with the copy lines: "Discovery! Fantastic Fiji". Ironically, the wave on the cover was Cloudbreak, off the other side of the island. The wave Finnegan surfed is now known as Restaurants, because of its proximity to the luxury resort's dining room.
While Finnegan was experiencing mechanical perfection in Fiji, on the other side of the world, after running aground in the Maldives, halfway through a surfing and sailing exploration mission from Sri Lanka to Reunion Island, Australian Tony Hinde realized he'd been shipwrecked somewhere pretty special. He decided not to leave, became a Maldives citizen, converted to Islam and married a local girl. For the next 15 years, he kept his secret paradise between himself and a few mates, but then he opened a surf camp in the early '90s. It was fitting that Hinde died in 2008 surfing Pasta Point, the wave he had discovered and surfed on his own for so long.
If the 1970s to the 1990s can be considered as the golden era of surf exploration, then Captain Martin Daly would be its last swashbuckling hero. Working as a salvage diver and skipper in South East Asian waters in the early 1980s, he was possibly the first to surf the spectacular reef waves of the Mentawai Islands off Sumatra. He managed to buy a salvage boat, cut it in half to add more cabins, then relaunched it as the Indies Trader, guiding small groups of surfers, all sworn to secrecy, through his treasure chest of perfect waves.
Daly was so paranoid about the word getting out, that he banned guests bringing aboard any kind of navigational instruments, and although he had charts in the wheelhouse, he kept them under lock and only examined them after everyone had gone to bed. The result was a very good run of remote perfection for the happy few. "I couldn't believe it. I'd traveled, sailed and explored Indonesia, but the Mentawais was a whole new class. And we had it to ourselves for about five years," he told GrindTV recently.
But by the mid-1990s, the fleet of surf charters operating out of the Sumatran port of Padang was growing fast. Captain Daly started looking at alternatives, eventually moving his charter business to a new home in the Pacific.
In the new century, if surf exploration has become harder, with fewer places "undiscovered", then surf explorers have become more resilient and more innovative. Take Timmy Turner, for example. The young Huntington Beach surfer was still in nappies when most of the Indonesian breaks were being discovered, so he took himself off, with a few mates, to Panaitan Island in the Sunda Strait between Java and Sumatra, and set up camp on the beach. 
The island was no secret, but at that stage it was surfed only sporadically as surfers made their way to more-lauded spots. By spending whole seasons there and doing nothing but surf (and making the award-winning film Second Thoughts), Turner had endless perfect days in an empty lineup. But the downside was that he contracted a staph infection that went to his brain, and although fully recovered, he has had to forego the tropics.
In more recent times, among the keenest of explorers are the members of photographer John Callaghan's Surf/Explore group which, at various times has included British longboarder and academic Sam Bleakley and Hawaiian veteran Randy Rarick. Like Peterson and Naughton decades earlier, Surf/Explore publishes the results of its expeditions in both digital and print platforms, but it is unlikely that they are ever going to raise the ire of other contemporary explorers. The places they go – often in the most inhospitable and dangerous parts of the African continent – are unlikely to become popular any time soon.
Likewise, the well-documented travels of Spain's Kepo Acero, younger brother of former world tour surfer Eneko, to places like Namibia, Angola and Alaska, are so out there that they are unlikely to inspire imitators, only admirers. A former European junior champion, Kepo decided to forego the competition scene and explore for surf alone, going to the most remote places he could imagine, often with only his indomitable Basque spirit to keep him going.
There are many more Kepos out there, still looking for the road less travelled, the wave unsurfed, while the rest of us are content to take the fast boat to the break, then lounge by the infinity pool with a cocktail, savouring the memory of that perfect wave, shared with 50 others.
---
RECENT BLOGS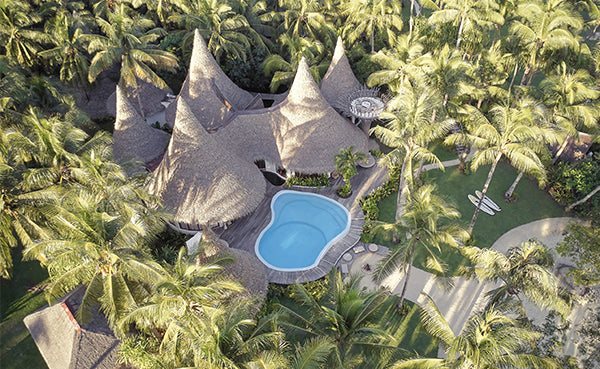 On the sandy doorsteps of Siargao Island, rests one of The Philippines' best kept secrets and newly reopened luxury resorts -
Nay Palad Hideaway
; Tropicsurf's latest resort partner. Aptly named, you'll discover this hideaway with just ten private villas nestled amongst proud palm trees and rich green mangrove forests. Only steps from your villa, the warm white sands lead to bright blue waters; and a short boat ride to secluded tropical waves.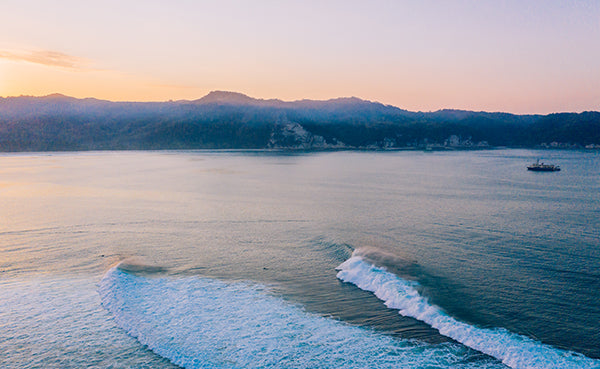 As the sun edges over the sheer escarpments rising from the sea, the shadows cast by those on the deck, saluting the sun, tell the story of the day that awaits. Anchored in the crystal turquoise waters off Sumba, the Kudanil Explorer, her crew, and the cohort of a dozen passengers are peaceful. They are immersed. Connected to the natural world.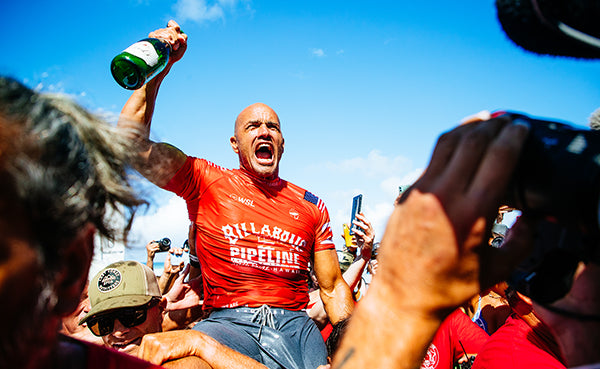 "
I hated lots of it. But I'll savour this
." This was the emotional confession from the G.O.A.T., Kelly Slater, after clinching his eighth Pipeline title at last week's WSL Billabong Pipe Masters. It was perhaps the most honest public statement ever made by a professional athlete and came off the back of what was arguably the greatest moment in pro surfing history. Just five days shy of his 50
th
birthday, Slater dominated youthful vertebra and notorious specialists with a masterclass display of brilliance. Read more about how to create your own ultimate tribute…..