Why? Reflection For These Covid Times
WHY?    Reflections for these times by Ross Phillips
"Where do you live?" It's the question I'm so often asked on my frequent globetrotting travels. "I don't know" is often my reply, because for many years now, it seems I've been on the road so long I can hardly even remember where or what home actually is. Is my home really a life on the road? 
Fortunately just as Covid was blowing up, I was at least able to return to a little town called Sunshine Beach, situated just South of Noosa, Australia. I live here with my wife Diane and yes, I guess this is our version of home. We recently down-sized and sold our house for a smaller apartment which is new, modern and nice and we love being able to lock it up and hit the road without worrying about maintenance. The entire planet has been on a march of relentless upscaling for some time so it felt good to be doing the opposite. Now with the Covid-crisis, it feels like there's a vast and replenishing corrective going on for all of us. Is this all just a slap in the face or is there some good medicine intended for us amongst this change? Perhaps we're about to find out? 
Anyway, the apartment is beachy and white with plenty of vibrant colour splashes. A dozen sky-lights give it a nice, airy feel and we can see the surf as well as the Noosa National Park from our veranda. No - don't feel sorry for me. As Australians, we live in a very lucky country indeed and that's become especially palpable through this crisis. Whilst some larger populations, families and individuals are enduring dire circumstances we here have only a small population and our level of crisis is fortunately not as bad as some. Most people here have a back yard (social distance and fresh air), 80% of us live within an hour's drive from the beach and the government generously gives us free money to get us through. We're currently in a partial lock-down. That is, we have to stay in our house unless our reasons to leave are deemed important, business, compassionate or essential. That means we can still get out for exercise and to surf at most beaches. Surfing in Australia is regarded as exercise and therefore essential. Events, restaurants, cafes and gyms are all non-essential and closed. Schools are half-closed. Hypothetically what's yet to close are banks, public transport and supermarkets. Then after that, our final straw would be to close the surf. Oh … and lastly the bottle shops. Drinking is very important to the Australian people. 
Back doing a walk-through (one of many during this lock-down) in the safe containment of our apartment, I pass my second-favourite place; a double-door fridge chockas full of healthy foods such as home-made pumpkin soup – my comfort food after nine months of resort meals. I've hardly been home since June. On the right there's a congested book-case full of un-opened or half read books that I've been wanting to sit and read for years. I'd even bought a special lounge chair for sitting but it awaits creaseless thanks to a life of me madly rushing about. If only I had more time. And how often have I said that? 
The lucky country and my second favourite thing - home made pumpkin soup
On the left wall are mounted a few treasured art pieces. A commission by Louis Parsons called 'explore, dream, discover.' A hand-etched alaia by Jo St Baker.
In my office is a timber picture frame hand made by one of our longest-serving guides Uncle Adi. It holds grainy black & whites of some of my favourite surf spots and line-up memories. Red Bluff is on the wall too. My favourite thing is a plaque made by my dad. It showcases the one-hundred year old, shopfront lettering from my great grandfather's business premises AS Phillips & Sons. They used to be auctioneers and land agents. 
"Explore Dream Discover'. Louis Parsons's abstract interpretation of some of my special memories.
Hand-etched wooden alaia by Jo St Baker. A reminder of the place we all want to be right now.
AS Phillips & Sons. These shopfront letters from my great grandfather are 100 years old.
Timber framework by Uncle Adi. Grainy line-ups etched firmly in my mind
My home office presents as unusually tidy right now – testament to the fact that Tropicsurf has gone into a slow time and I'm technically unemployed (or so I like to believe for now). It's a simple room with windows, nice leafy views and a lap pool downstairs to keep me surf fit - because that ain't getting any easier at 51. 
But the other item that hangs proudly on my wall is a photo sequence of me surfing inside a proper barrel in Indonesia. Truth be known, I've always considered myself a bit of a kook. Being a coach, I am my own worst critic. But occasionally (as they say), every dog has its day. That was my day. There are many times when my GM Mark imagines I'm up here working productively on important deadlines, when in reality I'm sitting there day-dreaming about that particular surf session and that one particular ride. The highlight being a brief moment of barrel time that seemed like an eternity. 
My best ten second space
This reminds me of one of my all-time favourite quotes by Samuel Taylor Coleridge:
"From whatever place I write you will expect that part of my travels will consist of excursions in my own mind." 
Because in my mind that one single wave was better than the sum total of every other wave I've ever ridden in my life. And I've been fortunate to ride a lot of waves. It was around ten years ago now, yet the memories and feelings are vivid and visceral. My money and my skin-left-on-the-reef were well spent. My ROI high.
These are the brief little '10 second spaces' that I like to make conversation about at Tropicsurf. You have them too right? I think as surfers we all have them. They don't even have to be surf related – what I'm talking about are any powerful memories that bring a smirk of contentment to our face for the rest of our lives.
I guess that's what I'm reflecting on in this essay. I've been in this game for around thirty years now and it's a long time to be doing the same thing. So at times I've questioned what it is that we actually do here at Tropicsurf. And do we contribute anything of substantial value to humanity or to the planet?
You see I've tried never to become too much of an acquisitive person. In fact I only just purchased my own car after not even owning one for the last ten years. I'm just not a big advocate for the concept that buying stuff makes us happy. And now that I'm stuck inside this apartment in Corona lock-down, I'm finding more time for contemplation. In fact, my shrunken world actually feels expansive with opportunities.
In other words, I'm looking at all those clothes in my wardrobe and that car in my garage with the realization that I don't have much use for them right now. But then when I look at that photo sequence on my wall, it takes me back to that moment and those memories make me really happy. Like – really happy.
That's when I reflect that this is the stuff that we invest in here at Tropicsurf:- the stuff of POWERFUL MEMORIES. Some of them might be only fleeting '10 second spaces' but because they're so vivid and cherished, they occupy a disproportionate part of our minds, in the very best of ways.
Good memories are worth their weight in gold
Thirty years ago and we're still mates. A big reason why we all surf is the friendships we make along the way. 
I'm definitely hoping that this crazy Covid-curveball provides some positive time for reflection and contemplation for everyone. I don't know about you, but I needed a break. Since June last year (or was it ten years ago?) my life has been a blur of flights, countries, visas, emails, deadlines, flat days, big days, pumping days, sunburn, meetings with lawyers, credit card expenses, grumpy locals, food poisoning, projects, targets, deadlines, injuries, jet lag – and that's not even mentioning the dysentery, the typhoon or the near-death car accident.
Life has been busy. Rushing has become a permanent feature of modern life for almost all of us. So this global quietening to me feels like a recalibration of sorts. Perhaps for those fortunate enough to escape the direct health threats of having the virus itself, could this be nudging us towards a quieter, more considerate, more reflective time centred around home and family? I've certainly observed a lot more dads playing cricket with their kids around here lately.
As for me, I'm sitting here now 'unemployed' and house-bound, but with a humbling sense of gratitude. I'm calling this Covid period 'my million-dollar rest.' Ha - because that's about how much it's going to cost me to navigate Tropicsurf through this storm. But safe and on course we will remain. In fact even right now we still have frothing surfers booking trips and I believe this is because they too want to keep their dreams of exoticism and long-lines at the fore-front of their minds to help them navigate through these stormy waters. They too desire their own treasure chest of memories. They love plotting their courses with encounters to look forward to and get excited about. They love a life to reminisce over. I guess that the anticipation and subsequent reflection of a holiday are just as exciting as the execution itself. Sometimes even better.
So honestly I'm seeing the bright side in this for myself and that's also my hope for the planet. Undoubtedly the whole world is united in our sympathy for the victims and for those suffering. But if the universe is telling us to slow down and change somehow, then hopefully we take a little quiet time to reflect and to examine our priorities, inquire into our paradigms, assess our meaningful values and use this time of standstill to bring valuable changes into our own lives. Sometimes it doesn't hurt to ask why.
Consequently you'll notice a change of focus with our Tropicsurf marketing over the coming months. We'd like to do some reflecting of our own. Here are some of the thoughts that we'd like to contemplate with you:-
-Why we surf.
-Why we travel.
-The value of those powerful memories we call '10 second spaces.'
-Those special moments on holidays and quiet times when we have time to connect with who or what matters the most in our lives.
-The value of anticipation when looking forward to a future trip.
Amidst all of this Covid unease, consider what memories you have to cherish, what future events get you excited and what things are most important to you in your life. Maybe travelling and surfing has a place in there. I hope it does. Holidays are a reprieve from all that busyness of modern life. But my genuine hope is that they're much more than that. That travel, surfing and taking time out for oneself can make us feel fully alive in our skins, closer to those we love and more purposeful in our living. If my company Tropicsurf has been able to help you with some of those special times in your life and achieving some of those 'ten second space' memories, then I'm sitting here today a very contented man.
Thanks for sharing this journey with us and we're excited about what comes next.
---
RECENT BLOGS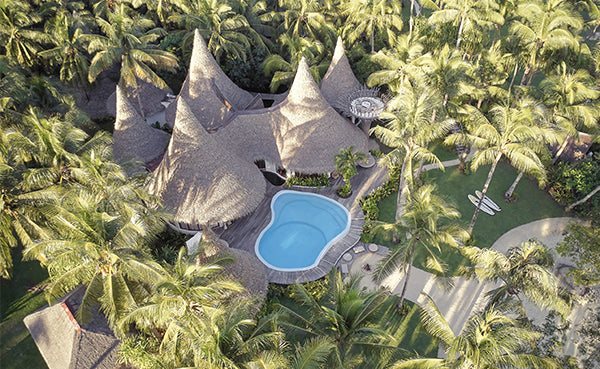 On the sandy doorsteps of Siargao Island, rests one of The Philippines' best kept secrets and newly reopened luxury resorts -
Nay Palad Hideaway
; Tropicsurf's latest resort partner. Aptly named, you'll discover this hideaway with just ten private villas nestled amongst proud palm trees and rich green mangrove forests. Only steps from your villa, the warm white sands lead to bright blue waters; and a short boat ride to secluded tropical waves.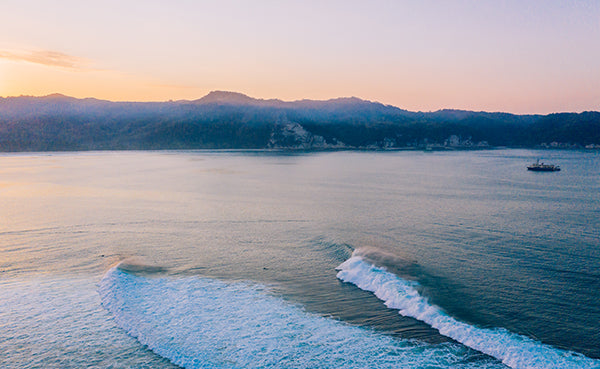 As the sun edges over the sheer escarpments rising from the sea, the shadows cast by those on the deck, saluting the sun, tell the story of the day that awaits. Anchored in the crystal turquoise waters off Sumba, the Kudanil Explorer, her crew, and the cohort of a dozen passengers are peaceful. They are immersed. Connected to the natural world.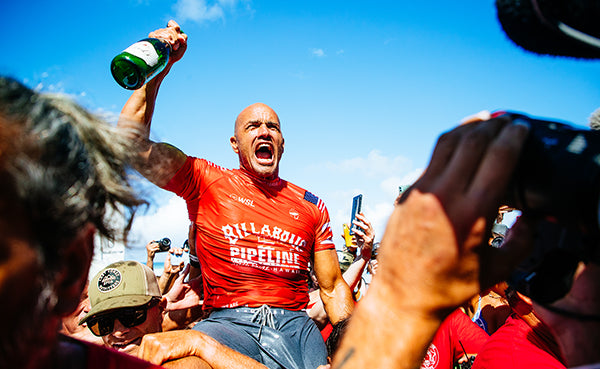 "
I hated lots of it. But I'll savour this
." This was the emotional confession from the G.O.A.T., Kelly Slater, after clinching his eighth Pipeline title at last week's WSL Billabong Pipe Masters. It was perhaps the most honest public statement ever made by a professional athlete and came off the back of what was arguably the greatest moment in pro surfing history. Just five days shy of his 50
th
birthday, Slater dominated youthful vertebra and notorious specialists with a masterclass display of brilliance. Read more about how to create your own ultimate tribute…..