Wolfgang Bloch: The Hand of The Man
Words by Phil Jarratt
For almost two decades now, California painter Wolgang Bloch has balanced precariously on the spiky border between the giant land mass known as fine art and the tiny island of surf art just beyond its shores. While the Ecuadorian cut his teeth in the design studio at surf brand Gotcha in the early 90s, and surfers were the first to appreciate his imposing oceanic abstracts, the distinction means nothing to him now, as he tells TSA editor Phil Jarratt.
Like a lot of surfers who have some sort of vague, unschooled appreciation of art, I've been intrigued by Wolfgang Bloch's confronting oceanic vision since I first became aware of it, when living in Southern California a dozen years ago. Some of it was strange and eery, but those windswept swell lines on distant horizons spoke to me in a way that the fluffy coastscapes that lined the walls of every trust fund and bored housewife gallery in Laguna Beach never could.
But hey, I'm no art critic, so before I spoke to Wolfgang I decided to seek the opinion of two of his former workmates, who also happen to be fans.
"Wolfie was was part of my art team at Gotcha," said surf industry leader Paul Naude. "It was the early part of the '90s and he stood out as an artist that had 'hand of the man' talent, as opposed to the plethora of digital, shallow commercial art of the time. I had bought a couple of his oceanscapes and really liked his brush stokes, not too pronounced, not too fine. Wolfie cringes when I talk about those (early) pieces but one of them still has prominence in my home. The piece I commissioned him to do for Billabong when I started there was a sepia-tone oil of a right point break . It was eight feet by four feet and hung in the large staircase off the lobby. I was sad to leave it there when I left and I hope that those corporate types that took over (the brand) appreciate what they have."
"He was the graphics shop grommet during my tenure as VP of Gotcha marketing," said former surf writer and marketing wiz turned on-line art critic Paul Holmes. "It seemed like his heart and soul were not really into a career as a graphic designer, so when he later became recognized for his fine art, it became clear to me that was likely where his real passion had been all along. His paintings, deceptively simple in concept, but with a distinctive style and masterful in technique and execution, are almost abstract. They are not easily pigeon-holed as 'surf art' — if such a genre is even legitimate. Perhaps that's why his art is so attractive to surfing's sophisticates." 
PJ: In the various interviews with you that I've read, there seems to be a rather big gap between your childhood in Ecuador and being at college in Pasadena. Can you fill it in at all? What was the background of your parents and why did they move to the US?
WB: My father fled Germany with his parents in 1937. He was five at the time. His father, my grandfather, was one quarter Jewish and was lucky enough to get out of Germany in time. He had a nephew who had moved to Ecuador a few years earlier looking for work and adventure, this was the only place outside of Germany where they had family and a place to stay.
My father ended up living his whole life in Ecuador. When I was 10, he was working for Dow Chemicals and was transferred to Miami, Florida. The whole family moved to the US. I still remember the drive to our hotel from the airport when we first arrived. It was such a different world to me, so built up... We lived there for a little over a year and then moved back to Ecuador.
I grew up in the suburbs of Guayaquil, the largest city in Ecuador, about 45 minutes away from the coast. Most weekends were spent at the beach camping with my family, which is how my love affair with the ocean began. My parents told me that I could just sit and stare at the ocean for hours. I still love doing that today. Later, when I was about 12, my father would drive me and my friends to the same spot and drop us off for a few days to just camp and play in the ocean. We would find pieces of balsa wood on the beach and use them to ride the shore break. On a trip with some friends to Salinas, a popular beach destination in Ecuador, I saw someone surfing for the first time. I still remember it today. A guy going left on a red board. We all decided to give it a try and were hooked. From then on my camping trips to the beach became surf trips.
In 1982 I graduated from high school and decided to go live for a few months in Engabao, a small fishing village two hours away from my hometown. It didn't have electricity, phones, or running water, but a great righthand point break. I rented a house for nearly nothing with my good friend Fernando. We surfed every day and helped the fishermen push their boats up the beach in return for fish. Loved the simple life. After three or four months of that I told my father I wanted to become a fisherman and move to Engabao permanently. He was not happy. A month later, I found myself on my way to the US to sign up for school.
My plan was to become a marine biologist, return to Ecuador and live somewhere on the coast, but I had a hard time at school. I wasn't very good at math or chemistry and I was starting to doubt my career choice. I always liked to draw, so I decided to take an art class to fulfil my elective credits. I took more art classes and realized that I was good at it. One of my teachers suggested changing my major into fine art, and I graduated from the University of Florida in 1987 with a BFA. I was then accepted at Art Center College of Design in Pasadena, California, into their Graphic and Packaging Design program. I always wanted to go to California and my experience at Art Center was amazing. It was incredibly difficult and challenging, but it really made me a much better craftsman and artist.
Can you reveal a little more about your time at Gotcha? Founder Michael Tomson had some pretty amazing creatives moving through there, not to mention his own larger than life personality! Who influenced you, for better or worse?
I got a job working for Gotcha right after I graduated from Art Center.
I still remember my interview with MT. I couldn't believe it. Growing up in Ecuador, I had a photo of him surfing Pipe taped on a wall in my room. He was pretty intense, intimidating at first, but when he heard that I was from Ecuador, he seemed intrigued and interested. I had a good relationship with MT and I think he respected my honesty. I never kissed his ass, and spoke up every time I thought he was off in la-la land. He was very creative, but had no patience. Always looking for something fresh and new. It was a constant battle. Got to meet and work with some very interesting and incredibly creative people, but being in an office, and becoming someone else's hand, just wasn't for me. After four years at Gotcha, I left to go work for myself as a freelance artist/designer. 
You've talked about your distaste for cliché "pretty picture" surf art. Do you see any merit in it? Is there such a thing as a "fine surf artist"?
I called my early work "pretty pictures". In my opinion, it was just that. A perfectly rendered setting in perfect light, like a postcard. My only reward from creating these pieces was the act of painting them. Once they were done, I didn't even want to look at them...even felt uncomfortable showing them. It was a time of discovery for me. You paint all kinds of different stuff until you stumble across something you're meant to paint. I didn't connect with my own surf art, so I don't connect with anyone else's out there. If it's well-crafted, I appreciate it, but that's about it. For me to really connect with art, there has to be an emotional connection. It's something I can't explain. I become almost paralyzed and can't get my eyes off of it. I feel moved by it. It's a very personal experience.
You talk about how your work shifted away from early surf influences until it reached a point where there is no such influence at all. Yet the horizon and the corduroy lines remain, at least in some works. Does a canvas ever start out as something else, and end up as the ocean?
Except for my early pieces, I don't believe my work had any surf influence. Yes, it depicted a wave, but the wave was more of a symbol, rather than a surf spot. The ocean and nature is the inspiration and essence of my work. Its size, its constant physical and visual movement, fascinates me. It's beautiful, powerful, quiet and mesmerizing. My work is not about trying to recreate something I witnessed. I'm trying to recreate something I felt. It's a very intuitive and personal process. I don't plan or sketch a painting prior to starting. I never know where it starts nor where it's going to go.
Do surfing and the ocean continue to play a major part in your life?
The ocean will always be a part of my life. Surfing is just a way to get closer to it. I can't imagine not having that in my life.
You've talked about how your divorce made you wonder if you could paint without your "muse". Did it also make your art more sombre?
My work is a true representation of how I feel. The color, the texture, the layers, the brush strokes...every mark left behind has a meaning and a reason to be there. It all represents a mood, a feeling, or a state of mind. Going through my divorce was incredibly difficult. After 20 years, (my wife) had become a part of me, she was my rock, my best friend and my muse. Going through the separation I felt as if I couldn't breathe. I had lost my inspiration... I couldn't paint. It was the strangest feeling – I couldn't connect with what I was working on.
A good friend of mine told me to go to the studio and just paint. Don't think about anything...just paint. I remember being so scared. Painting was my only source of income, and now I couldn't paint. How was I to support my two kids? I tried to focus on them. The owner of a gallery in San Francisco offered me a show. I had a little over three months to create 15 pieces. Painting became my therapy. It was all about releasing whatever was inside of me. I believe it is the best work I've ever done.
So where is your work heading today?
A little over two years ago, while I was going through my divorce, I painted an underwater scene. I kept seeing this image of being underwater and not being able to swim up towards the surface. The piece came out really dark and turbulent, but I liked the concept and year later I decided to revisit the idea.
These new pieces feel fresh, fluid. Feel lighter to me. When I'm painting them I feel free. The horizon is still there, but its blurred, it's soft and not straight anymore. I'm seeing it from a new perspective...I think this new body of work is a true reflection as to where I am today. I'm enjoying life more. I'm more in the moment, in a place that seems peaceful and comfortable.
What do you hope people will feel when they look at your work?
I just hope it makes them feel good. Watching someone fall in love with one of my pieces is my reward. It makes all the doubts, struggles and long hours feel worthwhile.
Wolfgang Bloch's work is featured in leading galleries and private collections around the world. For more information visit wolfgangbloch.com
---
RECENT BLOGS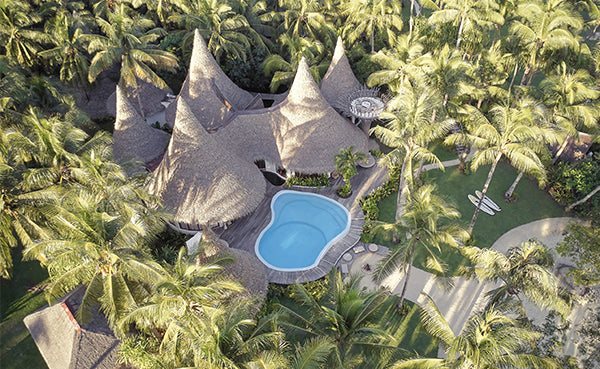 On the sandy doorsteps of Siargao Island, rests one of The Philippines' best kept secrets and newly reopened luxury resorts -
Nay Palad Hideaway
; Tropicsurf's latest resort partner. Aptly named, you'll discover this hideaway with just ten private villas nestled amongst proud palm trees and rich green mangrove forests. Only steps from your villa, the warm white sands lead to bright blue waters; and a short boat ride to secluded tropical waves.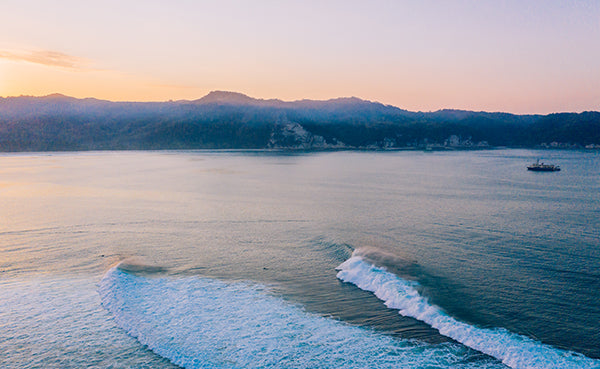 As the sun edges over the sheer escarpments rising from the sea, the shadows cast by those on the deck, saluting the sun, tell the story of the day that awaits. Anchored in the crystal turquoise waters off Sumba, the Kudanil Explorer, her crew, and the cohort of a dozen passengers are peaceful. They are immersed. Connected to the natural world.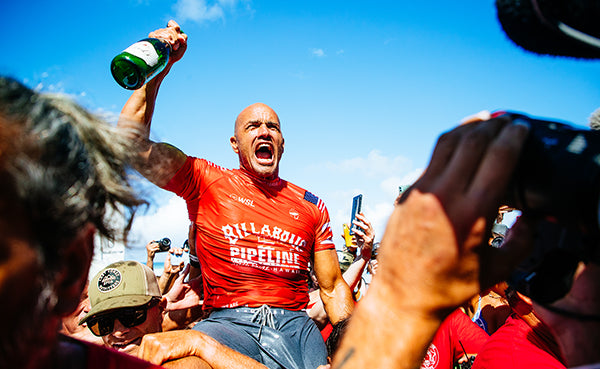 "
I hated lots of it. But I'll savour this
." This was the emotional confession from the G.O.A.T., Kelly Slater, after clinching his eighth Pipeline title at last week's WSL Billabong Pipe Masters. It was perhaps the most honest public statement ever made by a professional athlete and came off the back of what was arguably the greatest moment in pro surfing history. Just five days shy of his 50
th
birthday, Slater dominated youthful vertebra and notorious specialists with a masterclass display of brilliance. Read more about how to create your own ultimate tribute…..