A Voyage Through the Mentawais Aboard the Ratu Motu
Words by Tropicsurf Guide, Ryley Haskell
The Mentawai island chain, situated off the west coast of Sumatra is home to some of the best surf in the world. Many consider the Mentawais their surfing nirvana. As a Tropicsurf Guide, I feel as though I have the best 'job' in the world. My work has taken me to the far reaches of the earth in search of waves.
The Mentawai archipelago still sits at the top of my list of favourite surf destinations, thanks largely to its high quality and consistent surf, natural beauty and unique local culture. When a recent opportunity arose to guide a group of surfers through the Mentawais aboard the Ratu Motu, the Mentawais premiere surf charter, I seized it with both hands. 
People often ask me, 'what's so magical about a live aboard charter experience?' It can be hard to communicate.  Words that come to mind are solitude, adventure, escape, but even more so, it presents the opportunity to connect with one another, something that seems a rarity in these modern times.
I decided to record a daily journal of our adventures, and luckily we had our multitalented captain Erik Soderqvist pick up the lens to capture some of the magical moments.
In brief, we had an AMAZING trip…. filled with an abundance of laughs, incredible (and at times solid) waves, spearfishing, scuba diving, massages, SUP tours, kayaks, exploring islands, beach bonfires, watching surf movies and having a good old time whilst making lifelong memories and friends – which is what it's all about isn't it.
I hope that you enjoy browsing our trip journal and if you're thinking of taking a charter aboard the Ratu Motu, you can count me in!!!
Day 1
Myself, fellow TS guide Adi Wilson, and our enthusiastic group of South African surfers arrived to Padang Airport at 8pm. We were whisked through customs and straight to our luxury van transfer that would take us the 30-minute drive to Padang Harbour.
Darren, Ratu Motu's first mate, met us upon arrival at the airport with cold Bintangs, and ensured our entire luggage and boards were safely loaded into a separate truck for transfer.
Upon arrival to the boat, we were given a safety briefing, cabin allocations, and crew introductions. After a great dinner, and some time to unpack and relax into our new home for the next 11 days, we set off on the overnight crossing out to the famous Mentawai Islands.
The Ratu Motu – our home for the next 10 days.  Size, robustness, speed, stability and over 30 years of Indonesian surf exploration make a trip aboard the Ratu Motu exceptional
Day 2 
Being the frothers we all are, everyone was up at 5am, hoping to get the first glimpse of paradise as the sun rose over the Indian Ocean archipelago. Even in the dark, at 5am, the crew had already prepared us a pre-surf light breakfast of fresh fruits, toast, cereals…. and most importantly coffee.
We prepped boards, safety briefed the break, and headed out for a dawn patrol session at an incredible left hander. (I'm going to keep the breaks we surfed this trip a secret… we have years of experience up our sleeves and know the area intimately, allowing us to dial our group into uncrowded surf for much of the trip. If you want to know the locations… you'll just have to book a charter and see for yourself!!).
By 11am everyone was surfed out and we returned to the boat to be greeted by a fantastic lunch, fit for kings. During lunch the wind swung so we upped anchor and relocated.
By 2pm were back in the water surfing yet another world class left-hand reef. Our charter coincided with the 2019 Japan Rugby World Cup and given our group were South African rugby fanatics (except Adi who was quite sour about the performance of his All Blacks…and myself, being from California, know as much about rugby as I do calculus…) the live streaming capabilities on-board the Ratu Motu ensured that the South Africa vs. Wales semi-final game was available, so we cheered on the Springboks to a win. 
After the game, a few of us jumped back out for a sunset session, before returning to the boat for sunset cocktails on the helipad, comparing sunburns and reef cuts. We knew the swell was meant to peak the following morning, so everyone was off to bed early. What a start to the trip!
Seclusion and comfort aboard the Ratu Motu as we explore the Mentawai Island chain
High and dry on a warbly one
Best seat in the house
Day 3
In a general trend you'll see throughout this blog, our heads left the pillow at 5am.  We enjoyed Cappuccinos and fresh fruit whilst listening to sets roll through the line-up in the dark.
Neil, the charger he is, had a few too many coffees and convinced me it was a good idea to paddle out at 5:30… still dark. We jumped off the tender into the line-up and quickly realized how solid it really was. 8-10ft with the occasional 12ft'er rolling through… and we had it pretty much to ourselves for the first couple hours.
Even as it got a bit more crowded there was really only a few people who wanted it, and were willing to take the bombs. The Ratu Motu anchored as close as safely possible to the break, so while our advanced surfers charged, the rest of the guys had an incredible show from up on the helipad.
We surfed until about 10:30 and surprisingly only suffered one broken board amongst our crew. The nice part about the Ments' is that when the swell is big, the options are endless, so we upped anchor and headed a quick 30 mins away to a sand bottom beach break that was great for everybody. In addition, there was another solid left-hander close by for the advanced guys, which had their hearts racing.
By lunchtime everyone was pretty surfed out so we had some downtime for massages, diving, spearfishing and some rest and relaxation.
By 3:30 we were back at the beach break, as well as learning to foil and skurf behind the tenders. If you ever want to laugh, throw someone on a foil who has never done it before… just remind them to wear a helmet.
At 6:30 everyone was exhausted so we retreated to the upstairs lounge area for sunset drinks, and a slideshow recap of the first two days of the trip. It was another early night after dinner, and an overnight crossing in search of new territories to explore.
Tackling some solid left handers was a great test for us all
The take off consisted of a manageable roll in, followed by some great barrelling sections as the wave reeled down the line
Golden sunsets amidst picturesque scenery
Day 4
Day four called for a sleep in… til 6am! Coffee and a light breakfast for energy and straight out into the line-up.
Myself, Adi, Neil, Rasta and Carl were the first ones to approach a reef pass with big right-hander's marching through. Viewing from the boat was difficult thanks to a blanket of mist on the ocean, and positioning ourselves correctly presented a challenge. We thought we were in the right spot… before being cleaned up by a 10ft set!  All this prior to even catching a wave. Lesson learned, don't follow Neil.
After that wake-up call, we decided it was a good day to try some step-off's from the Jet Ski. A highlight for everyone was watching Pascal step-off using a 9'2 foamy on a few well overhead bombs… charging… or as the boys would say "Lekka bru".
By midday the wind strengthened so the boys took a tender ride to explore the bat caves and surrounding scenery before we picked up anchor and moved during the lunch break.
During the move there was a few games of backgammon played, some massages, and plenty of reading. A few of our guests happened to be incredible DJ's so there was never a shortage of great tunes playing over the speakers upstairs.
We arrived to yet another perfect left hander, with no one out. Everyone was quick to jump in at this playful left, a welcome reprieve following days of solid swell. It was a great session through to sunset, before returning to the boat for what the 'Saffa's' call an 'on night'.
This is usually started by a sunset session of "fines and accolades" where you're served a tequila shot for anything you did wrong… or right…. throughout that day. And let me tell you, they don't miss anything. This made for a much more entertaining slideshow viewing and dinner that night.
Surfing this break by ourselves, with the assistance of the Jet Ski, was an epic experience
Perfecting our 'step offs' and having an absolute blast!
The right really opened up on the inside section
Exploring the natural surrounds was a real highlight for our group.
Surfing this perfect left-hander in the late afternoon and readying ourselves for some well-earned refreshments on-board the Ratu Motu was all time!
Day 5 
It was another early morning for some, while those who embraced the "on night" antics filtered out into the line-up at their leisure.
We surfed from 7am to 11am while captain Erik filmed our session. We can't thank him (and the entire crew) enough for their efforts to enhance the experience of our guests. Shooting photos and videos on top of his extensive list of responsibilities was going above and beyond our expectations. Oh and just wait until he breaks out some tunes on Kelly Slater's old guitar, which has been left on the boat.
We came back to the boat for lunch and some video analysis coaching sessions, before relocating to a new wave, allowing our surfers to implement what we had just taught over lunch.
By 3pm, everyone was surfed out, so they decided to head out for some scuba, spearfishing, and island exploration for the afternoon. A few kept surfing, as they couldn't get enough of this fun left hander we had to ourselves.
Everyone reconvened for sunset refreshments, the daily slideshow and dinner, before retiring for an early night.
Everyone really loved surfing this wave and there was such a great vibe in the water
The smaller days provided endless fun to perfect manoeuvres with just your close friends looking on
Day 6 
We moved overnight, and everyone slept well, so everyone was up early and ready to go. We had another fun-sized session at a secret left hander, loved by all.
At this point in the trip, everyone's bodies were sunburnt, sore, and scraped up from the reef… so it was time to tick some other boxes. Everyone headed out for a pre-lunch scuba dive, which I heard was great.
Nick, the Scottish dive guide, is high on the repeat customer request list and not to be missed out on if booking a trip aboard Ratu Motu. He's spent years in Indonesia, so his knowledge of the area is outstanding… plus I've never seen anyone spear a fish as big as him, or hold their breath half as long.  
After lunch we tried some more foiling (but didn't improve), and some of the group relaxed with a massage or took a tender ride to check out other nearby waves. At 2pm we moved the Ratu Motu a short distance to spearfish an offshore pinnacle followed by an afternoon on a nearby deserted island.  
Some of the advanced surfers explored by tender and found a shallow, shifty left that was offshore in the strong south winds. By 5pm the wind dissipated so we moved back to the mellower left and surfed the last rays of light, before our daily slideshow, dinner and bed.
One of our favourite set-ups from the trip. 
Beach cricket was a hit during some downtime from being in the water.
It doesn't get much fresher than this! From ocean to plate in a matter of minutes!
Day 7
Today we were fortunate enough to have the option of surfing two waves, both within a short tender ride from the Ratu Motu. From 6am to 10am the intermediate surfers went surfed a fun lefthander, while the advanced surfers braved a shallower left-hander.
At lunchtime, we enjoyed some video analysis from the morning sessions, while the boat brought us back to our big right hander where we had done step offs days earlier.
The swell was decreasing and the wind came up, so a lay day afternoon was called and the group went for some SUP and kayak tours of the waves, island excursions and beach games.
We then headed back to the boat for our usual sunset routine of slideshow, fines and accolades, dinner, and bed. Life on the boat is simple, surf, eat, sleep, repeat…
Beautiful, uninhabited islands are scattered throughout this region.
We decided to partake in some cliff diving this afternoon
In search of new waves
Enjoying the spoils
Day 8 
We moved overnight and woke early, in anticipation of the big day… the Rugby World Cup Finals.
We surfed a famous left-hand reef in the morning. Adi and myself had been there the year before and experienced the infamous inside section of the reef known as "greedies." We briefed the guests on the danger of riding too far, yet one by one, they found themselves on the inside section… a greedy crew those South Africans. At least they got some free tattoos to bring home to show their families.
Secretly, I too got a bit excited and ended up in ankle deep water on the reef thinking I was going to get away with it without anyone noticing. That was until the horn started blaring from the boat in the channel, and over the loudspeaker came "aren't you supposed to be the guide?" As I said, they don't miss a beat.
Once everyone had sufficient reef cuts, it was time for lunch and leisure activities before heading to a nearby resort to watch the Rugby World Cup finals. This was definitely a highlight for all as there was an incredible atmosphere at the resort. South Africa absolutely demolished England and needless to say, it was an "on night" and the party that ensued back on the Ratu Motu after the game was one to remember!
Threading our way through an endless amount of barrels
Then relaxing on the helipad each evening for sunset cocktails
Day 9
Everyone woke up a little slow following the previous night's festivities, which was perfect as the swell was dwindling down.
We jumped in the water around 7am and split into two groups surfing advanced and intermediate waves until 10am. Both were in eyesight of the Ratu Motu so it was easy for the guests to go back and forth between the two to avoid some crowds.
Everyone then went out for a spearfish from 10am to 12pm. Adi and Neil headed out on a four-hour tender excursion in search of some fish and a more advanced wave, which they found and surfed to themselves. The rest of us surfed a fun right-hander followed by a scuba dive. By 4pm everyone was exhausted but mustered up the strength for a sunset surf before retiring to the lounge for a surf movie and dinner.
That night as we moored, a nearby land camp launched a firework display, with our group claiming it was due to them still celebrating South Africa's win from the day before. Great way to end another incredible day aboard the Ratu Motu.
More perfect waves!  This trip really did have it all
The scenery within this archipelago is stunning
A relaxing left for the lunch time session
Day 10 
Feeling rejuvenated from a good night sleep we were back up to our normal 5am routine and in the water at dawn, spread-out between two breaks; a right hander and left.
One of the biggest benefits of trips to the Mentawais is the number of breaks for surfers of all ability levels to enjoy. By 9am the surf had dropped quite a lot so we decided it was time to break out the foamies, longboards, and kayaks for an expression session at a fun little lefthander. Some great laughs were had during this session.
We decided we'd made the most of that area, so we headed back to the boat and relocated for afternoon activities. A quick surf at a fun left-hander left some of the guests claiming this was the best session of their trip.
A boat arrived after we'd been in the water for 2 ½ hrs, so we decided to leave it and head to a nearby island for an afternoon of diving, spearfishing, and a beach bonfire at sunset.
The guests have a show they put on every year, where they have to play a song on the guitar; it can be an original or a cover. We, as guides and crew of the boat, have to vote on who was best, and who the worst. It's a good laugh, and the punishments for losing are rough… We ended the day with the guitar show, a slideshow of the day's antics, and dinner…. everyone wanted to rest up for the final day.
The obligatory lagoon shot for the folks back home!
Day 11
Being that it was our last full day on the boat we got up at 5 and jumped in the water at first light until about 9am at yet another fun left- hander, which we had to ourselves.
As the swell had subsided quite a bit, we chatted to the guests and everyone unanimously decided it was our last surf and we would spend the day checking out islands and visiting friends.
We first headed into a resort owned by friends of Erik and Darren. It was beautiful; hand built using indigenous timber sourced from the surrounding islands. They had a pet monkey that was friendly and loved human interaction which was a real treat.
A couple of the guys headed out for a final spearfish before we moved again to visit one of the guest's cousin, who owns a surf camp in the area. We watched the sunset there, shared some laughs and stories of our adventures, before returning to the boat.
We ended the day with our last round of sunset cocktails and the final slideshow of the trip. It's always a bittersweet feeling as you begin the crossing back to Padang … it leaves you wanting more, but it also provides the opportunity to reflect on the wonderful adventure we'd been lucky enough to enjoy.
Sea kayaks were the perfect craft to explore the area.
And that's a wrap!  As Saint Augustine said, 'The world is a book, and those who do not travel read only a page'.  Until next time Mentawais….
---
RECENT BLOGS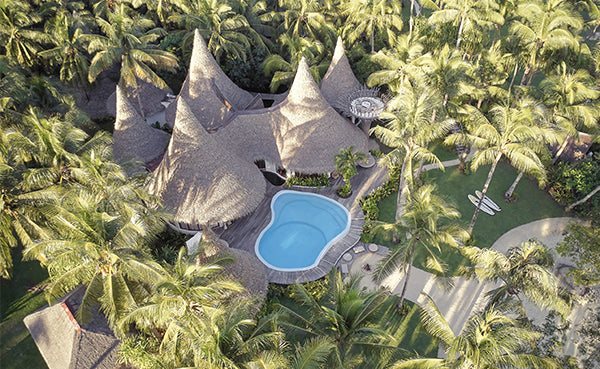 On the sandy doorsteps of Siargao Island, rests one of The Philippines' best kept secrets and newly reopened luxury resorts -
Nay Palad Hideaway
; Tropicsurf's latest resort partner. Aptly named, you'll discover this hideaway with just ten private villas nestled amongst proud palm trees and rich green mangrove forests. Only steps from your villa, the warm white sands lead to bright blue waters; and a short boat ride to secluded tropical waves.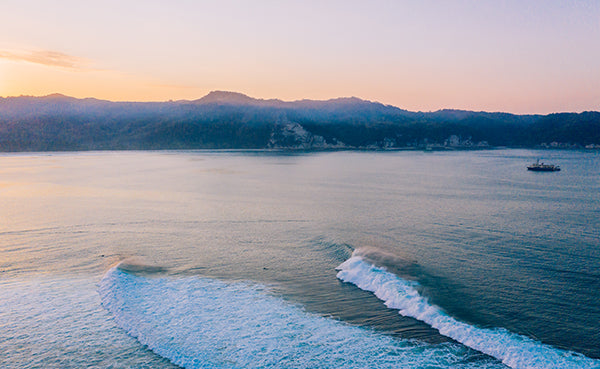 As the sun edges over the sheer escarpments rising from the sea, the shadows cast by those on the deck, saluting the sun, tell the story of the day that awaits. Anchored in the crystal turquoise waters off Sumba, the Kudanil Explorer, her crew, and the cohort of a dozen passengers are peaceful. They are immersed. Connected to the natural world.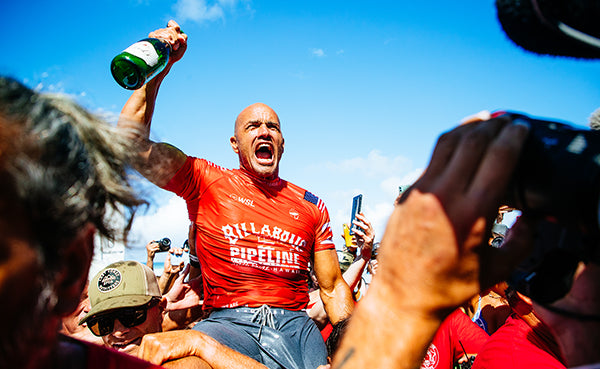 "
I hated lots of it. But I'll savour this
." This was the emotional confession from the G.O.A.T., Kelly Slater, after clinching his eighth Pipeline title at last week's WSL Billabong Pipe Masters. It was perhaps the most honest public statement ever made by a professional athlete and came off the back of what was arguably the greatest moment in pro surfing history. Just five days shy of his 50
th
birthday, Slater dominated youthful vertebra and notorious specialists with a masterclass display of brilliance. Read more about how to create your own ultimate tribute…..