Luxury Surfing's Newest Nirvana
Introducing Nay Palad Hideaway - The Newest Nirvana for Tropicsurfers
On the sandy doorsteps of Siargao Island, rests one of The Philippines' best kept secrets and newly reopened luxury resorts - Nay Palad Hideaway; Tropicsurf's latest resort partner. Aptly named, you'll discover this hideaway with just ten private villas nestled amongst proud palm trees and rich green mangrove forests. Only steps from your villa, the warm white sands lead to bright blue waters; and a short boat ride to secluded tropical waves.
With all that Nay Palad Hideaway has to offer - it's hard not to want to hide away (or rather stow away) here perpetually. From locally grown organic food, endless adventure options, relaxation on tap and authentic Filipino service, Nay Palad's style is a perfect balance between there-when-you-need-them and peaceful seclusion.
'Leave your wallet at home' is Nay Palad's plea to guests. Unlike most bonafide luxury resorts, staying at Nay Palad is an all-inclusive affair. Once you're booked, your bags are packed, and you arrive at your postcard-perfect destination, you won't sign for a bill at all. If you want two massages a day, a yoga session in a private ocean pagoda, a cooking class with organic produce, and two surfs (the list goes on), it's all yours. Less time running numbers and tapping cards and far more time for you - Nay Palad likes to call this freeing feeling a 'barefoot state of mind.'
Surfing at Nay Palad Hideaway
Many compare Siargao Island to Bali before it was discovered by mainstream tourists. Two intrepid surfers by the name of Steve Jones and Tony Arroza first stumbled across Cloud 9 in 1980 however Siargao has remained mostly off the radar for conventional travellers ever since. Just a short Jeepney ride from the resort will bring you to what Steve and Tony found to be one of the world's best waves. Cloud 9 is primarily a barreling right, but also offers a less crowded and slightly shorter left off the peak.

Late September to November is the best time of the year to target Cloud 9 if you're looking to tick it off your bucket list. However, Nay Palad has the luxury of being close to over twenty surf breaks that can be surfed year-round without the crowds.
Herein lies the charm of the destination. Whether you're a beginner or intermediate surfer, you'll be able to chase a more mellow reef break that our on-site Tropicsurf guides can take you to aboard Nay Palad's stylish speedboats. Oh, and don't forget it's all free-of-charge because you must leave your wallet at home.
The Villas
Nay Palad has involved the likes of local artisans and craftsmen to curate a perfectly symbiotic thatched roof design for the tropical backdrop of Siargao Island. Each villa has a stunning amount of privacy with absolute attention to the finer details. Unique views, versatile floor-plans, ample space, indoor and outdoor showers and iconic high ceilings join the impressive list that add to the resort's seriously incomparable set up. Immersing yourself in these villas is a luxury for all the senses.
Outdoor activities and a little R&R anyone?
Outdoor activities at Nay Palad Hideaway are as boundless as the sparkling blue seas surrounding the resort. These activities range from cooking classes with resident chef Pere Massana, island hopping, excursions in the resort's Jeepney, bike riding, beach volleyball, surfing with Tropicsurf and stand up paddle boarding. Did we mention it's all included!?

The Hideaway also boasts onsite activities like a shallow pool, swing loungers hanging from trees, grassy lawns for soccer and badminton, foosball, trampoline, a climbing tree, board games galore, billiards and a games room. So tick entertaining the kids (or hey, the adults too) off the list and kick the feet up as you unwind by the bonfire with a s'more between two palm trees.

For those more inclined to recline, Nay Palad certainly won't disappoint with a full range of spa treatments available in its wellness hub. This creative and calming space is as relaxing as their traditional Filipino massages (not to mention with organic homemade oils) acclaimed for their healing abilities. Relaxing at Nay Palad also entails yoga and meditation, which can be enjoyed from the ocean pagoda, treehouse, on SUP boards or the pool. It can be so darn hard to rest, reflect or unwind in a familiar environment surrounded by the day-to-day norms, but this alluring wooden architecture and serene spa space cultivates the perfect atmosphere to let the deep relaxation continue.
Food & Sustainability
Nay Palad Hideaway is dedicated to creating sustainable luxury experiences by focusing on four key areas - conservation, community, culture and commerce. These pillars have become key to Nay Palad's re-birth. The resort was reopened this June of 2023 after rebuilding from the 2021 December Typhoon which ripped through the island and the resort. Since, the resort's owners have been actively involved in helping their community re-establish by supporting a range of charities, community housing, and post-typhoon regeneration of the sprawling mangrove system that fringes the property on one side. You'll also find that Nay Palad has a complete ban of single use plastics on the island, one of their many initiatives to work towards a more sustainable future with a lasting impact.

When it comes to creating a mouth-watering and memorable dish, some like to say that fresh is best, and Nay Palad certainly knows how to get quality food from farm to table. The on-site organic farm, coupled with close relations with local farmers and fishermen, means there will never be a set menu. You'll be eating fresh, seasonal and delightfully surprising new meals with a Mediterranean, Spanish and Filipino twist every day.

It's not hard to see why Tropicsurf simply HAD to partner with Nay Palad Hideaway. If you're looking for a solo retreat, romantic getaway, or family escape, Nay Palad's passionate team has truly left no stone unturned and no coconut uncracked to milk the best of what Siargao Island has to offer.

Our on-site Tropicsurf guides look forward to greeting you soon. Click here for villa and surf information.
---
RECENT BLOGS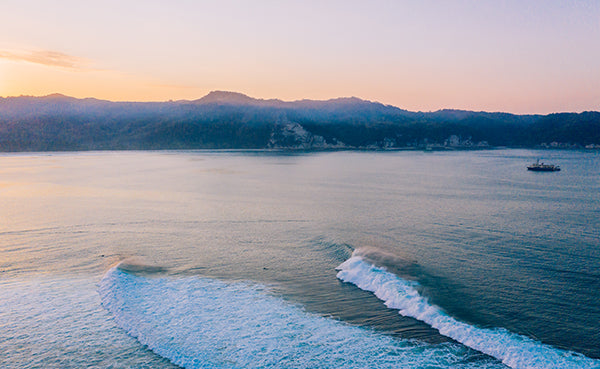 As the sun edges over the sheer escarpments rising from the sea, the shadows cast by those on the deck, saluting the sun, tell the story of the day that awaits. Anchored in the crystal turquoise waters off Sumba, the Kudanil Explorer, her crew, and the cohort of a dozen passengers are peaceful. They are immersed. Connected to the natural world.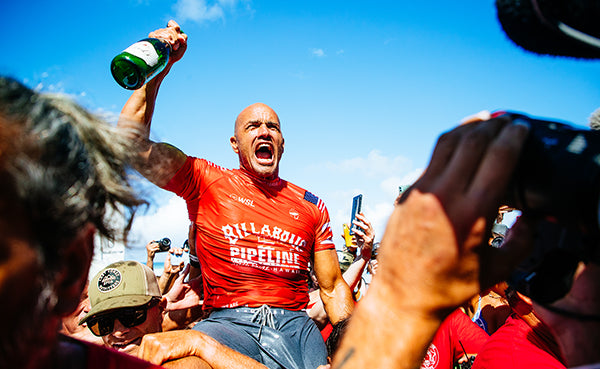 "
I hated lots of it. But I'll savour this
." This was the emotional confession from the G.O.A.T., Kelly Slater, after clinching his eighth Pipeline title at last week's WSL Billabong Pipe Masters. It was perhaps the most honest public statement ever made by a professional athlete and came off the back of what was arguably the greatest moment in pro surfing history. Just five days shy of his 50
th
birthday, Slater dominated youthful vertebra and notorious specialists with a masterclass display of brilliance. Read more about how to create your own ultimate tribute….. 
How good is John John Florence? After a recent rocky career path thanks to some undesirable knee surgery, Florence cemented his dominant run at the recent Michelob ULTRA Pure Gold Haleiwa Challenger with a perfect 10 in the Final. You can watch it here.