The Best Moments from the Four Seasons Maldives Surfing Champions Trophy
In 2011, the inaugural Four Seasons Maldives Surfing Champions Trophy event was brought to life, and in doing so, the concept of how surfing events could, and should be run was reimagined. Dubbed the most luxurious and eclectic surfing event in the world, this unique event model, conceptualised by Tropicsurf was designed to test a surfer's depth of talent whilst also paying homage to three distinct eras of surfing; Single fin (1970s), twin fin (1980s) and tri fin (thruster 90s onwards). Hosted onboard Four Seasons Explorer – the Maldives' ultimate surf vessel – the Surfing Champions Trophy offered a unique opportunity for surf fans to get up-close to all the action, with the "surf tour" experience then continuing back on land at the Four Seasons Kuda Huraa's 12-acre (5 hectare) garden island; the base for the event's competitors, judges and Tropicsurf organisers. 
From the outset, the Champions Trophy event garnered interest from the who's who of surfing, with fields comprising surfing's biggest names including Joel Parkinson, Shane Dorian, Bethany Hamilton, Josh Kerr, Maya Gabeira, Tom Curren, Mark Occhilupo, Taylor Knox, Rob Machado, Dave Rastovich and Layne Beachley, to name just a few.    
Unfortunately, the rise of Covid-19 has caused the cancelation of this year's Four Seasons Maldives Surfing Champions Trophy event. As we mark the event's 10th Anniversary let's take the opportunity celebrate some of the most memorable moments from the past 9 years.
Best Event Location
Great waves help to make great surfing events, and Sultans reef break, located in the North Male atolls provides the perfect stadium to house this annual extravaganza.  Set amongst sparkling turquoise waters, this long right-hand reef break has it all; carving walls, hollow barrelling sections and vertical ramps.  With a seven-day event window to run just three days of surfing, event officials are able to treat competitors to the very best that Sultans has to offer.
 Sultans - the playing field for the Four Seasons Maldives Surfing Champions Trophy
The barreling inside section at Sultans attracts visitors from all over the world
First Champion Crowned
In 2011, 1999 World Champion Mark Occhiupo, 45, won the inaugural Four Seasons Maldives Surfing Champions Trophy. It was a clean sweep for 'Occy' who won all three divisions of Single Fin, Twin Fin and Thrusters with a blistering display of backhand surfing for which he's well renowned. Occy's performance in 2011 set the bar for future years, which have continually delivered some of surfing's most memorable moments.
Occy sending buckets of spray skyward over a groomed Sultans line-up
Best 'Surfers Deck'
The Four Seasons Explorer, a luxurious 39-metre three-deck catamaran doubles as the Champions Trophy event viewing location. Picture a floating VIP lounge complete with all of the luxury hospitality benchmarks synonymous with the Four Seasons brand, reserved specifically for competing surfers, Four Seasons guests and event officials.  The Explorer offers the perfect vantage point to watch the surfing action, mingle with surfers and soak up the event atmosphere in true style.
Taj Burrow attacking the end section at Sultans in front of onlookers aboard the Four Seasons Explorer
Best Surfing Performance - Single Fin – Dave Rastovich, 2015
Expectations were high as the 2014 Champions Trophy winner returned to defend his title in 2015.  On his bright yellow single fin, 'Rasta' didn't disappoint, executing a clinical display of surfing, combining old school style with new school flair.
Best Female Performance - Bethany Hamilton, 2016 
The Four Seasons Champions Trophy event has attracted a host of the world's best female surfing talent including Layne Beachley, Sofia Mulanovich and Maya Gabeira.  In our humble opinion the female who shone brightest was Bethany Hamilton who competed in 2016.  Hamilton's performance was inspiring, her style and grace offering a flawless pairing to near perfect conditions at Sultans.
Best Event Hosts - Four Seasons Resort Kuda Huraa
Randy Shimabuku, General Manager of the Four Seasons Resort Kuda Huraa has graciously played host to the Champions Trophy event for many years.  Each year, Randy leads a team of outstanding, passionate, hardworking individuals who collectively deliver an experience which is unrivalled.  Originally from Hawaii, Randy extends his own brand of 'aloha' to all who visit the Four Seasons Resort Kuda Huraa.
Randy, seen here celebrating with the Kerr family following Josh's maiden Champions Trophy win in 2018
Best homage to an era of surfing – Freddy Patacchia (2018)
From the moment recently retired World Tour veteran Freddy Patacchia arrived in the Maldives, he brought smiles to the faces of everyone he encountered, and Freddy fast became a favourite to spectators, locals and officials.  When Freddy surfed his first heat in the Single Fin division, it was clear from the outset that he intended to embrace the true spirit of the event.  Freddy's Soul arch bottom turns, cheeta-five high lines and old school carves provided flash backs to one of surfing's most romanticised eras.
Most Anticipated Match-Up - Mark Occhilupo v Tom Curren, Semi Finals of the 2012 Thruster Division
The story of Australian surf hero Mark Occhilupo and Californian style guru Tom Curren's rivalry is well documented.  With a competitive history spanning almost four decades, the pair have offered up some of the sport's most exciting clashes in the professional arena.  The pair epitomise the broader competitive nature that exists between goofy and natural footed surfers.  When both surfers were paired against each other in the semi-finals of the 2012 Thruster division, all eyes were on this hotly contested heat. In dreamy conditions at Sultans, Curren emerged victorious, going on to finish overall runner up in the 2012 Champions Trophy event. 
Best Lay Day
With onshore conditions prevailing during the waiting period of the 2019 Champions Trophy event, contest directors opted to call a 'lay day'. At your regular surfing event this means pulling out the cards or potentially a round of golf, but for those competing at the world's most luxurious surfing event things are a little different. The new Flying Triggerfish, Four Seasons Resorts Maldives private luxury seaplane, was called in for duty. Josh Kerr, Joel Parkinson, Matt Wilkinson, Kai Lenny and local wildcard Mohamed "Pelé" Fayaz took off (literally) in search of sheltered waves at the other end of the Maldivian archipelago.
Best Maldivian Wildcard performance
Each year, the Maldivian Surfing Association nominates a surfer to represent their region by way of a wildcard entry into the Four Seasons Champions Trophy event, with locals relishing the opportunity to compete against their surfing heroes on home turf. The most notable performance by a local wildcard was by none other than Hussain Areef, aka 'Iboo'. With a swagger of International competitive results to his name and a highly regarded reputation in Maldivian surfing circles, Iboo impressed in every division, making for some nail- biting moments for the visiting counterparts. 
Hussain Areef, aka 'Iboo' showing why he's so highly regarded in Maldivian surfing circles
Best Closing Party
Over the years, there have been plenty of unforgettable evenings as part of the Four Seasons Champions Trophy.  One which was particularly noteworthy was the 2018 event closing ceremony.  Taj Burrow had been crowned overall event champion and, with a reputation of living life to the fullest, Taj celebrated his win in style.  The Sunset Bar was standing room only as everyone enjoyed the occasion.  Taj's partner Rebecca graciously received Taj's trophy, delivering a larger-than-life speech. When the band kicked off, the evening took off!  A notable mention must go to an unnamed long-standing event guest who assumed prime position within the bands' percussion section.  Needless to say, the celebration lasted late into the evening.
Randy and Taj finalising the presentation formalities before celebrating in style!
Best Twin Fin Performance– Rob Machado, 2016 & 2017
Rob Machado brought a mesmerizingly smooth approach to the groomed walls of Sultans.  At age 43, Machado was as tight, nimble, fast, loose and stylish as ever. Comfortable on all manner of craft, Rob embraced the event format which was well suited to his brand of surfing and put on a clinical surfing display across all divisions.
Machado - poetry in motion as he gracefully negotiates a near perfect Sultan's wall
Best Barrel Riding – Taj Burrow 
The award for best barrel rider was closely contested between Taj Burrow, Shane Dorian and Josh Kerr.  2016/17 event Champion Taj Burrow ultimately chosen our standout performer as he consistently found deep, critical tubes, seemingly at will. 
Best interpretive dance aboard the Four Seasons Explorer
The most widely known form of indigenous music in the Maldives is called Bodu Beru. Literally meaning 'big drums' in Dhivehi, the Bodu Beru is a reminder of Maldives multi-ethnical influences with strong roots from East Africa.  At the culmination of each years Champions Trophy final, surfers and spectators are treated to a live Bodu Beru performance onboard the Four Seasons Explorer. Plenty of celebratory dancing (good and bad) has taken place by surfers over the years and Matthew Wilkinson (AUS) receives the highest accolade for his post event dance performance in 2019.
Wilko transforming the upper deck of the Four Seasons Explorer into a floating dance floor
Most dominant performer & best overall manoeuvre – Josh Kerr (2018 & 19)
2018 & 2019 event champion Josh Kerr is considered by event officials as the most dominant performer in the Four Seasons event history.  No more was this evident than in the 2019 champions final as he surfed against recently retired World Champion Joel Parkinson.  The pair exchanged excellent scores throughout the entire final as the lead swung over and over.  In the final moments, Josh Kerr risked everything as he attempted to perform his trademark manoeuvre, the 'Club Sandwich', completing the manoeuvre to seal victory.  Kerr also rode some of the deepest barrels witnessed at the Champions Trophy event.
Kerr, captured exiting the barrel during the 2019 Champions Trophy final
Visit the Four Seasons Maldives Surfing Champions Trophy site to see more on this one of a kind event.
---
RECENT BLOGS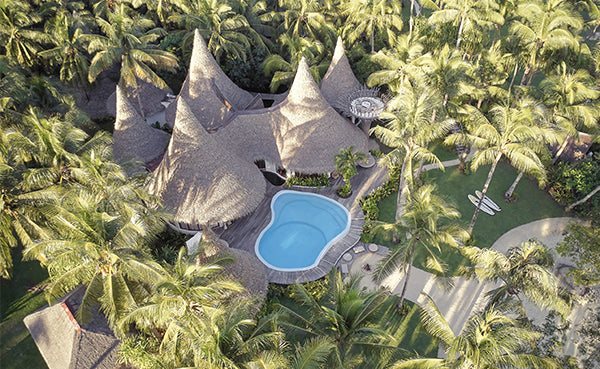 On the sandy doorsteps of Siargao Island, rests one of The Philippines' best kept secrets and newly reopened luxury resorts -
Nay Palad Hideaway
; Tropicsurf's latest resort partner. Aptly named, you'll discover this hideaway with just ten private villas nestled amongst proud palm trees and rich green mangrove forests. Only steps from your villa, the warm white sands lead to bright blue waters; and a short boat ride to secluded tropical waves.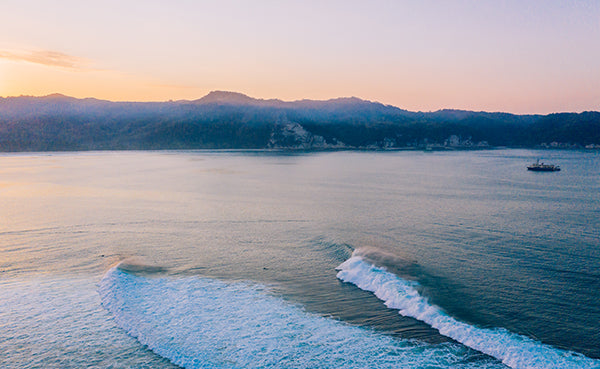 As the sun edges over the sheer escarpments rising from the sea, the shadows cast by those on the deck, saluting the sun, tell the story of the day that awaits. Anchored in the crystal turquoise waters off Sumba, the Kudanil Explorer, her crew, and the cohort of a dozen passengers are peaceful. They are immersed. Connected to the natural world.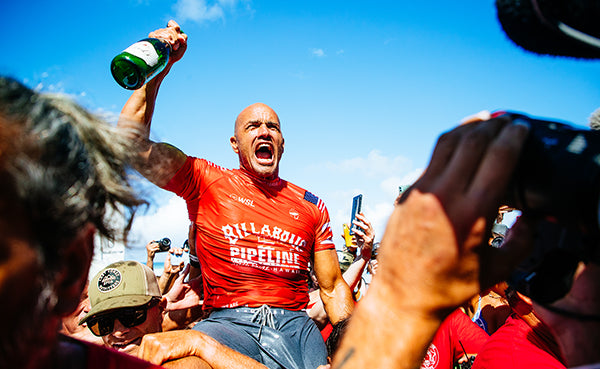 "
I hated lots of it. But I'll savour this
." This was the emotional confession from the G.O.A.T., Kelly Slater, after clinching his eighth Pipeline title at last week's WSL Billabong Pipe Masters. It was perhaps the most honest public statement ever made by a professional athlete and came off the back of what was arguably the greatest moment in pro surfing history. Just five days shy of his 50
th
birthday, Slater dominated youthful vertebra and notorious specialists with a masterclass display of brilliance. Read more about how to create your own ultimate tribute…..